Literary Issue 2017: Arlene Biala
Arlene Biala Spreads the Muse
as County Poet Laureate
Viet Thanh Nguyen | It's Lit | Kirstin Chen | Ron Hansen | Arlene Biala | Literary Watchlist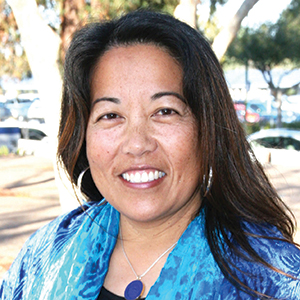 Born in San Francisco, Arlene Biala spent most of her early life in Santa Clara and Sunnyvale. She had always kept a diary, and wrote small things, but it wasn't until high school when Biala really found her love for poetry.
"I was one of those nerdy kids who never got my nose out a book," she says. "There could be an earthquake happening, but as long as you didn't bother me reading, I was fine."
Being a "nosy kid," Biala, who now holds the title of Santa Clara County's poet laureate, went digging one day in her older brother's backpack for food or candy. Instead she found a heavily annotated copy of E.E. Cummings' complete works of poetry.
"One of the earmarked pages was Cummings' poem may i feel said he," Biala recalls, "which I found interesting. So, of course, I had to read more."
With two older brothers who are professional musicians, the long-running (but partly true) joke in Biala's family is that her father—a military administrator—just wanted one child to be a business major. "But you can't stop creative desire," she says.
Biala developed her poetic style under the mentorship of professor and poet Virginia de Araujo, while earning her bachelor's at San Jose State University. From there she attended the now-defunct New College of California in San Francisco, where she earned her MFA in Poetics & Writing. During that period she traveled across the country, gaining life experiences on the road as well as her professor's tutelage. Both, ultimately, informed major aspects of her poetry.
"[Araujo] really opened my eyes to a lot of poets who I admire," Biala says. "And I try to write in that same vein of social justice—and tell stories of people who, for whatever reason, weren't able to tell themselves."
Her first book of poetry, continental drift, published in 1999, established Biala as a young poet to watch. Fifteen years later, in 2014, she published her beckoning hands, a collection that certified Biala's lush sense of imagery and themes of identity and justice. It earned an American Book Award.
The large gap between the two collections was anything but writer's block. In that interim, Biala organized and spoke at numerous workshops and events, as well as took a job in the San Jose City Office of Cultural Affairs. Starting right after grad school, Biala became an arts education and grants program manager for the city—a position she still holds.
So it was fitting that Biala—with her strong poetic voice and an understanding of civic bureaucracy—was awarded the position of 2016-17 Poet Laureate of Santa Clara County.
"My big thing with taking up this post was increasing access and excitement about poetry," she says.
Biala's largest project as poet laureate is the Poetry Tree. Based on the idea of the Japanese wishing tree, Biala has encouraged the community to write poetry in a collaborative, inclusive way. To do this, she sets up shop outside of bookstores and coffee shops to spread the good poetic word.
"Some people probably think I'm selling Girl Scout cookies," Biala says with a laugh.
She recently edited an anthology of Santa Clara County poetry entitled Spring Mother Tongue, featuring 23 local poets.
All of this work is emblematic of the South Bay literary scene in which Biala has spent much of her life. "It's such a diverse and vibrant community," she says. "I've been working in the arts in San Jose for almost 20 years, and it's so great to see this sense of cohesion and growth. There is so much going on. And it's good."
Arlene Biala's Writers to Watch: ASHA (poet, spoken word) and Lorenz Dumuk (poet).