Literary Issue 2017: Ron Hansen
Ron Hansen's Humble Quest to
Live the Life of a Writer
Viet Thanh Nguyen | It's Lit | Kirstin Chen | Ron Hansen | Arlene Biala | Literary Watchlist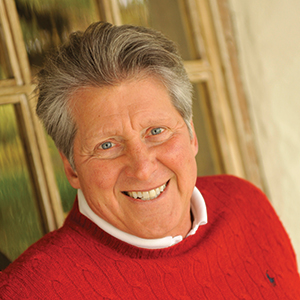 For a long time, Ron Hansen wasn't comfortable telling people he was a writer.
The award-winning novelist knew he was in love with language from the time he was in grade school. The twisting and shaping of words called to him, but didn't know what to do with this talent. After an eighth-grade assignment to write a short story, Hansen was hooked.
"I kind of harbored the idea of being a writer from that point on," he says. When questioned, however, he would say he wanted to be a doctor or a lawyer. "Those seemed like acceptable occupations."
It wasn't until Hansen had been accepted to attend the Iowa Writers' Workshop—regarded by many as the nation's premier creative-writing program—that he felt comfortable fully engaging his literary aspirations. There he gained perspective on how and why people write. But more important, he gained a sense of how to live a writer's life. Working as a live-in babysitter for the children of novelist John Irving, Hansen absorbed the daily minutia of a literary life.
"I just kind of imitated John Irving's way of living—and have done it ever since," he says.
From Iowa, Hansen moved to the Bay Area after receiving a Wallace Stegner Creative Writing Fellowship at Stanford University. There he also was invited to teach English, the primary occupation he's held at various institutions since—ultimately arriving at Santa Clara University in 1995, where he earned a Master of Arts in spirituality.
During this period, Hansen published his first novel, Desperadoes, which chronicles the turbulent lives of the Old West outlaws in the Dalton Gang. The work was the first of his long love affair with history. This was followed a few years later by The Assassination of Jesse James by the Coward Robert Ford, a rich, dark and philosophical meditation on the last days of the outlaw and the man who would eventually murder him. Shortlisted for the PEN/Faulkner Award, The Assassination flung Hansen into the literary spotlight, and was later turned into a film starring Brad Pitt and Casey Affleck.
"Historical fiction dwells in characters who are kind of larger than life," Hansen says. "I've always liked taking on a subject I know nothing about, then researching as much as I can before moving on to the next subject."
His next book, Mariette in Ecstasy, is a strange, surreal and slightly disturbing story about a young nun who, after entering a convent, begins to show signs of the stigmata. Written with a poetic sensibility and a postmodern appraisal of faith and Catholicism, Mariette in Ecstasy cemented Hansen's reputation as a both a supreme prose stylist and an eminently original writer.
As such, Hansen has received numerous accolades for his work, including fellowships from the National Endowment for the Arts, the John Simon Guggenheim Foundation, as well as an award in literature from the American Academy and Institute of Arts and Letters.
Being a writer in the South Bay, Hansen prefers to keep a low profile and introduce himself as a professor—not a writer.
"Flaubert said he wanted his life to be ordinary, so his prose could be extraordinary," Hansen says. "When writers get together, they usually don't talk about writing. They talk about sports."
Ron Hansen's Writers to Watch: Tobias Wolff (novelist, short story writer), Juan Valesco (essayist) and Tim Myers (poet and short-story writer).