Literary Issue 2017: Kirstin Chen
Kirstin Chen's Unfashionable Path
to Literary Stardom
Viet Thanh Nguyen | It's Lit | Kirstin Chen | Ron Hansen | Arlene Biala | Literary Watchlist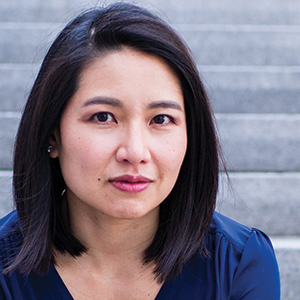 Writing is hardly a fashionable career choice, but for Kirstin Chen it was either that or fashion.
Originally from Singapore, Chen moved to the United States for boarding school before attending Stanford University and getting her bachelor's degree in comparative literature. After graduating with her master's from Emerson College, Chen moved back to the South Bay. She was awarded a Steinbeck Fellowship at San Jose State University in 2011, where she currently teaches English.
But even then, Chen wasn't yet set on being a writer.
Paying the bills as a merchandise planner for Banana Republic, Chen knew she needed further schooling to make it in that industry. A literary fate was calling, though, however softly. She applied to Master of Fine Arts programs and was accepted at Emerson.
"On a whim, really, I decided to go," Chen says. "It never is a rational decision to become a writer. To be a writer is always somewhat illogical."
Logically, though, Chen has become one of the South Bay's best writers.
She started writing her first novel, Soy Sauce for Beginners, in 2008, while still in grad school. Based on a series of short stories, the novel tells the tale of woman stuck in a dismal marriage in San Francisco. She returns to her home in Singapore only to be faced head-on with the problems of her family, which runs a soy sauce factory—reintroducing the same drama she had moved so far to avoid.
"I came up a with a family business because family businesses are good places for drama to build," Chen says.
Combining a refreshing perspective on food and insightful takes on family, all transmitted through a clear, elegant prose, Chen's debut novel was a Kindle First selection, a Glamour book club pick, as well as a "book to pick up now" from O, The Oprah Magazine.
Beyond her novel, Chen's short fiction has appeared in numerous esteemed publications, including Zyzzyva and Hobard, and earned her nominations for Best New American Voices and the Pushcart Prize.
Chen keeps her writing process as structured as possible. "On the days that I'm not teaching, I try to be extremely regimented in my writing—to the point that it's almost ascetic," she says. "I find that the more I take away choice, the better my work."
Through her teaching position, Chen has found an unexpected literary home in San Jose.
"I think it's wonderful," she says. "I've built a really strong network of fellow writers." Moreover, working at San Jose State has introduced Chen to a variety of different voices in the community—voices too often marginalized in literature. "The writing I get from my students is really, really interesting, and surprising in delightful ways."
While the nexus of the writing universe is widely acknowledged to be New York City—the late David Foster Wallace compared writing in New York to hearing the "the enormous hiss of egos at various stages of inflation and deflation"—Chen enjoys the detachment from the scene.
"I think a little bit of distance is healthy," she says. "If I was so plugged into the publishing scene, it would be difficult to really focus on my writing."
Her upcoming novel, Bury What We Cannot Take, slated for a release in spring 2018, follows a family on a tiny island as they traverse life and loss in Mao's China.
Kirstin Chen's South Bay Writers to Watch: Gary Singh (journalist and poet) and Julia Halprin Jackson (fiction writer).