Features & Columns
Philip Kaufman at Cinequest
San Francisco-based film director Philip Kaufman comes
to Cinequest on March 9 to receive the Maverick Spirit award.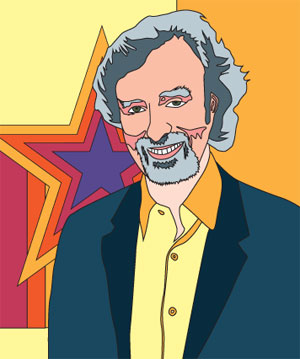 San Francisco-based film director Philip Kaufman comes to Cinequest on March 9 to receive the Maverick Spirit award. Kaufman previously attended Cinequest for a panel with the former Baltimore Sun critic Michael Sragow, and directors Walter Hill and Ron Shelton.
It's tempting to think of Kaufman first when naming Northern California directors—mostly because he has stayed here so long. He settled in San Francisco, where he lived with his wife of more than 50 years, screenwriter Rose Kaufman; she died in 2009. His parents lived in Palo Alto.
There have been other famous local directors: Clint Eastwood (who once fired Kaufman from The Outlaw Josey Wales), Francis Coppola and George Lucas. But it's clear that Kaufman is different, largely because he celebrates what Pauline Kael described, in regard to Kaufman's brilliant 1978 version of Invasion of the Body Snatchers, as "the right of freaks to be freaks." That right seems something essential to our local landscape.
Kaufman's Maverick Spirit Award will put him in the company of such directors as Spike Lee, Gus Van Sant, Robert Wise and JJ Abrams. Says Cinequest co-founder Halfdan Hussey, "Philip Kaufman's brilliant direction and writing has brought to the screen literary powerhouses including The Unbearable Lightness of Being, Henry & June and The Right Stuff. It's a great honor to hear him discuss the world of film writing and directing."
Kaufman was from Chicago originally. After some time in Europe, he returned to Illinois to make an independent film, something like the John Cassavetes pictures he watched in Paris' small neighborhood theaters.
Kaufman's Goldstein (1964) won an award at Cannes. There, it was described by Jean Renoir as the best American film he'd seen in 20 years. The film tells the story of a young beat's search for a mysterious old man. One of the stars is writer Nelson Algren, seen in his apartment, telling a story about a thief he knew who grew up to be a cop.
Any study of meta-superhero movies (The Incredibles, Watchmen, Megamind and so forth) needs to start with Kaufman's 1967 pop-art superhero tale Fearless Frank.
A long streak of intelligent and sensual work followed. There was the anti-Western The Great Northfield Minnesota Raid (1972); The Wanderers (1979) gives us the best part of the Eisenhower-area nostalgia of the 1970s, even if it is set in 1963. The Wanderers featured Karen Allen three years before she appeared in Raiders of the Lost Ark; Kaufman has the story credit on that particular film, and character credits ever since, including the recent Lego Indiana Jones 2: The Adventure Continues.
In the 1980s, Kaufman released two European-made movies: The Unbearable Lightness of Being.and Henry & June.
An adaptation of Milan Kundera's novel, The Unbearable Lightness of Being tells of the end of the Prague Spring in 1968, a tragedy reflected in the contrast of a faithful woman (Juliette Binoche) and a surgeon fundamentally uninterested in monogamy (Daniel Day-Lewis).
Compare the tame rebels name-checked in Midnight in Paris to Henry & June (1990), about the sexually tangled affairs of writer Henry Miller (Fred Ward), Anais Nin (Maria de Medeiros) and Miller's wife, June (Uma Thurman).
The MPAA created a fresh new kiss of death rating for Kaufman's film: the NC-17. One reason for the verdict was a quick glimpse of Hokusai's famous 1814 woodcut Tako to ama, an image of a nude woman being sampled by a live octopus. With commendable –lan, Kaufman told the L.A. Times, "That drawing is a hundred years old and in all the art books. I can't imagine who it's going to excite unless there's a 17-year-old octopus in the audience."
Since 1990, Kaufman has made only four films: two thrillers (Rising Sun and Twisted); Quills, his story of the Marquis de Sade in prison; and finally, being readied for release, the HBO presentation Hemingway & Gellhorn.