Features & Columns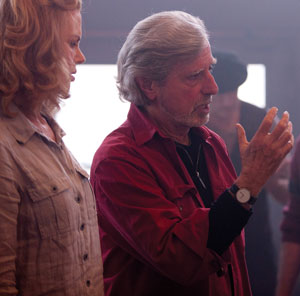 Shoot the Myth
It's amusing to think that Steven Spielberg's serious Lincoln biographical film, due next winter, may have its thunder stolen by Abraham Lincoln: Vampire Hunter, which arrives in June. We are seeing the transformation of history to myth right before our eyes.
This process is a recurring theme in Kaufman's films. The reverse can be true as well—Kaufman worked on the script for Raiders of the Lost Ark, in which Indiana Jones keeps getting dropped into actual history.
To measure Kaufman's scope as a director, think of the range of his historical characters: Jesse James in The Great Northfield Minnesota Raid, the incorruptible John Glenn in The Right Stuff (1983) and Geoffrey Rush's savory, wicked-uncle version of de Sade.
Kaufman found the Walt Whitman within Henry Miller in Henry & June, yet he wasn't as rapt by Miller's self-mythologizing as, say, Johnny Depp is of Hunter S. Thompson's taletelling.
The Unbearable Lightness of Being evokes the full and terrible spectacle of a city under Soviet siege, but it introduces the attack with the lightest gesture: the quivering of a glass of water that heralds the weight of the tanks rolling on the streets. It's an idea later pilfered to announce the tread of a Tyrannosaurus rex in Jurassic Park.
The Right Stuff is "the last film of the heroic 1970s," as critic David Thomson calls it. This exhilarating work ranks with the best of Howard Hawks.
Kaufman's epic is rounded with myth and begins by telling of the space race in fairy-tale terms. It claims that there is a demon that lives in the skies, a demon who must be fought and bested.
On the more banal level there's the myth-making practiced by a hoard of newspaper and magazine men; the relentless clicking of their camera shutters sounds like a cloud of locusts. They try to take these "demon-fighters," the Mercury 7 astronauts, and turn them into what they certainly aren't: model citizens and average Joes. (Ed Harris, who sums up the foursquare decency of John Glenn, is the exception that proves the rule.)
The movie came out during Glenn's unsuccessful attempt to run for president, and Newsweek magazine fretted over whether a movie would be enough to make a man president.
Humorous people always fly solo. The Right Stuff features an actor sadly never used for comedy, Scott Glenn. We see his Alan Shepard bring in a jet on the deck of an aircraft carrier. Rather than tensely studying dials or velocities, Shepard is dreamily obsessed with the gags of the semiforgotten dialect comedian, Bill "Jose Jimenez" Dana. As he lands, seemingly without effort, Shepard is rolling Dana's Mexican-peon shtick in his mind as if it were poetry.
There's the harsher kind of humor in the film as well. Dennis Quaid's hot-dog pilot, Gordon Cooper, makes, seemingly by accident, an unspeakable jest when offering a too-burnt wiener on a fork to his wife (Pamela Reed). He doesn't realize her nerves are already snapping over the possibility of her test-pilot husband's flaming death.
Hemingway & Gellhorn, Kaufman's first film in eight years, is a biography of Ernest Hemingway (Clive Owen) and his one-time wife, the war correspondent Martha Gellhorn (Nicole Kidman). We began our conversation with this project.