Features & Columns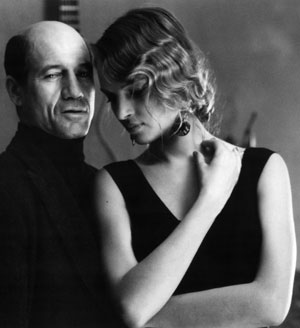 METRO: How is Hemingway & Gellhorn coming along?
KAUFMAN: It's all done. We're airing it on HBO Memorial day weekend. It'll be released everywhere else in the world as a feature film.
METRO: Can you describe Martha Gellhorn?
KAUFMAN: Funny you should ask, since today (Feb. 22), we've been reading the obituaries for Marie Colvin. She was killed in Syria. [The fearless correspondent Colvin, who wore a patch over the eye she lost covering the fighting in Sri Lanka, was killed in the city of Homs.] These correspondents rarely get the public light shed on them that they deserve. There's an article in the Telegraph from London calling Colvin the greatest war correspondent of her time.
Colvin hosted a BBC documentary about Martha Gellhorn, which we looked at often when we were making this film. And the risks Marie Colvin took are like the risks Martha Gellhorn took. But Martha was obscured to some degree by the fact that she was married to Hemingway, the most famous American writer.
METRO: I've read that in later life, Gellhorn would terminate interviews if Hemingway's name were mentioned.
KAUFMAN: Yeah—that's not what our story is about. He and Gellhorn were a great match. It was a great love affair with a tragic ending. In the end, Gellhorn was a better war correspondent but not as good a novelist.
Their years together were incredibly passionate; it was an amazing relationship created during the Spanish Civil War. They went to China together. After the relationship was over she wrote a book titled Travels With Myself and Another. She refers to Hemingway as "the Unwilling Companion" or "UC" for short.
In that journal, there are some incidents that are in our film. I was reading yesterday that Chiang Kai-shek's house in Chongqing has just been demolished. The article mentioned that this was the house where Chiang had met famous people like Hemingway and Gellhorn. We actually just filmed the scene of their meeting: Joan Chen plays Madame Chiang. Right next to her at the table is a friend of mine for 20 years, Larry Tse, the chef who runs The House restaurant in North Beach. I always told him he looked like Chiang Kai-shek.
METRO: Have your feelings about Hemingway changed much since you were a young writer in Paris?
KAUFMAN: Hemingway's a great writer, really the most influential writer in American history. He was an influence on Norman Mailer and J.D. Salinger alike. I even have some correspondence from Nelson Algren, who was a good friend, about how much Hemingway meant to him.
He's gone through a period of some re-evaluation and revival academically. Witness the fact that there have been four or five books about Hemingway this year, as well as his appearance in Woody Allen's Midnight in Paris.
And people who felt he didn't like women or treated them badly no longer dismiss him as totally macho. There's been a mellowing of those feelings. Hemingway was the man who could thrill either as a writer or as a man of action. He was a spiritual descendant of Teddy Roosevelt, who believed in that life of vigor.
He wasn't an academic, not at all an academic ... but somewhat of an autodidact, and a sportsman. When we were making The Right Stuff, we used that line of Hemingway that's in [Tom] Wolfe, about how "courage is grace under pressure." These pilots and astronauts become the torchbearer of the Hemingway code, that element of the right stuff.
Gellhorn came to embody that, too. What's exciting is that a woman falling into the shadows of history can now be given her due place. She was braver than anyone.
METRO: Since this week was the 50th anniversary of the John Glenn flight, I have a question or two about "The Right Stuff." The film is really enormously good. On the one hand, it touches on some ideas from Howard Hawks and John Ford while bringing in that sense of 1970s satire—with Harry Shearer and the I Fratelli Bologna involved. The result is something like Thomas Pynchon: satirical but acknowledging that larger-than-life men exist.
KAUFMAN: We tried to get Wolfe's boisterous humor on film, the way it bubbled up in the writing, by using characters like Shearer and Jeff Goldblum. Weird coincidence: The Director's Guild magazine wanted me to do an article on an excerpt of 14–15 frames about the scenes of the Glenn launch. And I was doing this right on the anniversary of the Friendship 7 flight, so I found myself talking to Ed Harris, a.k.a. John Glenn, on that day.
METRO: Do you like flying?
KAUFMAN: I don't fly really, and I haven't gone anywhere lately. I don't have a pilot's license. When we were making The Right Stuff, Chuck Yeager took me up in a Beechcraft, and my son was in the back seat.
He gave me the controls and turned off the motor. I think he wanted to see if I'd be a Hollywood guy, and freak out and start crying. But I was with Chuck Yeager, so I felt like I was safe. I tried to show him a film director's version of "the right stuff." That was an amazing experience.
METRO: Can you describe some of the technical innovations that made the film possible?
KAUFMAN: Well, in Hemingway & Gellhorn we're using technological breakthroughs that enable us to make a big sprawling epic on an HBO budget. We're nesting our actors right into archival footage. People have done that in various ways. It's the first time, in my knowledge, that it's been done in a dramatic emotional film.
That's also what we did in The Right Stuff, where we accumulated 300,000 feet of stock footage. People don't realize how much we blended our actors with actual NASA footage. We had Scott Glenn as Alan Shepard shaking hands with JFK in the White House; they did that later for $1 million in Forrest Gump, but we did it in one afternoon in Marin County.
We also did the same kind of thing in The Unbearable Lightness of Being, getting Daniel Day-Lewis and Juliette Binoche into that footage. We had to create a way to match the Russian tanks, and the hundreds of extras. We degraded the film stock to make it all match seamlessly, and made it look like the actors were participants in the events.
METRO: I still think your version of "Invasion of the Body Snatchers" is about the most frightening film I've seen. It came out the year of Jonestown and the Harvey Milk assassination. The human-potential movement was carving a bloody swath through Northern California. Lunacy was common. Was it indeed meant as a commentary on the way people in Northern California were behaving in the 1970s?
KAUFMAN: What makes it scary is that these people in the film are supernormal. They're nice, understanding, bright people. They're foodies. They live a very normal life when they get confronted by this metaphor for conformity. These characters were opposed to the usual stick figures in science fiction, who get hysterical in the face of menace.
Leonard Nimoy's character is a kind of then-current guy: a therapist trying to cure people; he was a person who gave you a comfortable access to pod-dom. I'm not saying everyone who wears Birkenstocks are pod people, but we had fun with that idea of those forms of political or social correctness. People lulled themselves to sleep with the lullaby of Northern California perfection, and they woke up as pods.
I love this area, and I love all of those kinds of perfectionism, and of course you can still see that kind of thing all the time.
METRO: Do you feel any of your films are particularly neglected?
KAUFMAN: I try not to think about that—I don't know. I'd love to see The Wanderers or White Dawn shown more. It's not that I don't feel that all of them aren't that accessible, like Henry & June and Unbearable Lightness of Being. It's just that they're not for everybody.
I don't really watch my old movies. In 2003 on the 20th anniversary of The Right Stuff, they had a red-carpet thing at the American Cinematheque at the Egyptian Theater in Hollywood: There were about 20 people up on stage, Barbara Hershey and Ed Harris, Harry Shearer and Chuck Yeager.
I was thinking of that Vonnegut line: "nice nice, very nice/ so many people in the same device." It was packed with people; they all seemed to be on to all of the humor. The film was very well received when it came out, with great reviews—that blend of humor and seriousness. It went over well: I was comfortable that, as they say, the audience went along for the ride.
METRO: I don't think critics ought push one director to attack another director's work, but did you ever see 'Top Gun'?
KAUFMAN: No, never. I did want The Right Stuff to be much more about Yeager and less about the astronauts. I was attracted by the wild test pilot phase of the story.
I saw Sam Shepard, and I thought there was something in him that was in Gary Cooper or James Dean. When The Right Stuff played in France, the kind of leather jacket Shepard was wearing sold out. There was a theater in Paris that showed The Right Stuff for five years in a row.
METRO: They love movies in Paris?
KAUFMAN: (Correcting) They love film.