January 11-17, 2006
home | the papers | metro silicon valley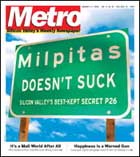 Milpitas Doesn't Suck
Silicon Valley's best-kept secret.

Barreling Ahead
Gun politics make for strange bedfellows in Silicon Valley, where one group is using San Francisco's ownership ban as a rallying cry for civil rights.
Silicon Valley News Notes
Legal marijuana is in limbo.

Silicon Alleys
Overwhelming Art.
Technology News
Like a Girl.
Car Culture
Grandma Speed.

Brave New World
Terrence Malick's sweeping yet sensitive epic finds new wonder in 'The New World.'
Rain Men
The Noir City Film Fest washes the scum off the street and onto the screen, where they belong.
Prince Violent
Kevin Reynolds obscures the brains and the brawn in adaptation of 'Tristan & Isolde.'

MORE MOVIE REVIEWS

MOVIE TIMES

No Mas
Strike up a bolero for Channel 104.9, but what's up with the racial overtones?
Dead Homiez
What is the hip-hop equivalent of 'Cats in the Cradle'?

MORE NIGHTLIFE

NIGHTLIFE CALENDAR

Beef Beyond Belief
Bo bay mon is seven courses of meat lover paradise.
Live Feed
It's a Mall World After All.
5 Things to Love
National Food Days.

BOOK A RESTAURANT RESERVATION

FIND A RESTAURANT REVIEW

Scoping Out Mencken
From Baltimore bars to the Scopes Monkey Trial, a new biography tracks the jabs and jests of journalist H.L. Mencken.
Red Lantern Shines
A new company presents a quintet of one-acts on love.
Burning Down the House
Two literary pairs dance out their emotions in Margaret Wingrove's newest works.
Book Box
The Great War for Civilisation: The Conquest of the Middle East, by Robert Fisk; Desert Queen by Janet Wallach.