February 14-20, 2007
home | the papers | metro silicon valley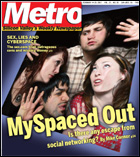 MySpaced out
Valentine's Day is supposed to make you feel sentimental, but with so many online social networks to keep track of these days, who has the time? Now one Bay Area group is stepping up the anti-MySpace backlash by challenging an overconnected world to an antisocial experiment.

sex.com trial
Sex, lies and cyberspace.
The Fly: 02.14.07
The Santa Cruz Sentinel becomes the latest Bay Area paper to get snatched up by MediaNews.

Silicon Alleys: SJSU memories
For one class, the final was to go bowling in the halls of the music department.
Technology news: Safe2Pee.org
This site keeps track of gender-free restrooms.
Sports news: Amgen Tour of California
The tour returns bigger than before.

Movie review: 'Breaking and Entering'
Anthony Minghella's latest film offers filmgoers another lesson in urban symbiosis.
Movie review: 'The Lives of Others'
In this Best Foreign Film Oscar nominee, the all-seeing eye of Communism blinks in East Germany, 1984.
Movie review: 'Making It Right'
Bob Gliner's latest documentary debuts at Cinequest.
Cult Leader: 'Cutter's Way' and 'The Big Lebowski'
A forgotten 1981 Jeff Bridges movie is the precursor to Bridges' later work in 'Lebowski.'
This week's revivals
Buh-buh-buh-buh-B-unit: Classic thrillers from RKO's B-horror unit at the Stanford.

MORE MOVIE REVIEWS

MOVIE TIMES

Valentine's night
Four nighttime options to suit your Valentine's fancy.
Pan Asian Music Festival
Beatsmiths of the South Bay unite!
Musicbox
Our critics pick this week's highlights: Jucifer, the Obsessors and the San Francisco Symphony.

MORE MUSIC AND NIGHTLIFE

MUSIC AND CLUBS LISTINGS

MUSIC AND NIGHTLIFE CALENDAR PICKS

Restaurant review: Bistro Maxine
Brings authenticity to French street food in Palo Alto.
Live Feed
Stealth health.
5 Things to Love: Restaurants for post-Valentine's Day dining
V.D. came and went and you didn't make dinner reservations and now everything's booked. Dining out on V.D. is too crowded anyway. We've found five romantic restaurants to check out after the smoke has cleared.

BOOK A RESTAURANT RESERVATION

FIND A RESTAURANT REVIEW

Dance: Ballet San Jose
The company gives new birth to Dennis Nahat's controversial 'Ontogeny' for 'Potpourri' program.
Stage: 'Gibraltar'
Octavio Solis' play tracks the dangerous currents of love gone wrong.
Stage: 'TeleMongol'
CATS and Asian American Theater Company up-end broadcast cliches.
Stage: 'La Traviata'
Rochelle Bard makes an immediate impression in Opera San José's production.
Books: Antiquarian Book Fair
Rare book dealers show off the pleasures of the book as object.
Book review: 'Ten Days in the Hills'
Book authored by Jane Smiley.
Book review: 'The Real-Great Adventures of Terr'ble Thompson, Hero of His'try'
Comic strips written and illustrated by Gene Deitch.
Book review: 'The California Gold Rush and the Coming of the Civil War'
Book authored by Leonard L. Richards.

Letters to the Editor
February 14-20, 2007.