May 16-22, 2007
home | metro silicon valley index | features | silicon valley
Metro Summer Guide 2007:
Air Guitar Championships | Music | Venues and concerts | Festivals | Stage | Art shows | Classical music | Sports and recreation | Family fun | Summer movies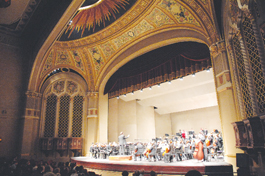 The San Jose Youth Symphony performs June 2 at the California Theatre.
Family Fun
Playtime and learning choices abound through the summer in the valley
Cantor Arts Center
Stanford University. 650.725.4758, museum.stanford.edu.
The center's Moorman Art Studio holds a variety of short art sessions for children throughout the summer related to shows at the museum; call 650.725.3155 for details.
Children's Discovery Museum
180 Woz Way, San Jose; Tue-Sat, 10am-5pm; Sun, noon-5pm; $7-$8. 408.298.5437.
A top learning-is-fun destination for kids, with plenty of activities and displays for a day's worth of exploration.
Adventures with Clifford the Big Red Dog—Through the summer.
Month of the Young Child art exhibit—Ends Jul 29.
Circus Chimera—May 16-20.
Music Fun Under the Sun—Live musicians perform at the museum's Cadence Amphitheatre. Tuesdays and Saturdays throughout summer.
Fiestas Patrias—Sep 16.
Community School of Music and Arts
Finn Center, Tateuchi Hall, 230 San Antonio Circle, Mountain View; free. 650.917.6800, www.arts4all.org.
Al'Azifoon—A family concert of Middle Eastern music. May 20 at 2 and 4pm.
CSMA Faculty Chamber Ensemble—Music by Barber, Ysaye, Tchaikovsky, Handel and Warlock. May 24 at 7pm.
CSMA Faculty Brazilian Jazz Ensemble—Featuring percussionist Joáo Neves, keyboardist Richard Kuhns and guitarist Dan Nieckarz. Jun 3 at 2 and 4pm.
Irene Sharp—A cello recital, along with pianist Steven Lightburn. Jun 28 at 8pm
Golfland
976 Blossom Hill Road, San Jose; 1199 Jacklin Road, Milpitas; 855 E. El Camino Real, Sunnyvale; daily 10am-10pm; $7-$8. 408.225.1533.
Miniature golf plus waterslides and a game arcade.
Gilroy Gardens
3050 Hecker Pass, Gilroy; weekends till Jun 2, then daily through the summer; $27.99-$39.99. 408.840.7100.
The family-oriented theme park offers some familiar rides with unique variations (like the mushroom swing) coupled with a very unusual botanical setting full of strange topiary and rare trees.
Happy Hollow Park and Zoo
1300 Senter Rd, San Jose; daily 10am-5pm, till 6pm Fri-Sun in July and August; $5.50-$6. 408.277.3000.
A pleasant, well-laid-out zoo featuring animals in habitat enclosures.
Where Animals Call Home animal show— May 20.
Putumayo presents Animal Playground— May 25.
Ice Cream Zoofari—Jun 23.
History San Jose
Kelley Park, 1650 Senter Road, San Jose. 408.287.2290.
Dia de Portugal Festival—Jun 9.
Founders Day 1777—Jul 22.
Antique Autos in History Park—Sep 9.
Mommy and Me (and Daddies Too) on the Row
Santana Row, San Jose. 408.551.4611.
The second Tuesday of the month, visiting groups present programs for young children.
All About Animals with the Oakland Zoo— Jun 12.
Education Is Fun—Jul 10.
Sports of all Sorts—Aug 14.
Safety Day—Sep 11.
Museum of American Heritage
351 Homer Ave, Palo Alto; Fri-Sun, 11am-4pm. 650.473.6950.
Vintage Vehicles and Family Festival—With food, kids' entertainment and classic cars. Aug 5.
Paramount's Great America
4701 Great America Pkwy, Santa Clara; daily starting May 30; $29.95-$36.95. 408.988.1776.
Thrills, rides, kid zones and watery fun at Boomerang Bay await at this summer family destination. Live performances include Nick Live, magician Ed Alonzo and a Nickelodeon Celebration Parade, and the theme park hosts various special events throughout summer.
Raging Waters
Lake Cunningham Regional Park, 2333 S. White Road, San Jose; weekends (plus May 28 and Jun 8) till Jun 12, then daily through Aug 21; $17.99-$27.99; 408.238.9900.
A place for the whole family to get seriously wet. There are slides and activities for all swim and age levels.
Ringling Bros. and Barnum & Bailey Circus
HP Pavilion, 525 W. San Carlos St, San Jose. $12-$95. 408.998.TIXS.
The longest-running circus troupe in America heads into San Jose to perform dazzling feats and daring spectacles. Aug 22-26.
Roaring Camp
Mt. Hermon Road at Highway 17, near Felton; see www.roaringcamp.com for days and prices.
Western-themed park features historic re-enactments and rides on working railroads, including trips to and from the Santa Cruz beach.
Hats Off to Dad—Jun 17.
Day Out With Thomas—Ride Thomas the Tank Engine at his only run in the area. Jul 27-29 and Aug 3-5.
Great Train Robberies—Sep 1-2.
San Jose Museum of Art
110 S. Market St, San Jose. 408.294.2787.
Family Art-Making Sundays—Museum educators lead workshops for making art and learning about current exhibits at the museum. Jun 3-24.
Kids Summer Art Camp—Kids can work in a variety of media during this weeklong workshop for kids ages 6-11. Jul 30-Aug 10.
Santa Clara County Fair
244 Tully Road, San Jose. $5-$20. 408.494.3100, www.thefair.org.
From cotton candy to rides on the Zipper, Silicon Valley's annual fair includes traditional summer fun for all ages. Aug 1-5.
Santa Clara County Library
Branches in Campbell, Cupertino, Gilroy, Los Altos, Milpitas, Morgan Hill and Saratoga, as well as the San Jose Library system. www.santaclaracountylib.org and www.sjlibrary.org.
Branches throughout the county participate in the "Get a Clue @ Your Library" Summer Reading Club for grades K and up, which includes activities and performances from June through August.
Santa Cruz Beach Boardwalk
Beach Street, Santa Cruz; daily Memorial Day to Labor Day; ride packages $28.95 and up. 831.423.5590.
The beachside theme park is home to a historic wooden roller coaster, and dozens of rides and games and eateries. Celebrating its 100th year, this summer the Boardwalk also plays host to live bands, a fireworks display and free performances from the Moscow Circus.
Sesame Street Live: Elmo Makes Music
Civic Auditorium, San Jose; $15-$30. 408.998.TIXS.
A musical romp with Elmo and friends— May 18-20,
Sunnyvale Hands on the Arts
Community Center, 550 E. Remington Dr, Sunnyvale; $5. 408.730.7350.
The annual festival provides a wealth of opportunities for young artists ages 3 to 12 to experience the arts though activities, performances and exhibits, with help from professional artists—May 19.
The Tech Museum of Innovation
201 S. Market St, San Jose; Tue-Sun, 10am-5pm; $8-$10. 408.294.TECH.
Though it is undergoing major renovations, much of the museum is still open, including the IMAX theater and exhibits such as "View From Space."
YSI Insect Fair
Youth Science Institute, Sanborn-Skyline County Park, 16055 Sanborn Rd, Saratoga; free. 408.867.6940.
The multilegged and winged take over the Youth Science Institute for this annual day of learning about insects, including crafts and other activities, demonstrations and exhibits—May 19.
Kids Onstage
Ballet San Jose Silicon Valley
The California Theatre, 345 S. First St, San Jose; $25-$78. 408.288.2800.
The Tinderbox—A magical tale of cunning and romance based on the story by Hans Christian Andersen. May 19-20.
The ballet also holds a Summer Intensive session in two divisions (ages 4-16 and 8-18). Jul 9-Aug 4. (Call 408.288.2820, ext. 223 for details.)
California Theatre Center
Sunnyvale Community Center Theatre and Mayer Theatre, Santa Clara University. 408.245.2978, www.ctcinc.org.
The center runs a three-week Summer Theatre Conservatory for actors ages 8 and up; it also runs a two-week Junior Conservatory with half-day sessions for students 6-8. These sessions run in June and July.
Children's Musical Theater San Jose
Montgomery Theater, 271 S. Market St, downtown San Jose. 408.288.5437, www.cmtsj.org.
Performing Arts Summer Camp—Jun 18--Jul 6, Jul 9-26, for ages 4-18. (At Schallenberger Elementary in San Jose). Register by May 31.
Cats—May 17-20.
Disney's High School Musical—Jul 13-22.
Leader of the Pack—Jul 27-Aug 5.
Charlotte's Web—Aug 9-12.
El Camino Youth Symphony
California Theatre, 345 S. First St, San Jose; $5-$10. 650.327.2611.
Summer workshops in three levels offered in July for ages 6-14.
Season Finale—Featuring the ECYS Percussion Ensemble and soloists Jennifer Choi, cello, and David Woo, clarinet. Jun 3 at 2:30pm
Symphony Bon Voyage—A preview of the symphony's touring program. At Spangenberg Theatre, Gunn High School, Palo Alto. Jun 23-24 at 7:30pm.
Montalvo Arts Center
Villa Montalvo, Saratoga; call for ticket info. 408.961.5858, www.montalvoarts.org.
Snow White and the Seven Dwarves—By the Missoula Children's Theatre—Jun 30.
Starry, Starry Night: Art & Astronomy Slumber Party—Aug 10-11.
The center also conducts a Performing Arts Day Camp (June 25-29), for ages 5-15 related to the Missoula show and A Fine Arts Day Camp (Jul 16-20), ages 10-13, allows young artists to work in Montalvo's new studios.
Peninsula Youth Theatre
Mountain View Center for the Performing Arts, 500 Castro St, Mountain View; $7-$18. 650.903.6000.
Cinderella—May 17-20.
James and the Giant Peach—May 25-26.
Children's Theatre in the Park, Fridays, 6:30pm, outside the center, free: The Emperor's New Clothes, Jun 29; Henny Penny, Jul 6; The Lion, the Witch and the Wardrobe, Jul 13; Peter Pan, Jul 20; Cinderella, Jul 27; Rapunzel, Aug 3; The Wish Peddler, Aug 10; Fantastic Mr. Fox, Aug 17.
Sweet Charity—Jul 28-Aug 5.
A Little Princess—At Cubberley Community Center, Palo Alto. Jul 6-15.
Palo Alto Children's Theater
1305 Middlefield Road, Palo Alto; $4/$8. 650.462.4970.
The Pale Pink Dragon—Jun 19-29.
Disney's 101 Dalmatians Kids—Jul 5-14.
Honk! Jr.—Jul 17-27.
San Jose Youth Symphony
California Theatre, 345 S. First St, San Jose; $15-$45. 408.288.2800.
Sounds of Spring—Works by Gershwin, Bernstein and Tchaikovsky. Jun 2 at 7pm. Also Jun 16 at 2:30pm; Campbell Heritage Theatre, 1 W. Campbell Ave, Campbell; call for details.
Send a letter to the editor about this story.