May 16-22, 2007
home | metro silicon valley index | music & nightlife | feature
Metro Summer Guide 2007:
Air Guitar Championships | Music | Venues and concerts | Festivals | Stage | Art shows | Classical music | Sports and recreation | Family fun | Summer movies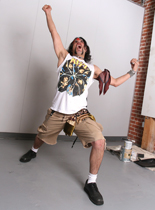 For Those About to Pretend to Rock, We Salute You
The most ridiculously cool event of the summer is also the most ridiculous: the Air Guitar Championships
By Eric Feezell
CAN YOU windmill like there's no tomorrow? Do you yearn to ascend to rock stardom, but accept the fact you've got the musical talent of a butternut squash? Are you an interpretive dancer or mime looking for a little extra push toward fame and fortune?
If you answered yes to any of these questions, you just might be insane enough to put it all on the line at the U.S. Air Guitar Championships, Wednesday, June 27, at San Jose's Blank Club.
Bafflingly entering its fifth year, this contest pits the nation's—indeed, the world's—most ferocious bedroom-version Jimmy Pages and Dimebag Darrels against one another in a no-licks-barred cage match that will force you to ponder, "Why aren't these people famous? Oh, right."
With a Bay Area 2007 summer entertainment lineup that includes regularly touring acts like Sonic Youth, Ozomatli and Modest Mouse, as well as not-so-frequent (but proportionately pricey) productions like the long awaited Police reunion, Northern California music aficionados will be looking for something fresh, original and affordable. What better fit than live air-guitar tomfoolery at the local live-music hub?
Employing instruments comprised of roughly 80 percent nitrogen, countless intrepid rock & roll aspirants undoubtedly rehearse as we speak, readying to throw down their best nonexistent battle-ax skills in this dubiously anticipated tournament-style competition, all in the hopes of advancing through the local and national stages to contend for the coveted title of World Air Guitar Champion this September in fabulous Oulu! (Finland, not Hawaii.)
How does it work? Well, in the spirit of the tournament's multitudinous languid 16-year-old stoner contestants, the rules are fairly simple. Judging criteria consist of three categories:
Technical Merit
It's an air-guitar competition. This one should be self-evident.
Stage Presence
Now's your opportunity to wow the judges with your Kirk Hammett-inspired head banging, Kerry King-aroused intensity or Billy Corgan-like superboringness.
'Airness'
Seriously, don't even ask for an explanation on this one.
To further pique your interest, here is a brief list of various highlights from last year's competition:
Major contender Craig "Hot Lixx Hulahan" Billmeier demonstrates "a death-defying balcony balance" that mesmerizes judges to the point of totally forgetting his undeniably gauche sombrero. Hot Lixx also does a cool tongue thingy, which goes over well with the female judges.
Sporting an adorable sweatshirt bearing a tiger, chubby Japanese hipster underdog Ochi "Dainoji" Yosuke blows competitors away at the world stage by proving that even a Jet song can be reinvigorated with some awesome chain-gang shoveling technique.
Henry Messinger of San Mateo proclaims, "Those performances totally ROCKED! ... in a nonexistent, figurative sort of way."
And here are some predictions for this year's local first round in San Jose:
Most contestants easily replicate their chosen solos note for note, barring any CD skips or power outages.
Despite having displayed inarguably masterful technique and flawless execution during a rendition of the epic guitar solo from~"Sultans of Swing," at least one contestant is disqualified for using an air pick and not staying true to the legendary finger-picking styles of Mark Knopfler.
Foolishly slated for the same day at the Alameda County Fair, Herman's Hermits are forced to take the stage without Peter Noone, who unbeknownst to fans possesses a deep passion for competitive air guitar and is currently doing 110 miles per hour down the 880 to arrive in time for registration.
One unlucky performer impales hand with air whammy bar while overzealously attempting windmills a la Pete Townshend.
Returning 2006 San Francisco and U.S. champion Hot Lixx Hulahan's rocking performance of Eddie Money's "Two Tickets to Paradise" is so riveting that Eddie Money's upcoming July 20 show at the Santa Cruz Beach Boardwalk attracts only eight fans.
At least one worthy performer breaks an air string at an all-too critical moment, unjustly robbing him of his only shot at world air-guitar domination.
Judges heartily appreciate but once again deny advancement to the guy who chooses a Gwar song every year on the basis that his stage presence is "still a little too scary." (Gwar wages war at the San Jose Events Center August 3.)
As in previous years, audience members continue to encounter difficulty in discerning hammer-ons from hammer-offs.
For the first time in competition history, an octopus advances to the national finals with his deadly accurate and surprisingly believable take on the multilayered guitar stylings of the "Free Bird" solo, despite scoring zero points for stage presence.
Unwitting newcomer Josh Hamilton of Cupertino gets knocked out during the preliminary freestyle round after opting to perform the solo from Neil Young's "Cinnamon Girl."
One contestant looks pretty goofy onstage while struggling to re-create the talk-box nuances of Peter Frampton's "Do You Feel like We Do?"
Maximum amounts of hip locking, knee sliding, teeth shredding and behind-the-back neck runs—all fake.
Air rock!
For what will likely be a cheap date, why not come out and witness your best local air guitarorrists at work, with "more cities, more performers, more fans—and even fewer guitars—than any year in [competition] history"? If nothing else, it promises to be one of the most spectacular demonstrations of musical nontalent to date—not counting Healdsburg's first annual air accordion competition this August.
Or maybe you're planning on staying home and washing your air cat.
Eric Feezell lives in Oakland. Visit him here: www.ericfeezell.com.
Send a letter to the editor about this story.