May 16-22, 2007
home | metro silicon valley index | the arts | visual arts | preview
Metro Summer Guide 2007:
Air Guitar Championships | Music | Venues and concerts | Festivals | Stage | Art shows | Classical music | Sports and recreation | Family fun | Summer movies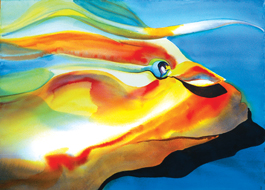 Jean Bradshaw takes part in the Mohr Gallery's watercolors show.
Art Shows
The sights of summer in museums and galleries
Museums
San Jose Museum of Art
110 S. First St, San Jose; Tue-Sun, 11am-5pm; $5/$8. 408.294.2787.
Ballpoint Abstractions, Il Lee— Ends Jul 8. Jess: To and From the Printed Page—Ends Jun 10. Architectural Drawings and Photographs from the L.J. Cella Collection—Ends Jun 3. Tragic Kingdom: The Art of Camille Rose Garcia—First show outside L.A. of underground artist who places cartoon characters in dark, disturbing settings in paintings, drawings and installations. Ends Sep 23. The artist appears for a special event on Jul 12, 7-9:30pm. Martín Ramírez—Works by the renowned outsider artists who spent most of his life in an institution creating exceptional images from whatever materials he could find. (A related exhibit takes place at the Mexican Heritage Plaza.)—Jun 9-Sep 9.
San Jose Museum of Quilts & Textiles
520 S. First St, San Jose; Tue-Sun, 10am-5pm, Thu till 8pm; $5/$6.50. 408.971.0323.
American Tapestry Biennial 5—Ends Jul 8. Put a Roof Over Our Head: Quilts From the Alliance for American Quilts—Ends Jul 8. In the Garden of Wishes—Mixed-media sculptures by Corinne Okada, ends Jul 15. Weavings of War, Fabrics of Memory—Textile art from women artists of war-torn countries. Woven Witness—Afghan war rugs and Afghan freedom quilt. Patriot Art—Pieces from Navajo weaver's flag tapestry and Dixie Brown's knitted armaments. All three run Jul 17-Sep 23. Reception Jul 22, 2-4pm.
Cantor Arts Center
Stanford University; Wed-Sun 11am-5pm, till 8pm Thu; free. 650.723.4177.
Yosemite's Structures and Textures, Photographs by Muybridge, Watkins, Adams and Others—Fifty photographs plus maps and stereoprints. Jul 25-Oct 28. Mutual Admiration: Eugène Carrière and His Circle—Works by French painter and lithographer who was part of active late-19th-century Parisian art scene, plus pieces by Roden, Rodin and others. Aug 8-Dec 2. Art of Being Tuareg: Sahara Nomads in a Modern World—Decorative items by the Tuareg people of Algeria, Niger and Mali. May 30-Sep 2. The show is accompanied by a symposium on "Saharan Nomadic Art in a Modern World," Jun 2, 10am-7pm at the Annenberg Auditorium. Bare Witness: Photographs by Gordon Parks—Ends Jul 21.
De Saisset Museum
Santa Clara University, 500 El Camino Real; Tue-Sun, 11am-4pm; free. 408.554.4528.
Sacred Images: Deities and Marriages in Mithila Paint—Ends May 25. Miniature Worlds: Art From India—Ends May 25. Unleash Imagination: ArtsConnect: Arts Council Silicon Valley—Ends May 25. The Art of Kim Jung Hwa—Textile art by Korean artist, including wall-size pieces and installation art. Jul 8-Aug 19.
Euphrat Museum of Art
De Anza College, 21250 Stevens Creek Blvd, Cupertino; Mon-Thu, 10am-4pm; free.
De Anza College Student Art Show—In interim museum in A9 building. May 21-Jun 14. Reception Jun 12, 5:30-7:30pm.
History San José
1650 Senter Road, San Jose; Tue-Sun, noon-5pm. 408.287.2290.
Manuel Valencia, California's Native Son—Ends May 27. Speed City, From Civil Rights to Black Power—Ends Nov 30. Road Trip: The Birth of California Car Culture—A show created from period photographs by George Polhemus and his wife, founders of the Santa Clara County Automobile Club. Jul 1-Dec 31. Family Days—Dia de Portugal, Jun 9, 10am-7:30pm; Founders Day 1777! (at Peralta Adobe in downtown San Jose), Jul 22, noon-5pm; Antique Autos in History Park, Sep 9, noon-5pm. Valley of Heart's Delight—Special dinner honors historian Jack Douglas and Jerry Rosenthal. Jun 21.
Triton Museum of Art
1505 Warburton Ave, Santa Clara; Mon-Sun, 11am-5pm, till 9pm Thu. 408.247.3754.
Drawings: Visions, Surfaces and Beyond—Works by more than a score of Bay Area artists, including Ruth Asawa, Enrique Chagoya and Gustavo Ramos Rivera—Ends Jun 30. Luis Gutierrez: Passion, Evolution, Liberation—Ends Jun 30. New Works by California Artists: Claire Schoreven Verbiest—Ends Jun 30. AVArtFest—Annual event in the sculpture gardens showcases original juried art by local artists, for sale at reasonable prices. Free. Jun 2-3, 10am-5pm.
Galleries
Anno Domini
366 S. First St, San Jose; Tue-Fri, noon-7pm, Sat, noon-5pm. Closed in July. 408.271.5155.
Lowrider Arcade—Custom bikes by Matthew Rodriguez and Samuel Rodriguez of San Jose. Ends Jun 23. Mysterium Tremendum—Works by Bruni 9li of Brazil. Ends Jun 23. A Summer Cut for Medusa's Daughters—Works by Alfonso Kellenberger for First Friday Aug 3. Michael Page—Oil paintings for First Friday Sep 7 show.
MACLA
510 S. First St, San Jose; Wed_Thu, noon-7pm, Fri-Sat, noon-5pm. 408.998.ARTE.
Annual Latino Art Auction—Exhibit runs through Jun 2, the day of the event; auction begins at 7:30pm.
Gente, Casa y Barrios—A show about people, homes and neighborhoods with local community involvement. Jun 27-Jul 14. Reception Jun 29, 7-9pm. 2007 Chicana/o Biennial—A juried show with piece by more than a score of artists— Aug 1-Sep 22. Reception Aug 3, 7-9pm.
Mexican Heritage Plaza, La Galería
1700 Alum Rock Road., San Jose; Mon-Fri, 1-4pm; free; 408.928.5563.
Martín Ramírez—In conjunction with the San Jose Museum of Art's exhibit of Ramírez's art, the plaza hosts a show of photographs and materials about Ramírez's life. Jun 9-Sep 9.
Mohr Gallery
Community School of Music and Arts at Finn Center, 230 San Antonio Circle, Mountain View; Mon-Fri, 9am-7pm, Sat, 9am-3pm. 650.917.6800.
Intention/Invention, Drawings, Paintings & Scultptures by Robert Poplack—Ends May 28.
Watercolors: Landscapes, Figures, Still Lifes with Karen Bieber, Jean Bradshaw, Steve Curl and Bob Currie—Jun 4-Jul 30. Reception Jun 8, 6-8pm.
Drawings by Julie McNeil—Aug 6-Sep 26. Reception Aug 10.
Palo Alto Art Center
1313 Newell Road, Palo Alto; Tue-Sat, 10am-5pm, Thu 7-9pm, Sun, 1-5pm. 650.329.2366.
Youth Art 2007, ARTPOD and Cultural Kaleidoscope—Three showcases for student artists. Ends Jun 3. Reception May 16, 5:30-8pm. From the Ground Up: Painting, Process & the Garden—Works by Frances McCormack. Jun 21-Sep 9. Photography: Beyond Botanica—Jun 21- Sep 9. Renee Adams: Under Fragile Skies—Jun 21-Sep 9.
San Jose Institute of Contemporary Art
560 S. First St, San Jose; Tue-Fri, 10am-5pm, Thu till 8pm, Sat, noon-5pm; free. 408.283.8155 .
Home Sweet Home—Inaugural exhibit for the completed exhibit space showcases 14 artists looking at the idea of home. Jun 8-Jul 21. Monotype Marathon—Workshops May 19 and 20, exhibit Jun 8-23. Silent Auction, Jun 23. Train—A 140-minute video loop by Oliver Michaels about a model train circuiting multiple buildings. Shows in the Project Room. Jun 8-Jul 28. The Kiss—A Night Moves digital installation by John Slepian. Jun 1-Aug 11. Mapping—A Night Moves video by Asya Reznikov that creates a map of the world from the names of countries. Jun 1-Aug 11. Lift Off—The third annual SJSU Master of Fine Art Exhibition. Jun 29-Aug 4. NextNew2007—Up-and-coming artists show their latest. Aug 3-Sep 22. Mitra Fabian—Strange organic sculptures created from tape, glue and window blinds. Aug 10-Oct 22.
Natalie and James Thompson Gallery
Art Building, San Jose State University; Tue, 11am-4pm, 6-7:30pm, Wed-Fri, 11am-4pm. 408.924.4723.
Gerald Walburg—Sculptures and drawings. Ends May 18
WORKS/San Jose
451 S. First St, San Jose; Tue-Fri, noon-4pm, Thu, noon-7pm; 408.286.6800.
BGA Graphic Design Exhibit—Works by students at SJSU's School of Art and Design. Ends May 17. Members' Exhibition—May 29-Jul 19. Reception Jun 1, 7pm on.
Bay Area
Asian Art Museum
200 Larkin St, San Francisco; Tue-Sun, 10am-5pm, till 9pm Thu; $5-$12. 415.581.3500.
Yoshitoshi's Strange Tales: Woodblock Prints from Edo to Meiji—May 26-Sep 2. Tezuka: The Marvel of Manga—Several hundred original drawings and paintings by Manga king Tezuka Osamu. Jun 2-Sep 9.
De Young Museum
Golden Gate Park; Tue-Sun, 9:30am-5:15pm, Fri, 9:30am-8:45pm; $6-$10 (extra for traveling shows); 415.863.3330.
Vivienne Westwood: 36 Years in Fashion—Ends Jun 10.
Guise: Recent Prints by Deborah Oropallo—Ends Sep 16.
Legion of Honor
100 34th Ave, Lincoln Park, San Francisco; Tue-Sun, 9:30am-5:15pm; $6-$10. 415.863.3330
Masterpieces of French Jewelry—Ends Jun 10.
Design and Decadence: French Works on Paper of the Modernist Era—Ends Jun 10.
Rembrandt to Thiebaud: A Decade of Collecting Works on Paper—Jun 23-Oct 7.
SFMOMA
151 Third St, San Francisco; Mon-Tue, 10am-5:45pm, Thu, 10am-8:45pm, Fri-Sun, 10am-5:45pm; $7-$12. 415.357.4000.
Matisse: Painter as Sculptor, with works by Matisse and Brancusi, Degas, Giacometti and Picasso—Jun 9-Sep 16.
Oakland Museum of California
Tenth and Oak streets, Oakland; Wed-Sat, 10am-5pm, Sun, noon-5pm; $5-$8; 510.238.2200.
Yosemite: Art of an American Icon—Photographs, paintings and other images of the park across two centuries. May 19-Aug 26.
The Edge: Where California Culture, Critters and Environment Collide—An exhibit using art, history and scientific materials to explore the use of natural resources in the state— Jun 2-Oct. 7.
UC-Berkeley Art Museum
2626 Bancroft Way, Berkeley; Wed-Sun, 11am-5pm, till 7pm Thu; $5/$8; 510.642.0808.
Allison Smith: Notion Nanny—An installation about crafts and handmade notions. Ends Aug 12.
Send a letter to the editor about this story.