May 16-22, 2007
home | metro silicon valley index | features | silicon valley | sports
Metro Summer Guide 2007:
Air Guitar Championships | Music | Venues and concerts | Festivals | Stage | Art shows | Classical music | Sports and recreation | Family fun | Summer movies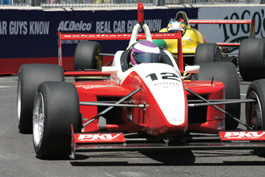 The San Jose Grand Prix flashes through downtown July 27-29.
Sports and Recreation
Organized Play
Celebrate both sides of the spectrum this summer with events ranging from acrobatic gymnastics to muscle-driven wrestling.
Champions on Ice
HP Pavilion, 525 W. Santa Clara St, downtown San Jose; $25-$95. 408.998.TIXS.
The world's best skaters take to the ice to perform without competition, including Sasha Cohen, Evgeni Plushenko and the South Bay's own Rudy Galindo. May 18.
Fight Night at the Tank
HP Pavilion, 525 W. Santa Clara St, downtown Jose; $25-$95. 408.998.TIXS.
American Metal and Iron—A 10-round heavyweight boxing event featuring James "Lights Out" Toney. May 24.
Pro-Am Beach Soccer Championships
Beach Boardwalk, Santa Cruz.
The third-annual event was formerly known as the U.S. Sand Soccer Championships.
Jun 23-24.
Red Bull U.S. Grand Prix
Laguna Seca Raceway, 1021 Salinas Hwy, Monterey. 831.242.8201. www.laguna-seca.com.
Rev up for summer with the country's biggest motorcycle race, the MotoGP World Championship. Jul 21-23.
Strikeforce
HP Pavilion, 525 W. Santa Clara St, downtown San Jose; $30-$400. 408.998.TIXS.
Shamrock vs. Baroni—Mixed martial arts. Jun 22.
San Jose Giants
San Jose Municipal Stadium, 588 E. Alma Ave, San Jose. 408.297.1435. www.sjgiants.com.
Vs. Modesto—May 16-17; vs. Stockton— May 27-29; vs. Bakersfield—May 31-Jun 2; vs. Stockton—Jun 3; vs. Visalia—Jun 11-14; vs. Modesto—Jun 15-17; vs. Stockton— Jun 28-30; vs. Lake Elsinore—Jul 1-3; vs. Modesto—Jul 11-13; vs. Inland Empire— Jul 14-16; vs. Visalia—Jul 24-26; vs. Lake Elsinore—Jul 27-30; vs. Stockton—Aug 7-9; vs. Bakersfield—Aug 10-12; vs. Visalia— Aug 21-23; vs. Rancho Cucamonga— Aug 24-26; vs. Bakersfield—Aug 31-Sep 3
San Jose Grand Prix
Downtown San Jose; $25-$129. 408.277.6290. www.sanjosegrandprix.com.
Race cars take to the streets of downtown San Jose. Jul 27-29
San Jose SaberCats
HP Pavilion, 525 W. Santa Clara St, downtown San Jose; $17-$84. 408.998.TIXS.
Vs. Grand Rapids—May 19; vs. Orlando—Jun 1; vs. Rattlers—Jun 16
Santa Cruz Longboard Club Invitational
West Cliff Drive, Santa Cruz. 831.454.9888.
Now in its 22nd year, this competitive surfing event is the oldest of its kind on the West Coast. May 26-27.
Visa Championships
HP Pavilion, 525 W. Santa Clara St, downtown San Jose; $95-$399. 408.998.TIXS.
A men's and women's artistic and acrobatic gymnastics championships. Aug 15-18.
Wharf-to-Wharf Race
Starts at Municipal Wharf, Santa Cruz. 831.475.2196. www.wharftowharf.com.
First run the scenic six miles, then listen to dozens of bands, feast on local cuisine and relax in the Santa Cruz breeze. Jul 22.
WWE Great American Bash
HP Pavilion, 525 W. Santa Clara St, downtown San Jose; $30-$200. 408.998.TIXS.
This pay-per-view wrestling event is filmed live at the Pavilion. Jul 22.
Zumiez Couch Tour
Eastridge Mall, Tully Road, San Jose; free. www.zumiez.com.
The Emerica Skate Team performs demonstrations and signs autographs, plus live music from Saves the Day and other musicians. Jul 1.
Cycling and Running
Yoda be damned, there is a tri this summer in the South Bay—three, in fact—along with a plethora of fun runs and fundraisers, cycling tours and races.
Foothill Century
South Peninsula Hebrew Day School, 1030 Astoria Dr, Sunnyvale; $40. www.sphds.org/foothillcentury.
This second annual ride claims its the "only Kosher ride in the West," and includes both 100K and 50K treks through Silicon Valley, as well as a 10K family fun ride. May 20.
UVAS South Bay Triathlon
Uvas Reservoir, Uvas Road, Morgan Hill; $90-$155. 877.366.RACE. www.japroductions.com/uvas.
An official USA Triathlon event, the 14th annual race features a .75-mile swim in Uvas Reservoir, 16-mile ride along rolling hills and five-mile run. May 20.
Skyline Ridge Trail Run
Skyline Ridge Open Space Preserve, Palo Alto. www.pctrailruns.com.
Cross through the Skyline, Long Ridge and Russian Ridge preserves at this trail run that includes options of 14K, 23K, 37K and 50K events. May 20.
Girls on the Run 5K
Vasona Lake County Park, 333 Blossom Hill Road, Los Gatos; $15-$25. www.girlsontherun-sv.org.
Join more than 400 females to raise funds for Girls on the Run of Silicon Valley, an organization that provides after-school programs for girls in grades 3-8. May 20.
Mushroom Mardi Gras Run
Coyote Creek Bike Path, Malaguerra and Morning Star, Morgan Hill; $20-$25. 408.778.1786. www.mhmushroommardigras.com.
Kick off the annual Mushroom Mardi Gras weekend celebration with a 10K run and 5K run and walk for the whole family. Proceeds benefit Live Oak High School athletics programs. May 26.
Five Wire Inc. Mt. Hamilton Road Race
Joseph George Intermediate School, Mahoney Avenue, San Jose. 408.920.1771.
This amazing road course is a reminder of the old European Classics, with 4,500 feet of climbing in 20 miles to the top of Mount Hamilton, with some breathtaking descents. May 27.
ST Bikes Memorial Day Criterium
Morgan Hill Business Park, Jarvis and Serene, Morgan Hill. 408.920.1771.
The Memorial Day "Crit" consists of a one-mile loop on Jarvis, Serene and Sutter streets in Morgan Hill. Roads are safe and have recently been repaved. May 28.
Run and Walk for Lupus
Shoreline Park, Mountain View. www.balf.org.
Stretch your legs and raise funds for the Lupus Foundation of Northern California in this 5K run and walk. Jun 3.
Pescadero Road Race
Pescadero High School, Butano Cut-off, Pescadero. 650.823.2779. www.altovelo.org/pescadero.
The 10th Annual Pescadero Coastal Classic is a 28-mile loop that has 1,500 feet of climbing per each lap; steep, winding descents with fair to good roads. Held rain or shine. Proceeds benefit South Coast Children's Services. Jun 9.
Henry Coe Run and Walk
Henry Coe State Park, Gilroy Hot Springs Road, Gilroy; $25. www.coepark.org.
Follow this flat dirt trail through a wide variety of trees, spring flowers and green hills at this annual 10K race and 5K run and walk. Jun 9.
Muddy Buddy San Jose
Joseph D. Grant Regional Park, 18405 Mt. Hamilton Road, San Jose; $130/$140. 818.707.8867. www.muddybuddy.com.
Take a trip through the infamous mud pit at this competitive six- to seven-mile course containing five different obstacles. Jun 10.
Run for the Future
Palo Alto Baylands, 1900 Geng Road, Palo Alto; $20-$25. www.saveyourbrain.org/run.html.
An annual race raising funds for brain cancer research and support in the Bay Area. Jun 17.
San Jose Mtn. Bike Triathlon
Almaden Lake Park, Almaden Expressway and Coleman, San Jose; $90. 877.366.RACE. www.japroductions.com/sjmb.
Swimmers take to Lake Almaden for the first leg of this triathlon, followed by a 10-mile mountain-bike ride and a 3.1-mile run. Jun 23.
San Jose International Triathlon
Almaden Lake Park, Almaden Expressway and Coleman, San Jose; $100-$175. 877.366.RACE.
The day after its mountain bike triathlon, J&A Productions holds its premier event, which includes a 1.25K swim along the perimeter of Almaden Lake, a 40K bike and a 10K run. Jun 24.
Burlingame Criterium
Burlingame and Lorton avenues, Burlingame. 650.348.6701. www.burlingamecriterium.com.
Once known as the Silver Bullet Criterium, Burlingame is still host to one of the oldest bike races on the peninsula. Riders of all categories are welcome. Jun 24.
Morgan Hill's Fourth of July 5K Run and Walk
P.A. Walsh Elementary School, 353 W. Main St, Morgan Hill; $13-$24. www.mhidi.com.
Run along the same route as the city's Independence Day parade. A children's one-mile is also available. Jul 4.
The Dream Mile
Shoreline at Mountain View, 3070 N. Shoreline Blvd, Mountain View; $15/$20, free for 12 and under. www.active.com.
Vibha holds its annual 5K and 10K run and walk fundraiser and carnival to benefit services for underprivileged children. Jul 8.
Run for the Stinkin' Roses
Solorsano Middle School, 7121 Grenache Way, Gilroy; $25. www.active.com.
Formerly known as the Reek Run, this 5K and 10K race heads along the streets of Gilroy. Jul 14.
Los Gatos Jungle Run
Los Gatos High School, 20 High School Court, Los Gatos; $30-$60. www.japroductions.com.
Compete in either the half marathon or 10K, traveling along the Los Gatos Creek Trail. Jul 15.
SEF iWalk for an Eye
Shoreline Park, Mountain View; $15-$30. www.walkforaneye.com.
Participants in this fundraiser event can register as individuals or teams, choosing to run or walk in either the half marathon, 10K or 5K races. Funds raised help the blind in India. Aug 25.
Track Racing at Hellyer Velodrome
Just off Highway 101 at Hellyer Avenue.
Cycling track is undergoing renovations and will reopen in late May. See www.ridethetrack.com for open dates.
Send a letter to the editor about this story.