May 16-22, 2007
home | metro silicon valley index | movies | current reviews | preview
Metro Summer Guide 2007:
Air Guitar Championships | Music | Venues and concerts | Festivals | Stage | Art shows | Classical music | Sports and recreation | Family fun | Summer movies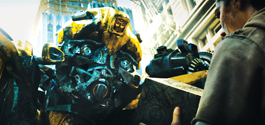 Will 'Transformers' change people's lives on July 4?
Movies
If this summer looks like summers past, blame it on the sequels
By Richard von Busack
AND THE SCORE so far is Remakes: 7. Sequels: 16. Clearly, the public has shown its preference for sequels over remakes in the summer of 2007. And I say "public" instead of "studios," since their tastes are one and the same. (Source: Bart, Peter, "There's No Such Thing as a Bad Movie—Only Bad Critics," Variety, Aug. 5, 2007) To be frank, Variety editor Bart hasn't yet written this article yet. But he has composed editorials claiming that critics ought to take a break during the summer months and get back aboard during prestige season in the fall.
Yet this is prestige season, Bart! (why you little ...) nor are we out of it. Michael Winterbottom, "England's most depressing director"™, returns to somber form with A Mighty Heart (June 22). See Angelina Jolie miming the emotions of Mrs. Daniel Pearl when she got the bad news from Pakistan!
We've got your cancer, in Evening (June 29), the Destroy All Monsters of chick-flicks (Streep vs. Collette! Close vs. Danes!). Leeches! (Rescue Dawn, July 13). Home invasions! (The Strangers, July 13). Torture chambers! (Hostel: Part II, June 8).
The real story of the summer is baby movies. Jolie is pregnancy-pouched throughout A Mighty Heart, for example. The studio has all but hired a sign-shaker to stand outside my office promoting Knocked Up (June 1), such are their high hopes for this comedy in which a chump (Seth Rogan) impregnates a lady far above his station.
The title of Daddy Day Camp (Aug. 8) says it all; License to Wed (July 4) involves the comedic wearing of Baby Snuglis. In The Brothers Solomon (Sept. 7), a pair of oafs seek a mom for their baby, in hopes of hatching a grandkid for their father. Even Shoot 'Em Up (also Sept. 7) turns out to have Clive Owen protecting a baby with his pistol. Producers ought to hope it's not a monkey-see, monkey-do situation. People who have infants don't go to the movies, you know.
For those who believe that they don't make 'em like they used to (and they don't), the Stanford Theatre in Palo Alto is in the midst of a wonderful Katharine Hepburn/Judy Holliday retrospective through June 24. Meanwhile, the summer weather also brings two San Jose outdoor series. The San Pedro Square screenings begin June 20 with Airplane! and run through Aug. 29. The St. James Park showings start Aug. 3 with My Big Fat Greek Wedding and last until Aug. 24 (Back to the Future).
Remember, all opening dates are subject to change depending on the desperation of studios; and some art films open in San Francisco a week before moving to San Jose.
S = sequel, R = remake, including TV or video-game adaptation.
May 18
Provoked: Based-on-fact account of Indian woman killing her battering husband. Fay Grim (S) stars Parker Posey as a housewife caught in international intrigue. Shrek the Third (S).
What to See
Shrek the Third's solid gag writing and casting make it one of the last dependable franchises.
May 25
Bug: Ashley Judd holds off a legion of dangerous mutant bedbugs. Pirates of the Caribbean: At World's End (S): Off to Singapore with the crew of the Black Pearl.
What to See
The pirate movie is hardly going to need more viewers. If William Friedkin's Bug is as good as they say it is, why has it been in the can so long? Sight unseen, let's recommend Severance, a grisly-comic horror film about a group of arms dealers who are, as they used to say, hoist by their own petards.
June 1
Day Watch (S): The demon/mankind war continues from Russia's Night Watch. Angel-A: Luc Besson's angel-in-Paris story. Mr. Brooks: Jekyll and Hyde story with Kevin Costner and William Hurt as the split personality. Gracie: Soccer story in New Jersey in '78. Once. Knocked Up. Hollywood Dreams: Henry Jaglom's newest, a study of an Iowa girl yearning for fame.
What to See
Try Mr. Brooks even though it does have Demi Moore as the detective. Good word attends Once, a Dublin romance between Frames singer Glenn Hansard and pianist Markéta Irglová.
June 8
The Wendell Baker Story: Luke Wilson saves a nursing home in this self-written comedy of what would seem to be the Wes Anderson school. Surf's Up: Animated penguins hang 10. Ocean's Thirteen (S): See note for Fantastic Four 2. Hostel: Part II (S). Paprika.
What to See
Paprika. Unless Sinatra's coming back from the grave, we can pass on the Ocean's sequel. As for watching a sequel to Hostel, remember that Voltaire comment about how once makes you a philosopher and twice makes you a pervert? Satoshi Kan's Paprika is, by contrast, the newest and strangest work by this rising talent in anime.
June 15
Golden Door. Nancy Drew: Pulp fiction's most dangerous two-fisted dick returns to investigate a "haunted" house. Fantastic Four: Rise of the Silver Surfer (S): The director promises it'll be better than the last one. Fido: A sentimental boy-and-his-pet-zombie stories. La View en Rose: Piaf time.
What to See
The carriage trade will want to come out for Emanuele (Respiro) Crialese's Golden Door, a drama about an Italian family's migration to American at the turn of the 19th century and this year's S.F. Film Fest opener.
June 22
A Mighty Heart. Evan Almighty (S): Steve Carell stars as a modern Noah in the follow-up to Bruce Almighty. Eagle vs. Shark: Kiwi cashiers in love; plot sure sounds like The Shop Around the Corner. DOA: Dead or Alive (R). 1408. Stephen King's story about a bad, bad hotel room.
What to See
DOA: Dead or Alive, believe it or not. This video-game-derived picture looks like it takes up right where Planet Terror ended.
June 29
Live Free or Die Hard (S; June 27): John McClane (Bruce Willis), never to be confused with John McCain, takes out cyberterrorists. You Kill Me: Drunken hit man Ben Kingsley becomes a teetotaler for Téa Leoni in a drama by John Dahl. Evening: Susan Minot's novel about a dying woman's romantic life. Martian Child: John Cusack's boy is weird without the beard. Death at a Funeral: Comedy secrets come out during Dad's big fat English burial; the previews smell like the grave. Ratatouille.
What to See
Ratatouille: A beguiling animated rat seeks to become a French chef, despite health regulations. It's not Flushed Away all over again; director Brad Bird (The Incredibles) wouldn't let that happen.
July 4
License to Wed. Transformers (R): Michael Bay's little movie that could, starring kilbots.
July 6
Vitus: A boy prodigy has trouble adjusting. Joshua: Just like Vitus, except the prodigy is evil. Sam Rockwell and Vera Farmiga play the worried parents of a 3-foot antichrist.
What to See
License to Wed: Ken Kwapis' TV work (Malcolm in the Middle) suggests that this could provide just the right portions of Robin Williams as a cracked minister forcing a couple to get premarital counseling.
July 13
Talk To Me. Harry Potter and the Order of the Phoenix (S): Potter forms a secret cadre to defend against the black arts of the evil You Know Who. The Strangers. My Best Friend: Daniel Auteuil as an arrogant antique dealer in Patrice Laconte's newest. Rescue Dawn: Christian Bale (emaciated again) plays Dieter Dengler, hero of Werner Herzog's 1997 doc Little Dieter Needs to Fly, in Herzog's full-length adventure story of how downed German-American U.S. fighter pilot Dengler escaped the Commies in Vietnam.
What to See
Talk to Me: Don Cheadle meets Chiwetel Ejiofor in a "Good Morning, D.C." story about an out-of-control DJ in the 1960s.
July 20
Clubland: Australian comedian (Brendan Blethyn) raises sexually precocious teen. Fierce People: Donald Sutherland, Diane Lane in coming-of-ager set in New Jersey. Hairspray (R): Musical version of the John Waters farrago, with John Travolta looking very much like Barbara Streisand. I Now Pronounce You Chuck and Larry: Firemen (Adam Sandler and Kevin James) pretend to be gay to get domestic-partner benefits. Apparently, it required a Swiss clinic full of script doctors. Exiled: Johnny To on the warpath in Macau right before the Chinese takeover.
What to See
Free-choice week.
July 27
The Simpsons Movie (R). I Know Who Killed Me: Lindsay Lohan gets her personality split after an assault. Skinwalkers: Werewolves! No Reservations (R): Catherine Zeta-Jones' life as a chef, with Aaron Eckhart for salt and Abigail Breslin for sugar; a remake of the German film Mostly Martha.
What to See
The contraction "D'oh" probably comes from "Duh ..." plus "Ooof."
Aug. 3
Charlie Bartlett: John Hughes-type deal about a kid who becomes the freelance shrink of his high school. Hot Rod: Andy Samberg, of Lazy Sunday fame, as a self-taught stuntman. Molière: Biopic of the man who would have written Hot Rod if he'd thought of it. Underdog (R): Saw the previews; there is need to fear. The Bourne Ultimatum (S): Matt Damon hits North Africa while playing a chess game with his spymasters.
What to See
Molière for the costumes and to vulture up that culture; Bourne for the chase scenes through Tangiers.
Aug 10
Daddy Day Camp (Aug 8). Bratz: "Whaddya know, little dolls that look like hookers!" Becoming Jane: Anne Hathaway stars as Jane Austen. Rocket Science. Rush Hour 3 (S): "Lookout for the fruit cart! Yahhhhhhh!" Stardust: Neil Gaiman's answer to The Princess Bride has dirigible pirates (Robert De Niro), an ugly witch (Michelle Pfeiffer) and Claire Danes.
What to See
Rocket Science, in which a stutterer joins his high school debate team. The unlikely story has a likely director: Jeffrey Blitz (Spellbound, the only good spelling-bee movie).
Aug. 17
Arctic Tale: Documentary account of walrus and polar bear lifestyles. Penelope: Christina Ricci has a face like a pig. It's a fairy-tale curse, but she learns to get over it. Superbad: Teens need liquor! Jonah Hill and Michael Cera star as two guys who think they'll score girls if they get hootch. The Invasion (R): Daniel Craig and Nicole Kidman in a new version of Invasion of the Body Snatchers. Fanboys: Four kids head cross-country to see the preview of The Phantom Menace at the Lucas Ranch. It's supposed to be a comedy, even if it sounds like a tragedy. Wedding Daze: Voted "most likely to be postponed," by a one-man jury of critics.
What to See
Superbad could be superbad, but it turns out to be directed by Greg (The Daytrippers) Mottola.
Aug. 24
Good Luck Chuck: Every time Dane Cook dates a girl, she drops him and finds Mr. Right. The Last Legion: A legionnaire tries to stave off the decline of the Roman Empire. Could be that long-awaited Oscar nod for Edward Gibbon. Mr. Bean's Holiday (S): The strange little fellow (Rowan Atkinson) voyages to France.
What to See
The Last Legion. There's only one sword-and-sandal movie all summer long ...
Aug. 31
Halloween (R). The good news: Rob Zombie's directing. Death Sentence (S): James (Saw) Wan gets out of the dungeon and into the streets for a film version of a book that was Brian Garfield's sequel to Death Wish. You wanted Charles Bronson, you get ... Kevin Bacon!
What to See
Get ready for Halloween early with Halloween.
Sept. 7
The Brothers Solomon. The Nanny Diaries: Scarlett Johansson in the adaptation of the book that made the Upper East Side nervous. Shoot 'Em Up. Trade: Kevin Kline as a Texas cop smashing up a Mexican sex-slave ring.
What to See
Maybe Trade, since it sounds torn from today's websites.
Send a letter to the editor about this story.