June 20-26, 2007
home | metro silicon valley index | features | silicon valley | feature story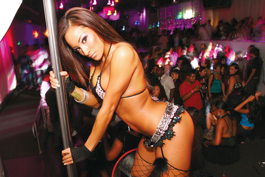 Photographs by Felipe Buitrago
Go-go San Jose bar scene: Lately you can't throw a dollar bill without hitting a porn star or go-go dancer. Metro's Bars & Clubs issue looks at how San Jose has become its own little Sin City. Click here to see a full-size version of the above image.
Downtown a Go-Go
San Jose is bringing sexy back
By Mike Connor
Intro | The Barman's revenge | San Jose | Campbell | Cupertino | Los Altos | Los Gatos | Mountain View | Palo Alto | Santa Clara | Saratoga | Sunnyvale
That is the very definition of America: a people who have no shame and therefore they do whatever they want to do.
—Unknown
The other day I thought about canceling my subscription to Playboy TV, not because I'm tired of the naked weather reports or the hidden camera shows (featuring bare breasts—and people's reactions to them—as every punch line). Why cancel it then? Because walking around downtown S.J., I see almost enough bare skin on club fliers to get me through the week without Mary Carey showing me hers on "Totally Busted TV!"
OK, not really, but anyway odds are good that eventually Mary Carey will come here in person. A lot of porn stars, Playboy models, strippers and go-go dancers seem to be coming through town these days. Maybe they mistook Silicon Valley for Southern California's "Silicone Valley," also known as the porn capital of the world—though I am still fact-checking that claim.
While I was at it, I checked out the last six months of events downtown and found plenty of titillating titles, like "Sinful Saturdays" at Fahrenheit and "Red Light Bowl"—a sexy alternative to the Superbowl—at Taste back in January. In February, Taste hosted the Men of Exotica, and Angels hosted a corset party with the Ndamixx Hunnies, a Bay Area go-go dancing troupe.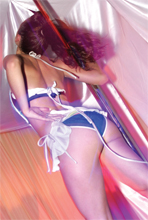 What's in a name?: Desired Temptations is part of the go-go craze at Angel's. (Full-size version)
Vivid (formerly Studio 8) enjoyed a long string of sexy successes, starting in February when Playboy model Lauren Anderson helped the new nightclub celebrate its grand opening. In March, celebrity guest Bobbi Billard hosted an evening of (what else?) music and dancing. A quick Google search for Bobbi Billard will get you in trouble at work but afford you a good idea of what this woman is all about. She seems to dislike wearing clothes.
Also in April, the "hedgehog" himself, the legendary (and hairy, and round) Ron Jeremy made an appearance at Vivid, as did Carmen Elektra's Naked Women Wrestling League, a traveling band of bikini-wearing jello wrestlers.
But Vivid found its soul mate in DJ and Playboy model Yvonne Black, whose twin talents (DJing and modeling, duh) complement the club's preferred image of beautiful people dancing the night away. To help you get to know her, Black thoughtfully includes her résumé on her website. I went ahead and checked it out, and I'll be boned if she doesn't play chess and speak fluent Czech.
The list goes on: for a good time, google Penthouse Pet Shay Laren, Playboy model Roxanne Dawn and/or Christine Dolce, a.k.a. "Forbidden," all of whom recently appeared at a downtown nighclub. And who can forget Jessica Rae, CEO and choreographer for the Desired Temptations go-go dancers at Angels?
Even Agenda got in on the action, albeit somewhat accidentally, by inviting rap's originators of nasty, the 2 Live Crew, who bring along their own booty-shaking go-go dancers to every show. It was like watching people wiggle their ears—I just don't understand how movement like that is even possible.
It's all part of the continuing trend of nightclubs—or, in downtown San Jose parlance, "Ultra Lounges"—to co-opt the strip club strategy of using scantily clad girls to lure people in and get them to spend their money.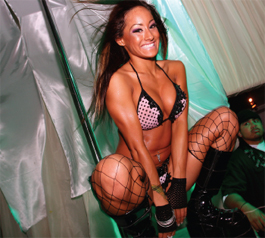 Pole position: Angelica Carrera shares the stage at Angel's. (Full-size version)
I used to live above a strip club near the red light district in Copenhagen. Each month I paid my rent in the dressing rooms, which the owner of the building liked to use as his office. And each night from my window, I watched patrons valet-park their Mercedes and BMWs—husbands and wives out on the town, by the looks of it. Strip clubs: not just for businessmen, frat boys and good old-fashioned sleazeballs anymore!
Now we're seeing how the trend plays out in the opposite direction. Nightclubs are sexier than ever. The difference is that in nightclubs, all the go-go dancing, jello wrestling and porn star hosting is included as a sort of sideshow. There's no exchange of tips for lap dances—the go-go dancers are there for subliminal effect. It's almost like they're partying right along with you, urging a small part of your brain to think, "Wow, those girls are having so much fun dancing, they took their clothes right off!" Ultimately, the main event is supposed to be drinking and dancing, but let's face it: the biggest spectacle of any weekend night out in San Jose is the cop show at the end, because nothing upstages the show that everyone loves to hate. Now if we could get 'em to end on a full monty every night, that would bring new meaning to the phrase "entertainment zone."
For more information about club events downtown and throughout the South Bay, sign up for the Metroactive Newsletter.
Send a letter to the editor about this story.