June 20-26, 2007
home | metro silicon valley index | features | silicon valley | feature story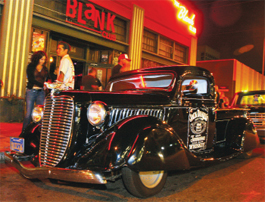 Riot grill: Outside the Blank Club in San Jose.
Silicon Valley Bars & Clubs 2007
San Jose
Photographs By Felipe Buitrago
Silicon Valley Bars & Clubs 2007:
Intro | The Barman's revenge | San Jose | Campbell | Cupertino | Los Altos | Los Gatos | Mountain View | Palo Alto | Santa Clara | Saratoga | Sunnyvale
A.P. Stump's
163 W. Santa Clara St, San Jose; 408.292.9928
This posh San Jose restaurant and lounge is a favorite of the business professional set and anyone who enjoys a delicious meal presented like a baroque object of art. At A.P. Stump's, food is king and they've been dedicated to delivering upscale dining to us locals for the better part of a decade. The menu changes daily, and A.P. Stump's boasts an impressive wine list that would make any sommelier jealous. Their selection of ultrafine scotches, cognacs and cordials is primo, and all of their cocktails are made with premium liquor, something you just don't see enough of. So if you want your date to think you're a San Jose mover and shaker, take 'em to A.P. Stump's for a little image bolstering from this sophisticated restaurant and lounge.
Agenda Lounge
399 S. First St, San Jose; 408.380.3042
Agenda Lounge is a one-stop shop for dining and dancing in downtown San Jose. You can grab a quick bite or sit down, relax and feast on the excellent contemporary cuisine, then take the night upstairs to the lounge and work off some of those calories on the dance floor. Agenda Lounge has been on the forefront of the San Jose DJ and live music scene for years, and even though live music seems to have gone the way of the dodo downtown, Agenda still books some impressive acts. The downstairs heated patio caters more to jazz stylings while upstairs the DJs spin house, hip-hop, soul and salsa to eager San Jose club-goers.
Alex's 49er Inn
2214 Business Circle, San Jose; 408.279.9737
An old school neighborhood bar, Alex's 49er Inn has been serving its regulars Goliath-size drinks on the cheap for years. It's small, dimly lit, cheap, has a pool table, and any regular can spit out San Jose history at the drop of a hat; in other words, Alex's 49er Inn is your typical San Jose dive bar.
Almaden Feed and Fuel
18950 Almaden Road, San Jose; 408.268.8950
Local San Joseans transport themselves back to Almaden's Wild West past at Almaden Feed and Fuel, the very definition of the come-as-you-are neighborhood bar. And since you're thinking of an unrefined night out, get there early and feast on some of the down-home grub before you start knocking back shots of redeye. Besides the food and drink, Almaden Feed and Fuel also hosts live entertainment some nights and does karaoke, so if your hectic valley life has you in a rut, park that soccer wagon next to the Harleys out front and join in a raucous good time at this neighborhood bar.
Amber India
377 Santana Row #1140, San Jose; 408.248.5400
Located in Santana Row, San Jose's top destination for the tragically hip, Amber India serves an eclectic cocktail menu that gets extra points for creativity and flair. The excellent cuisine, as you might expect, is Indian, and the décor will make you feel like a raja, even though you're not sitting on a bed of a thousand pillows. The crowds range from the after-work crowd to curious cuisine seekers and hipsters.
Angels
400 S. First St, San Jose; 408.378.5525
Angels dance club, located in the SoFA district of San Jose, is part of the current trend of the upscale "ultralounge," featuring some locally famous DJs spinning the latest dance tracks to keep the club kids entertained. Also, Angels takes things a step further by occasionally hosting some live music.
Aqui Cal-Mex Grill
5679 Snell Ave, San Jose; 408.362.3456
1145 Lincoln Ave, San Jose; 408.995.0381
201 East Campbell Ave, Campbell; 408.374.2784
All you need to know about this San Jose restaurant and bar is: 40 different kinds of tequila. We're not talking your typical Cuervos here; premium tequila drinking has been on the rise for some time and Aqui Cal-Mex Grill takes full advantage. And, while that may be enough for some, Aqui also pumps out some of the best tasting food in San Jose featuring skillful infusions of Mexican and Asian flavors to wow your palate. Aqui is a chic hangout for the after-work crowd treading back to the suburbs and a weekend dining spot for families.
Arcadia
100 W. San Carlos St, San Jose; 408.278.4555
Arcadia is not your typical San Jose hotel bar and restaurant; if the five star cuisine isn't enough to convince you of that, then the intimate, refined bar with its innovative cocktails should. Located inside the Marriott Hotel on San Carlos Street, one almost wouldn't know that Arcadia is there, but since people have started finding out about this little upscale gem, Arcadia has been pulling in loads of business from people wanting a sophisticated dinner or business professionals seeking that power lunch. The luxurious and relaxed lounge can get pretty kicking on the weekends.
Bamboo Lounge/ Island Grill
1355 N. Fourth St, San Jose; 408.392.2468
You've just got to love the year-round tropically themed bar, because any time you need a little island fix, even in the dead of winter, you can get there through libations. In San Jose the Bamboo Lounge brings tropical paradise to Japantown for way less than a plane ticket. The Bamboo Lounge even has musical entertainment, featuring jazz and blues during the week along with your basic kitschy lounge action on the weekends.
Blank Club
44 S. Almaden Ave, San Jose; 408.292.5265
The Blank Club is still one of the best places downtown to catch punk, alternative and rockabilly shows almost any night of the week. They usually book both local and nationally recognized talent for their thrashing, moshing patrons, who hang out there even without the music, because everybody needs a local bar to call their own, and there is no place else where you can prove your punk-rock karaoke chops.
Blowfish Sushi to Die For
335 Santana Row # 1010, San Jose; 408.345.3848
Blowfish is a sleek and sexy sushi restaurant and lounge in San Jose's mecca for all thing sleek and sexy: Santana Row. The sushi is excellent and the décor manages to be both sophisticated and relaxed at the same time, but what we go there for is their sake. Sporting a list longer and more diverse than what you'd find in most Japanese liquor stores, Blowfish Sushi to Die For takes sake consumption way beyond what normal people are used to and treats the tasty little rice wine libations as they should be: like works of art. The lounge at Blowfish gets jammed packed with patrons on the weekends, and not just because it's one of the only places in Santana Row to stay open until the 2am for the dance revelers—it's because this local bar lounge crushes your previous notions of what hip is.
Blue Monkey
1 E. San Fernando St, San Jose; 408.275.6006
The Blue Monkey is a hot little venue in San Jose that fills the need for a slightly upscale lounge and martini bar for a more sophisticated set. Oh, you can still get your club kids at the Blue Monkey, but everyone acts a little more mature when they ascend those Far-Easternesque stairs and step into the mood lighting of this San Jose lounge. Some top spinners are featured Wednesday through Saturday to keep the Blue Monkey's patrons both relaxed and bumping to the beats.
Branham Lounge
1116 Branham Lane, San Jose; 408.265.5525
Heck, anything you could possibly want in a neighborhood bar the Branham Lounge provides all topped off with dive bar charm. Any time of the day or night, you can find the Branham Lounge's unique slew of regulars sipping on cocktails and gabbing about San Jose happenings. And don't worry about this local bar favorite becoming a trendy hot spot, because all that they ever want to remain is a watering hole for the neighborhood.
Britannia Arms
5027 Almaden Expressway, San Jose; 408.266.0550
173 W. Santa Clara St, San Jose; 408.278.1400
Britannia Arms epitomizes the classic neighborhood bar, well, if your neighborhood is in jolly old England. Seriously, this favorite local bar has all of your delectable food choices from the Isles, some healthier fare and Britannia Arms an impressive tap beer and liquor selection. On the weekends you can usually catch live music at either one of the locations, or just croon along with some karaoke during the week. The Almaden Expressway location has established itself as the neighborhood bar in that particular area of South San Jose, and the Downtown San Jose location packs in people before and after HP Pavilion events sporting one of the best patio bars in town.
Caravan
98 S. Almaden Ave, San Jose; 408.995.6220
Caravan calls itself San Jose's best dive bar, and it's probably right. Everything is poured heavy at the 'Van and local regulars, college kids and San Jose punks soak up the cheap cocktails and the dive bar scene at a steady pace. You can hear virtually everything on the jukebox or come in on Thursdays and catch some local live music from up and coming San Jose punk bands. You can shoot some pool and down a brew almost 24 hours a day—seriously, the Caravan is open from 6am to 2am.
Cardinal Lounge
3197 Meridian Ave, San Jose; 408.269.7891
The Cardinal is a dimly lit little San Jose lounge heavily steeped in Vegas-style kitsch, and although with nightly specials the cocktails are cheap, they aren't exactly free. Most nights, you can catch drunken San Jose State kids belting out their favorite karaoke hits from the '80s while downing test tube shot specials or local regulars crooning to no one in particular. And, how's this for some San Jose convenience: The Cardinal Lounge is inside the Cardinal Diner which just so happens to be open 24 hours a day, so after your fifth booze-soaked rendition of "Friends in Low Places" you can grab a sobering quick bite.
Chacho's
18 S. Almaden Ave, San Jose; 408.293.138
Besides being a top-notch San Jose Mexican restaurant, Chacho's also sports one of the most impressive tequila selection that we have ever seen. Boasting more than 90 varieties—including 15 varieties of mescal—this local bar is a must for any connoisseur of the fine agave spirit. Chacho's can get pretty packed, but believe us, any wait time you might experience is well worth it.
Checkered Flag Bar and Grill
803 Lincoln Ave, San Jose; 408.271.1880
Housed in what was once the Fox's Den, Checkered Flag Bar and Grill caters to a host of San Jose regulars that like cheap grub with their cheap drinks along Lincoln Avenue. This San Jose bar has gone through a few incarnations, but their dedication to the spirit, as in liquor, remains.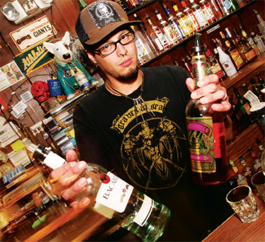 His bottles won't let you down: Kenny Mendoza tends bar at the Cinebar.
Cinebar
69 E. San Fernando St, San Jose; 408.292.9562
Cinebar, a venerable San Jose dive bar and one of the oldest continually operated in Silicon Valley, is a true local favorite. You can start your day off right here because they open up at 6am, something San Jose bars just don't do enough of, and then end your day in the same fashion because Cinebar is open until 2am. The regulars are a pantheon of San Jose locals, college students and twentysomething punks cutting their proverbial teeth at the neighborhood dive bar. Seriously, if you call yourself a local and haven't drunk at Cinebar then your life, as you know it, is a charade. Quit perpetuating the lie, grab a cocktail, listen to one of the best stocked jukeboxes and relish in a San Jose classic.
City Bar and Grill Hilton Hotel
300 Almaden Blvd, San Jose; 408.947.4444
In Silicon Valley, and especially San Jose, conventions are huge, and that crowd likes convenience along with its expense-account drinking, so it's no wonder that they all flock to the City Bar and Grill inside the Hilton Hotel. You can grab some classic American favorites from the decent grill or simply down a few cocktails while listening to soft jazz and contemplate all aspects of your life at this San Jose bar that makes out-of-towners feel like locals.
Claddagh
1300A First St, Gilroy; 408.848.5050
For a long time the Claddagh was the only game in town down south there in the garlic mecca of Gilroy, so of course it was the favorite local bar. However, even though Gilroy and its bar scene have grown, the Claddagh still packs them in. For most of the day the Claddagh is a family establishment catering to those with a taste for Irish and British food, but when the over-21 crowd rolls in at night this local Gilroy bar gets jumping with regulars drinking and dancing.
Club Caribe
1001 S. First St, San Jose; 408.297.7272
A hugely popular San Jose Latino dance club, Club Caribe has folks lining up around the corner to show off their dance skills on the always packed floor where thumping Latino beats, Coronas and tequila flow with equal force. Club Caribe is a great place to get a little sweaty and show off your dancing skills, or, if your skills are on a par with ours, you can just belly up to the bar and ogle the San Jose Latino scene.
Club Max Doubletree Hotel
2050 Gateway Place, San Jose; 408.437.2167
The after-work crowd pack in to Club Max, a slick San Jose local bar with entertainment galore, during the week to take in one of San Jose's best happy hours—we're talking cheap drinks and a nacho bar. Yeah, nacho bar. On the weekends fashionable attire is required, but during the week it's come as you are for sports, billiards and an impressive array of food choices. Club Max is always a good night out in San Jose and not just a place for weary hotel guests looking to get plastered. Hey, if you end up getting plastered or scoring, that inside-a-hotel thing they have going on is a freaking life saver.
Consuelo Mexican Bistro
377 Santana Row #1125, San Jose; 408.260.7082
Located in swanky Santana Row, Consuelo Mexican Bistro is a fantastic local San Jose bar that transports its patrons straight to a grand restaurant in Mexico with its simply stunning selection of tequilas, mescal and some of the best cuisine we were able to find anywhere prepared fresh daily by phenomenal executive chef Alex Padilla. The décor, of course, is chic Mexican with an emphasis on authenticity—all of the glassware, plates and fixtures where shipped from Mexico—the service is swift and the patio is continually packed with shoppers and drinkers relaxing in the Santana Row atmosphere.
Cuccini
72 N. Almaden Ave, San Jose; 408.287.1737
Cuccini is simply the best club in downtown San Jose to soak up some Middle Eastern vibes, whether it's over the thumping sound system or during lazy afternoon chowing on some uniquely good cuisine. At night, Cuccini transforms into an upscale hip dance club with DJs spinning everything from the latest dance tracks to Middle Eastern house beats. Also, during home Sharks games, Cuccini has one of the best deals of any local San Jose bars featuring 50 cent draft beers.
Cuetopia Billiards Café
4700 Almaden Expwy, San Jose; 408.266.7665
Cuetopia boasts 25 pool tables, four foosball tables, seven TVs and perhaps the best accommodation of this local San Jose bar and pool hall, more than 100 varieties of beer—and that's not a typo. Also, if your stomach starts growling while shooting some stick, Cuetopia serves up the best Chicago-style hot dogs in San Jose.
Dave & Buster's
940 Great Mall Dr, Milpitas; 408.957.9215
If you've already been to the senses-assaulting adult version of Chuck E. Cheeses that is Dave & Buster's, then this review is going to be superfluous, but if you haven't, read on. Dave & Buster's combines all of the amenities of a great restaurant and bar with a kickin' arcade that has the latest games your tech geek neighbor has been dreaming up. San Jose has no other bar like this; heck, it's hard to find a decent pinball machine in most San Jose bars. If you need some real life company to supplant the virtual ones on your Playstation, head on down to Dave & Buster's for some cocktails and fun. Just don't get all broken up when some youngster kicks your drunken butt at Dance Dance Revolution.
The Den at Fourth Street Bowl
1441 N. Fourth St, San Jose; 408.453.5555
So much more than a bowling alley bar, The Den has a slew of regulars that prefer bending their elbows rather than straining their backs trying to knock down pins. Locals crowd into this San Jose bar and delight each other on the karaoke machine with personal renditions of all your amateur singer favorites. However, despite the omnipresence of these wannabe American Idols, the Den is a cool local bar to knock a few back in and, besides, nothing beats drunken bowling.
The Derby
399 N. 13th St, San Jose; 408.294.4699
The Derby is a quintessential San Jose neighborhood bar because—and this is no lie—when a nonregular waltzes in through the door, the jukebox skips a beat and everybody sitting at the bar turns around to see who the interloper is. But, don't get all freaked out, the Derby is billed as the place where friends meet—it says so right on the building—and if you didn't enter new and interesting bars in San Jose your life would be pretty boring, wouldn't it?
Dive Bar
78 E. Santa Clara St, San Jose; 408.288.5252
Despite the name, Dive Bar is anything but a dive. The chic interior with its low profile sofas, leather stools and huge antique bar make this local bar one of San Jose's best places to grab a cocktail. San Jose hipsters lounge at the totally laid-back Dive on the weekends grooving to the DJ sounds and scoping some eclectic movies on the huge projection screens.
E & O Trading Company
96 S. First St, San Jose; 408.938.4100
E&O Trading Company is the perfect San Jose bar to sit outside at and enjoy some unique cocktails or to dine on some excellent food inspired by all points in the Far East. The San Jose biz pros set packs into E&O's chic Asian walls after work looking for that ever elusive happy hour deal; during and after the dinner rush, the bar scene rivals that of any San Jose club.
The Escape
2942 S. Bascom Ave, San Jose; 408.377.5436
Pool, cheap cocktails and motorcycles reign supreme at this little San Jose neighborhood bar located on the edge of Campbell. The Escape is a home away from home for the local blue-collar set who wile away the hours humming along to the classic rock jukebox and downing beers under the protective banner of the "Harley Parking" sign out front.
Eulipia
374 S. First St, San Jose; 408.280.6161
Eulipia sits in the middle of the SoFA district in downtown San Jose and, as one of its continually excellent restaurants, packs in people out for a night at the theater or diners simply looking for a great meal. The intimate cozy bar is always inviting on a blustery day and serves up a distinguished list of libations; also, topping it all off, the service at Eulipia is unparalleled.
Evergreen Inn and Pub
3273 White Road, San Jose; 408.223.8846
Located on San Jose's East Side, Evergreen Inn and Pub is a little spot where local bar patrons can relax, catch some sports on the tube, down a few brews and dine on some low cost pub grub. There's a pool tournament every Monday night at this neighborhood bar so you would-be hustlers can try your skills against the regular Evergreen Inn shooters.
5th Quarter
1373B Kooser Road, San Jose; 408.265.7033
The 5th Quarter is San Jose's destination sports bar for any discerning fan. The 5th Quarter has a bunch of TVs tuned to every major sporting event, and a few obscure ones, for your viewing pleasure, but this sports bar takes things a step further expanding its market by offering up live music on the weekends and karaoke on Monday nights for all you wannabe rock stars.
Fahrenheit Ultra Lounge
99 San Fernando St, San Jose; 408.998.9998
You know that ultralounge trend that swept the San Jose bar scene? C'mon, you know what we're talking about, where you actually get dressed up for a night on the town, you sip on eclectic cocktails while lounging in a hip and chic atmosphere and dine on exquisite exotic foods with beautiful people. Well, Fahrenheit creates this scene perfectly, and at more than 4,000 square feet still manages to be an intimate spot for a date. And here's something you don't see every day—the bartenders at Fahrenheit Ultra Lounge are well versed in the art of flair bartending—yes, like Cocktail, but without Tom Cruise's horse smile and general '80s cheesiness. Anything that can be lit on fire and thrown in the air is, making this San Jose dance club and lounge more of a booze-enhanced sideshow than just your ordinary bar.
Fairmont Lounge
Fairmont Hotel, 170 S. Market St, San Jose; 408.998.1900
Located in the lobby of the ultraplush Fairmont Hotel, the lounge features pianists tickling the ivory, providing some light entertainment for hotel guests and those that just want to feel as if they belong to the elite set. As you may have guessed, the cocktails aren't cheap, but then again, if you're drinking at the Fairmont, atmosphere is probably more important to you than price.
Final Score Sports Bar
1126 Saratoga Ave, San Jose; 408.296.9591
You really can't ask for more in a San Jose sports bar than what the Final Score offers up. Five televisions broadcast all of your favorite sporting events, and during down time there's recreational entertainment including pool, darts and shuffleboard. Also, while you're catching your favorite team, you can scarf down a $2.50 burrito in this always-friendly and relaxed San Jose bar.
The Flying Martini Brothers Bar and Bistro
69 N. San Pedro St, San Jose; 408.287.6969
The Flying Martini Brothers Bar and Bistro on San Pedro Square reinvents the neighborhood bar. With its low lighting, deep red walls, plasma TVs and ultrachic dining area serving excellent and huge portions of grub, FMB's—as the growing pantheon of regulars are coming to call it—is a hip place to wind down after work or pump up for a night out, and it still maintains all the perks of a San Jose neighborhood bar. We come here all the time after a hard day slinging words on the digital page and, without fail, there's always a beer and a shot of tequila waiting for us before we plop our harried butts onto the bar stool; you just can't beat that kind of service. Think about it—if they're this nice to lowly word jockies like us, imagine how well they'll treat you.
Garden City Casino
360 Saratoga Ave, San Jose; 408.244.4443
More than just a pit stop on the way to fortune, the Garden City Casino's restaurant and lounge in San Jose actually serves excellent food, and the wine list is unparalleled—it has won the prestigious Wine Spectator award for one of the "outstanding restaurant wine lists in the world" 12 times. So, during dinner hours Garden City has a distinguished supper club air, but when the traditional restaurant hours wind down and the real gambling starts, this San Jose casino gets pretty raucous. But be warned, this is not a casino in the traditional sense; San Jose doesn't allow those. Garden City is billed as a card room, so watch some more World Series of Poker to brush up on your skills.
Gecko Grill
855 N. 13th St, San Jose; 408.971.1826
This little San Jose neighborhood bar serves up down home Mexican food from its never-ending grill, plus ice cold Mexican brews and the strongest custom-made house margaritas in town. The décor inside the Gecko evokes a tropical feel, as does the outside patio. So, if like us, you prefer to wash down your burrito with some tequila and beer, the Gecko Grill in San Jose is the perfect cantina bar.
Giza Hookah Lounge
18 N. First St, San Jose; 408.998.4622
This lounge is cool. Its owners tell Metro they spent every day for a year trying to get business loans, importing more than 30 flavors of hookah tobacco, lamps and fancy tables from Egypt, and sewing furry hot pink and deep blue fabric onto hookah tentacles. They did all this to bring downtown San Jose what San Diego and L.A. already have (those bastards!)—a hookah-based social gathering spot for sitting around and being lazy.
Goosetown Lounge
1072 Lincoln Ave, San Jose; 408.292.4835
If you could have anything you wanted for a rockin' party in your living room, it would look like the Goosetown Lounge in San Jose. Seriously, this little local bar packs in two big screen TVs, a stage, a dance floor, recreational entertainment—oh, yeah, and a bar that serves up huge shots to the neighborhood. You really can't let the size fool you because Goosetown rocks nearly any night of the week. Not only is it a favorite hangout for the locals, but nearly every bartender in San Jose goes there on the slower nights to get taken care of from the other side for a change.
Gordon Biersch
33 E. San Fernando St, San Jose; 408.294.6785
Gordon Biersch brewpub is a true San Jose bar institution, not only for its world class beer—brewed on-site in the German tradition—but also for its excellent food. The outside beer garden is a perfect place to chill out in San Jose any time of the year (it's heated and tarped in the winter for all of you thin-blooded types) and inside, both the bar and dining areas are almost always packed. Don't let that level of business scare you off though; Gordon Biersch is favorite hangout of the San Jose biz pro, the theatergoer, the conventioneer, the nuclear family and just your average drinker looking for some liquid solace at his local bar in the middle of the afternoon.
Grill on the Alley
172 S. Market St, San Jose; 408.294.2244
The Grill on the Alley, directly adjacent to San Jose's Fairmont Hotel, is an upscale dinner house specializing in pure American steakhouse classics. The bar itself is steeped in so much rich wood and leather that the instant you step inside you immediately feel as though you're a ranking San Jose power broker. Known locally for its hand stirred martinis and extensive wine list, the Grill on the Alley does everything it set out to do perfectly. And on those warm summer evenings, you can't beat their outside patio for watching events in Cesar Chavez Plaza or lazy traffic on Market Street.
Hedley Club
Hotel De Anza, 233 W. Santa Clara St, San Jose; 408.286.1000
Hands down the best place to grab a quiet drink after a night out or to get an impressive atmospheric boost when you're on a date, the Hedley Club, inside San Jose's venerable art deco masterpiece the Hotel De Anza, is a local bar and lounge where you can relax next to the fireplace on one of the lush sofas, sip a cocktail and hear some world class jazz. This intimate San Jose spot also sports a huge patio outside the back doors with fountains and a view of the starry night above; a place where one is encouraged to smoke a cigar and sip some cognac, and generally feel as though you're living the high life.
Henry's World Famous Hi-Life
301 W. St. John St, San Jose; 408.295.5414
A great American steakhouse and barbecue joint if ever there was one, Henry's World Famous Hi-Life has been catering to local San Jose's neighborhood bar and carnivore needs for more than 60 years. Located within crawling distance of the HP Pavilion and downtown San Jose, Henry's opens early on Sundays for the football season, but we usually go there for some of the best barbecue around, cheap cocktails and the gaggle of regulars that crowd the bar in the afternoons.
Hookah Nites Cafe
371 S. First St, San Jose; 408.286.0800
Hookah Nites Cafe is at the forefront of the increasingly popular Bay Area trend of the Middle Eastern-theme smokers den. Veteran smokers sidle up next to rookies on the chill out couches and spark up interesting flavored tobaccos, ranging from apple to zinnia, and listen to eclectic DJs completing the atmosphere.
The Huddle
5289D Prospect Road, San Jose; 408.725.9414
If you're looking for a San Jose sports bar that is insanely dedicated to all things Bay Area, then head down to the Huddle and join the intensely loyal local assortment of regulars, then drink and cheer the 49ers on to another lackluster season. Please don't let the fans at this neighborhood bar know that we called their favorite team lame, because we sometimes go there on Sundays and like our teeth exactly where they are.
Hukilau
230 Jackson St, San Jose; 408.279.4888
Everybody likes Hawaii, but not everybody can afford to hang out there on a daily basis. That's exactly why some very kind folks started the Hukilau, a phenomenal San Jose local bar and restaurant that brings the islands directly to our humble city. You can chow down on some local favorites such as the loco moco or some Spam musubi (yeah, Spam) while sipping on one of their signature cocktails, all within the friendly confines of this San Jose tiki bar. On the weekends, Hukilau plays host to Hawaiian live music, and unfortunate Hawaiians stuck on the mainland come in droves for a little taste of home.
Hunters Nightclub
349 S. First St, San Jose; 408.947.1975
Hunters Nightclub is San Jose's newest gay bar, set in a freshly renovated 4,000-square-foot club. The combination of a brand spanking new bar and the plain brick walls makes it feel both fancy and unpretentious—a promising balance in an area still fumbling to find its identity. Modest in size, Hunters nevertheless manages to fit in a front patio for drinking (but no smoking) thanks to the setback facade, and a larger patio out back for drinking and smoking. They haven't yet settled on a set schedule of themes for each day of the week, preferring instead to listen to demand of future customers. Rest assured, though: there will be dancing.
Ike's Lounge
3075 Driftwood Dr, San Jose; 408.379.7137
There's just something about hole-in-the-wall neighborhood bars that make us frequent them more than any other boozing establishment, and Ike's Lounge is a good one. Maybe it's the camaraderie between the regulars, or perhaps it's the no nonsense approach to drinking, and we're sure the allure of the neighborhood bar is tied to the pricing structure that keeps both wallet and liver happy. But, come to think of it, the number one reason we love drinking in neighborhood bars is the short crawling distance back home.
Il Fornaio
302 S. Market St in the Hyatt St. Claire, San Jose; 408.271.3366
Known for its fine wine selection and culinary masterpieces, Il Fornaio, located inside the vaulting Hyatt St. Claire Hotel, is the destination spot in San Jose for those who seek the upper echelon of Italian dining. And while food (rooted in both northern and southern Italian schools) and wine (excellent selections from both Northern California and Italy) are the focus at Il Fornaio, this classy bar also does superb happy hour business featuring some free appetizers and drink specials.
The Improv
62 S. Second St, San Jose; 408.280.7475
Since the Improv opened a few years ago right in downtown San Jose, it has been a solid destination for gut-busting, world-renowned comedy acts. Comedians who you never thought would play in San Jose get booked regularly and play to a full house every time. Plus, the venue is first rate (it's located in the site that once was the San Jose Theater, a chic art deco playhouse in its heyday), the food is decent and the drinks will definitely help the comedy seem even funnier.
JJ's Blues
3439 Stevens Creek Blvd, San Jose; 408.243.6441
Thank the powers that be that JJ's Blues has remained true to its roots and has continued to buck San Jose trends by bringing world-class live blues music to the area. You can pop in any day of the week and catch some local blues acts, or come in for the bigger shows that take place on the weekends. But even without the live music, we would still frequent this great neighborhood bar that's a true San Jose classic.
Johnny V's
31 E. Santa Clara St, San Jose; 408.947.8470
There's only one place in San Jose where you can knock back 2-for-1 kamikazes, hear DJs spinning deep house and hip-hop and see unearthly limber people breakdancing their blessed little hearts out: Johnny V's. San Jose State University students, discerning music lovers and a slew of regulars pack this local bar every night to groove to the sounds and kick it amid its dark, publike confines.
Lido Nightclub
30 S. First St, San Jose; 408.298.4318
Only in San Jose will you find an establishment that's a Mexican dive bar on the street level and a Vietnamese dance club upstairs. Lido Nightclub is the premier venue for internationally known Vietnamese live music acts in San Jose (and most likely the entire Bay Area), as evidenced by the droves of well-heeled Vietnamese patrons lining up on the weekends while catering to the working-class folks sipping drinks and listening to banda music below. Plus the cocktails are cheap, and the décor is an amalgamation of kitsch from several cultures that you have to see to believe.
Loft Bar and Bistro
90 S. Second St, San Jose; 408.291.0677
The Loft Bar and Bistro, a two-story testament to chic urban dining in downtown San Jose, has two exquisite, granite-topped bars for your cocktail imbibing pleasure and deliciously innovative Asian-infused twists on classic American dining to fill your stomach. With its low-slung designer furniture and sophisticated styling, the Loft is fast becoming the hipster spot to begin or end a night out in San Jose. Also, the Loft sports one of the coolest upstairs patios in town, so you can drink and dine under the stars without being bothered by the traffic on the street below.
Mac's Club
39 Post St, San Jose; 408.288.8221
Mac's Club is a San Jose local bar where everybody—gays, straights and, well, others—can feel completely relaxed and at home. A little rundown, but in a good way, Mac's sports a great outdoor patio and, if the bartender thinks you're cute—and it really doesn't matter what your sexual orientation is—the usually heavy handed cocktails can get downright obscene. We're not ashamed to say that we've taken full advantage, because hey, San Jose's kind of an expensive place to live and you've got to get deals where you can.
Melting Pot
72 S. First St, San Jose; 408.293.6020
The Melting Pot restaurant indulges you in that kitschy, '70s trend of dipping things in fondue, but in an ultrahip, chic and contemporary fashion, so you can leave your leisure suit in the closet. Downtown San Jose has nothing else like the Melting Pot, which, by the way, is a great place to take a first date—the whole experience is a great ice-breaker—and sip on a few of their signature cocktails while stirring your selected dipping food in the bubbly fondue pots.
Mexico Lindo Restaurant and Cantina
11 Race St, San Jose; 408.295.7765
San Jose State University kids rub elbows with local regulars at Mexico Lindo, a neighborhood bar on the outskirts of downtown San Jose, to scarf some excellent Mexican grub, pop back some tequila and squawk out booze-fueled renditions of all your favorite songs over the karaoke machine. On Fridays, the lung monkeys take a break and let the more talented DJs command the dance floor for a night of Top 40 dance revelry ... and booze.
Mission Ale House
97 E. Santa Clara St, San Jose; 408.292.4058
Mission Ale House is the people's choice for the San Jose local bar at which to start, spend or close an evening, sporting 32 beers on tap, three rooms and a smoker-friendly back patio, and some of the best looking and friendliest bartenders in town. And if this weren't enough, Mission Ale House also rocks revolving DJs most nights of the week and has a happy hour that is second to none, with cheap drinks and a $1.95 food menu that goes until some downright crazy time like 10pm. Also, drink specials are offered every night and, if you're lucky, some hotties will dance on the bar—Tuesdays get to be a serious freaking San Jose party. On Sunday mornings during football season we routinely join the other regulars swilling some heavy booze and cheering on our favorite team on one of the many, many televisions.
Moorpark Hotel
4241 Moorpark Ave, San Jose; 408.864.0300
The Moorpark Hotel is quietly building a reputation in San Jose as a sleek and sophisticated place to enjoy a drink. With its stunning architecturally and contemporary design, its signature cocktails and sexy hors d'oeuvres, the Moorpark Hotel evokes a distinguished atmosphere of refinement while not losing the things that are important to having fun in life—namely, some live music and a kickin' social scene.
O'Flaherty's Irish Pub
25 N. San Pedro St, San Jose; 408.947.8007
O'Flaherty's Irish Pub, located on downtown San Jose's San Pedro Square, is a haven for the after-work crowd who come streaming in for the pub's potent happy hour. Sporting sliding doors up front to include those on the patio in the congenial drinking times being had inside, O'Flaherty's also plays host to Celtic jam sessions on some nights to put you further into the Irish frame of mind, if all the Guinness and whiskey, poured expertly by their stylish bartenders, hadn't done that already.
Original Joe's
301 S. First St, San Jose; 408.292.7030
Closed until early September for remodeling, Original Joe will soon continue to serve the starving masses simply gigantic portions of excellent Italian and American fare from their exhibition kitchen where tuxedo-clad waiters shout out their orders to the primo chefs. Serving food until 1:30am, Joe's has definitely saved its share of San Jose bar partiers from some wicked hangovers, and if you make friends with any of the employees there, they will treat you like some legendary mafioso kingpin while they heap more and more steaming goodies onto your plate or pour their already dangerous cocktails just a little heavier. Hands down, Original Joe's is our favorite restaurant and bar in San Jose, and we never fail to drunkenly tell them so.
Paolo's
333 W. San Carlos St, San Jose; 408.294.2558
For nearly 50 years, Paolo's has been educating San Jose in the varying ways of the grape. Their resident sommelier has one of the most discerning palates in the South Bay, consistently earning Paolo's an award for excellence from Wine Spectator magazine. But fantastic wine selections aren't the only perks this upscale old school San Jose restaurant and lounge offers; the food is absolutely delicious, and their other libation choices are equally as refined as the wine.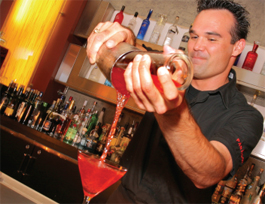 Soul asylum: Rob Soul serves drinks at Paragon in downtown San Jose.
Paragon
211 S. First St, San Jose; 408.282.8888
Paragon is a sleek contemporary restaurant located inside San Jose's Montgomery Hotel, but that certainly does not mean that this sophisticated bar and lounge is anything like your average hotel bar; most of the business comes from the word-of-mouth recommendations by other San Jose diners for its innovative American cuisine. The bar itself is an exercise in contemporary chic, sporting a long gun metal bar and low-slung designer lounge seating that lets patrons kick back while unobtrusive jazz and house music plays in the background.
Patty's Inn
102 S. Montgomery St, San Jose; 408.998.4566
Located a short crawl from the San Jose Caltrain station and HP Pavilion, Patty's Inn has been serving neighborhood regulars, harried commuters and Sharks fans heavy cocktails and comfort food for years. As far as San Jose neighborhood bars go, Patty's is definitely hard to beat because after you've downed a few shots and beers and missed your train for the second time, you can stumble outside and pay homage to San Jose's best landmark: the Stephen's Sausage dancing pig.
Picasso's Grill and Bar
17 N. San Pedro St, San Jose; 408.298.9221
Picasso's used to be just a little hole in the wall on Santa Clara Street, but now it has expanded into the two-story space on San Pedro Square formerly occupied by Blake's Steakhouse. The square bar is still the centerpiece of Picasso's, but the liquid accompaniments to the bar's Atkins-friendly past have been replaced by more Spanish cuisine–friendly choices.
The Place
1058 S. First St, San Jose; 408.297.3473
The Place, located on the southern edge of downtown San Jose, is a neighborhood bar that regulars swear by for stiff drinks cheap beer and cheaper pool. The Place also claims to have the longest bar in town, but we haven't exactly verified this claim because we generally don't carry tape measures around with us while we imbibe at our neighborhood bars—it's just one more thing to leave behind along with our dignity.
Plaza Inn
1182 Lincoln Ave, San Jose; 408.292.0132
The Plaza Inn, despite its less than Latin name, serves up some of the best Mexican fare around, alongside some dangerous margaritas, making this a local favorite. After you've scarfed some enchiladas or tamales—or really any dish served out of their kitchen—you can cozy up in one of their plush booths in the bar area, wrap your lips around an ice cold brew, down yet another margarita and relish the fact that you will never hear that supremely annoying Jimmy Buffet song at the Plaza Inn, just cool Mexican tunes at this local bar and restaurant.
Poor House Bistro
91 S. Autumn St, San Jose; 408.292.5837
We pretty much have every type of bar in San Jose, from swanky nightclubs to dirty dives, but one thing we were really missing was an old-school juke joint with the one of a kind flair of the Big Easy, and then along comes the Poor House Bistro. Located over by HP Pavilion and jumpin' with live blues and jazz bands on the weekends, the Poor House Bistro hits the mark in both authentic New Orleans–style food and atmosphere.
Red Stag Lounge
1711 W. San Carlos St, San Jose; 408.292.6777
You can literally stumble on in to the Red Stag Lounge, a great little dive bar on the west side of downtown San Jose, any time of the morning, noon or night and no one will even blink, because you're instantly a regular here. Owner Jack Higgins makes that his number one priority. And when we say "morning" we're not talking 10am like some of those other neighborhood joints. At San Jose's Red Stag Lounge you can grab a cocktail at 6am—on a real bender, that would be right before bedtime.
Rosie McCann's Irish Pub
355 Santana Row #1060, San Jose; 408.247.1706
Rosie McCann's is not your typical Irish pub, mostly because it has to play host to the discerning, hipper-than-thou masses that flock to San Jose's Santana Row, and for that reason you're likely to find some faddish alcoholic concoctions on the menu right alongside your traditional Guinness and whiskey. But don't let those breaks from the Irish norm put you off this local bar, because the interior still screams old-school Irish and you can still get your traditional Irish food stuffs. You'll just have to enjoy them while sitting beside someone who's sipping a mango mojito and munching on some organic green rabbit food while you wolf down your heart-attack-on-a-plate.
Saddle Rack
42011 Boscell Road, Fremont; 510.979.0477
This legendary Bay Area dance club caters to country-loving patrons that can't quite make it to the South. The Saddle Rack is a massive structure, continually packed with two-steppin' cowpokes and bull riders (of course there's a mechanical bull, no self-respecting country & western bar is complete without one, and after a few cocktails, you best get your city slicker butt in the saddle). And, if that wasn't enough to wet your whistle, The Saddle Rack attracts nationally recognized country live music acts to the San Jose area and also sports a house band that can always get the joint rocking.
San Jose Bar and Grill
85 S. Second St, San Jose; 408.286.2397
The ever-packed San Jose Bar and Grill, which made Second Street in downtown San Jose the hot spot, may have a bit of an identity crisis—it's a little bit neighborhood bar, huge sports bar and dance club—but who cares because this loud and raucous local bar is all about having a good time. The bar is smack dab in the middle of the joint (a bar in the round as it were), and the frenetic bartenders always make sure everybody's glass is full. Slick DJs pump out the tunes nearly every night. Check out San Jose Bar and Grill's trailer trash night were you can grab a Hamms for $1 and feast on some grub that would do any double wide owner proud.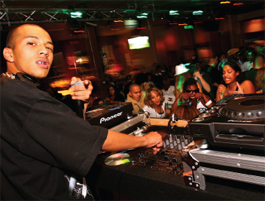 Put the needle on the record: DJ Lil Los spins for the crowd at Scores in downtown San Jose.
Scores Sports Bar and Grill
417 S. First St, San Jose; 408.971.6647
Scores is a wild mashup of a sports bar & grill, a nightclub and a strip club with a mechanical bull. They've got five gigantic projection screens and booths with personal plasma TVs, as well as air hockey, video games and a boxing ring. Oh, and they have a seven-hour happy hour. Basically it's a lot like The Man Show, except it's real.
Seven Bamboo
162 Jackson St, San Jose; 408.279.9937
As a San Jose bar crawl institution in the Japantown neighborhood, Seven Bamboo has been serving the entertainment needs of drunken karaoke lung monkeys for over 25 years. There's nothing quite like popping in for some cheap beer, house sake and scoping some nubile San Jose State coeds doing the South Bay version of "Girls Gone Wild." However, Seven Bamboo still plays host to your more traditional Japanese karaoke crooners that usually belt out their cherry blossomed tunes before the boozed-up masses arrive at this must-see San Jose local bar.
Seven Restaurant and Lounge
754 The Alameda, San Jose; 408.280.1644
Due to its sleek industrial design and French-infused culinary cuisine, Seven has become a hot spot for San Joseans seeking the hippest and most cosmopolitan of urban dining and lounging. Virtually since it opened its doors, Seven has been packing people in and taking care of their every need, sporting some sleek flat-screen TVs showing a variety of eclectic movies and videos, DJs spinning some cool house music on the weekends, and some truly beautiful bartenders that make you instantly forget how much you just dropped on your tab.
Sino Restaurant and Lounge
377 Santana Row, San Jose; 408.247.8880
An ultrahip and striking space located in Santana Row, Sino Restaurant and Lounge blends traditional Chinese favorites with contemporary twists to create a unique dining experience. During the day one can munch on dim sum and other favorites, but at night, the chefs take a little more liberty with the cuisine, which is expertly paired with their progressive wine list and inventive cocktail selection. The lounge area is packed nearly every night with San Jose revelers. As a visual bonus to the already sexy décor, old kung fu movies are shown against the silk curtains that separate the dining areas.
Smoke Tiki Lounge
152 Post St, San Jose; 408.292.4266
The last thing you'd expect to see as you turn down San Pedro Street is a huge backlit tiki god staring back at you, but there he is, presiding over Smoke Tiki Lounge, an awesomely retro (think Don Ho and Martin Denny) drinking and eating paradise in downtown San Jose. Brought to you by the guys behind Mission Ale House, Smoke Tiki Lounge sports a back patio that's larger than most local bars, complete with its own bar, bottle service and semiprivate cabanas to kick back in. And try some of their house island cocktails served in kitschy ceramic tiki glasses, like the ones your parents had when the Polynesian fad hit in the '60s and '70s, or some of their beers straight from the islands. As if all this retro cool wasn't enough, Smoke also has some of the best barbecue in town, expertly seasoned and prepared by head chef and barbecue maestro Justin Grady—the aromas from the in-house smoker permeate downtown San Jose for blocks. Also, the party gets raucous here, where hotties dance on the bar for the ogling masses and hep cats and cool chicks escape the normal San Jose local bar scene with a little liquid vacation.
South First Billiards and Elixir Lounge
420 S. First St, San Jose; 408.294.7800
As the anchor of San Jose's SoFA district, South First Billiards recently remodeled and dubbed the bar space the Elixir Lounge, transforming it into an ultrahip drinking spot—although we'll always miss the pinball machines that were removed, because we had the freakin' high score on both. But South First is still the premier billiards bar in San Jose and, along with the designer makeover, the menu has gone through some major changes, morphing into a more cosmopolitan style of fare. Perhaps the best thing that this venerable club has never shied away from is hosting pure local live music on Wednesdays and the second and fourth Thursdays of every month.
South Side Cafe
7028 Santa Teresa Blvd, San Jose; 408.226.5424
A blue collar neighborhood bar miles away from downtown San Jose, the South Side Café is the kind of place where you can hang out, eat a huge-portioned lunch or dinner, throw some darts and shoot some pool while downing some cheap beer and booze. Also, on some weekend nights you can catch some straight-ahead rock & roll from local live music acts.
Splash Bar & Grill
65 Post St, San Jose; 408.993.0861
Located on the site of one of San Jose's oldest buildings, which was actually once was a house of ill repute, Splash Bar & Grill aims to be the premier gay bar in the South Bay. Judging by the masses spilling out into the street, they've succeeded. In addition to hosting Lose Your Shirt dance nights featuring DJs spinning house, Latin, and '80s nostalgia, Splash serves up some excellent American food and has an above-average happy hour.
Straits Restaurant
333 Santana Row #100, San Jose; 408.246.6320
Straits Restaurant is the San Jose bar and lounge—even though they do have other locations around the Bay Area—that kicked off the whole Santana Row hipster phenomenon with its eclectic pan-Asian cuisine, its funky infusion style cocktails and its blend of musical choices from a cosmopolitan mix of DJs. Straits attracts the young, hip and wealthy of San Jose to its inviting décor and sometimes frenetic service, it continues to pack in the trendy herds that don't mind the noise as they chat on their cell phones about how good they all look.
Temple Lounge
52 S. First St, San Jose; 408.288.8518
Even the most hard-core clubber can't groove to DJs all the time, and finally someone at Temple Lounge decided to fill the San Jose void by hosting live music on the weekends—usually in the jazz, blues or world music vein—in their hip little club. Also, Temple Lounge offers up a long happy hour during the week to quell your after-work boredom and make it so you don't get to the work you brought home with you until well after bedtime.
Teske's
255 N. First St, San Jose; 408.292.0291
Things can get pretty dangerous pretty quickly at Teske's, a quaint German-style bar and restaurant located on downtown San Jose's north end, after you've downed your fifth Spaten Bock and started in on the Jagerti (we don't even know if that's the correct spelling, but this stuff is so potent that no one cares how the heck it's spelled, just say it phonetically and you'll get knowing nods from around the bar of hangovers and blackouts past and those yet to come. It's like German moonshine and about 100 times more potent than its wussy cousin Jaegermeister). We have a friend that religiously drags us to Teske's German Restaurant and Beer Garden every time he's in town for some down-home schnitzel with spatzel and a few beers, and without failure that SOB starts ordering up that wicked, wicked German sauce; but we go every time despite the hangovers because we love this local San Jose bar and restaurant.
Thea Mediterranean
3090 Olsen Dr, San Jose; 408.260.1444
With more Ouzo than a Greek wedding and culinary offerings from around the Mediterranean with accompanying wines to match, Thea is fast becoming a Santana Row hot spot for wining and dining. Its gorgeous décor is rivaled only by its exquisite cuisine, and after dark, Thea turns the lights low and sparks up the candles while DJs spin some chill-out music, turning the hustle and bustle of the dinner hour into a relaxing oasis.
300 San Jose
5420 Thornwood Dr, San Jose; 408.578.8500
It was only a matter of time before the old, cigarette smoke-stained, beer-soaked and plastic-laden bowling alleys of our youth got the hipster lounge makeover, ripping all the nostalgia from the Midwest's favorite pastime. But we must admit that 300 San Jose—located where Oakridge Lanes once stood—is pretty damn cool in its own right. With an ultrasleek interior, a swank lounge, good food and brand-new everything, 300 San Jose has brought to bowling alleys and the entire "sport" what PBA bad boy Pete Weber has been trying to bring to them for years: attitude.
Tied House
65 N. San Pedro, San Jose; 408.295.2739
Conventioneers, Sharks fans and just your regular local San Jose drinkers call the Tied House home for some pre-game or post-work food, beer and conversation. Big screen TVs broadcast every major sporting event, and there are two patios, one in front and the other, in the style of a beer garden, out back. Tied House's seasonal brews like the Spring Maibock are the stuff of San Jose local bar legend for their unparalleled potency.
Toons
52 E. Santa Clara St, San Jose; 408.292.7464
The continually packed Toons nightclub has been catering to San Jose State University students and local San Jose drinkers for what seems like eons. It's got two bars, an arcade area (with Galaga, and that high score you see there is ours, done on one quarter, six shots of tequila and 10 beers) and a pool room to entertain the masses who don't groove to the pumping hip-hop, house and reggae DJ stylings. Toons is like a San Jose bar institution that also hosts live music.
Touchdown Tommy's
5837 Camden Ave, San Jose; 408.723.9981
Touchdown Tommy's, a San Jose sports bar (for those of you not acquainted with a sport called football), is awash in sports—mainly football memorabilia from the brief days when its owner was an NFL referee before he decided to try his hand at a less perilous and more rewarding profession as a booze peddler. As an added perk to this already friendly and frequented neighborhood bar, Tommy's keeps its Cuervo in the freezer for some quick shots of icy liquid courage along with your beer.
Tres Gringos
83 S. Second St, San Jose; 408.278.9888
Modeled after a sleepy resort town cantina bar, Tres Gringos is anything but a sleepy little San Jose local bar. Tres gets jam-packed nearly every night of the week with a long line of eager San Jose State students and drinkers looking for that never-ending beach party. The bartenders get a big shoutout for pouring some truly hefty shots and keeping the beers coming in such a perpetually busy joint. Tres Gringos also serves up some excellent Cal-Mex grub, but the kitchen usually closes before the club gets rockin' so you'll have to find your booze-absorbing food elsewhere.
Trials Pub
265 N. First St, San Jose; 408.947.0497
An authentic British pub located on the north end of downtown San Jose, Trials is owned and operated by British expats who left their sodden homeland for the more amicable climes of California. There's always a warm welcome, a cold pint and a cushy armchair waiting for you at Trials. You can also feast on some traditional British pub fare at this local bar. We like to go there on soggy San Jose afternoons, shoot some darts and find a little liquid solace from their staggering selection of imported beers.
The Vault Ultra Lounge
81 W. Santa Clara St, San Jose; 408.298.1112
The ultralounge phenomenon struck San Jose again with the opening of the Vault, a slick reinvention of your other lounges, morphing an old savings and loan building (with the original vaults intact) into the newest Top 40 dancing hot spot. Club kids and well-heeled locals, dressed to impress, queue up on the weekends to sip expensive cocktails and gyrate to the beats spun by some of the South Bay's best DJ talent. Another perk that the owners of the Vault have passed on to the club herd is the hiring of some gorgeous San Jose bartenders that actually kick some serious ass at their chosen craft; but you don't go to clubs to ogle the bartenders, do you?
The V-Bar
355 Santana Row inside the Hotel Valencia, San Jose; 408.551.0010
If you call yourself an upwardly mobile San Jose insider and haven't drunk at Santana Row's ultrachic, dramatically sexy V-Bar, then quit lying to yourself, don some cooler upscale duds than you wear to your cubicle and check out this 155-capacity lounge located inside the exquisite Hotel Valencia—and if you can expense the tab, even better. This cosmopolitan in-spot is dressed in vaulting dark wood columns, low-slung designer furniture and beaded curtains, while low-key house music is piped in through a quality sound system and your more expensive liquors are available for your drinking pleasure. You can also grab some tapas from the hotel's award-winning restaurant, Citrus, and kick back on the balcony overlooking Santana Row, feeling as though you've finally made it.
Vivid
8 S. First St, San Jose; 408.279.4444
The general rule of thumb in the nightclub business seems to be that you've got three years to make your mark before the club masses get bored and a change of format is in order. In that spirit, Studio 8 was redesigned as Vivid in February. Vivid will pretty much employ Studio 8's tried and true formula of using celebrity guests to bolster the exclusive image of the club, with beats provided by commercial house, hip-hop and dance club DJs in a setting that is now even more upscale than its previous incarnation. The interior of Vivid has taken the private VIP area phenomenon to another level, literally. The mezzanine has gone full VIP while the downstairs is now flanked by private cabana-style booths, and both are available (by reservation) for some serious ultralounging, complete with bottle service and personal cocktail waitstaff catering to every need of the pay-to-play set.
Voodoo Lounge
14 S. Second St, San Jose; 408.286.8636
The Voodoo Lounge keeps a low-key hipster vibe while remaining a prolific force in the San Jose dance club scene, with the help of very dim lighting offset by numerous lava lamps to create that ambient glow, and kitschy cocktails to produce that glow inside the gullet. DJs keep the clubbing hordes mesmerized, and if you've got the connections, there's a reservation-only VIP room whose exclusiveness would make our inclusion purpose defeating—actually we snuck in once or twice on the coattails of bigger fish. But, even if you don't make it to VIP status, Voodoo Lounge does an excellent job taking care of the regular dance club goers that seek to maintain a chic profile while they gyrate.
Send a letter to the editor about this story.