June 20-26, 2007
home | metro silicon valley index | features | silicon valley | feature story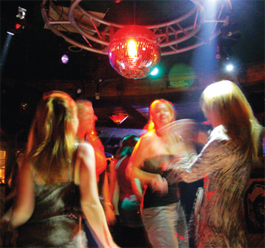 No one can be told what the mirror ball is: You have to see the Matrix moves on Molly MaGee's dance floor in Mountain View for yourself.
Silicon Valley Bars & Clubs 2007
Mountain View
Silicon Valley Bars & Clubs 2007:
Intro | The Barman's revenge | San Jose | Campbell | Cupertino | Los Altos | Los Gatos | Mountain View | Palo Alto | Santa Clara | Saratoga | Sunnyvale
Alberto's Salsa Studio and Nightclub
736 W. Dana St, Mountain View; 650.968.3007
Alberto's Salsa Studio and Nightclub in Mountain View starts out most evenings with salsa or swing lessons, so you can brush up on your skills before the DJs or live bands take the stage and the public not in need of lessons rolls in and the dance party really gets rolling. The sexy Latin beats and fiery Spanish rock make revelers from all over the Bay Area want to shake their stuff at Alberto's every Thursday through Sunday.
Buddha Lounge
251 Castro St, Mountain View; 650.965.7665
You can kick back and meditate over a few cocktails provided by the friendly bartenders at the Buddha Lounge in Mountain View at one of their two bars, both of which are better than sitting on the stone under the waterfall other Buddhas had to compete with. The hip loungey vibe goes perfectly with the small cozy space, and the tiny dance floor in the back comes complete with neon-lit cubes for ladies to dance on. As a local dance club and lounge, the Buddha Lounge finally fills that niche in Mountain View that clubbers have been yearning for.
California Billiards Club
881 El Camino Real, Mountain View; 650.965.3100
With 30 pool tables and two English snooker tables, plus a variety of other distractions, the California Billiards Club is the place in Mountain View to play at being a hustler. There are usually tournaments with prize money happening every week. And while they do serve beer and wine for those of age, the California Billiards Club allows the 18 and up crowd to step up to the tables and try to perfect their skills before booze inevitably enters the equation.
Cascal
400 Castro St, Mountain View; 650.940.9500
Decked out in the vibrant flavors and colors of Latin culture, Cascal in Mountain View fits the bill for an inclusive dance club, live music venue and tapas style restaurant. On Friday nights, Cascal turns its already hot scene up a notch when it hosts live flamenco jazz musicians, and the selections from both its kitchen and expansive bar can definitely satisfy any craving.
Kapp's Pizza Bar and Grill
191 Castro St, Mountain View; 650.961.1491
Sports fans—especially the ones from Cal—can relish in Kapp's Pizza Bar and Grill, the sports bar in Mountain View. One of the founders, Joe Kapp, is a former Cal football coach who presided over the Bears during the infamous "play" against Stanford, so you can bet there's no Cardinal love here. But, what is here is a great local sports bar that serves up some well portioned down-home pub grub and cheap drinks within Kapp's memorabilia-laden walls.
King of Clubs
893 Leong Dr, Mountain View; 650.968.6366
Mountain View's premier gay and lesbian dance club, the King of Clubs doesn't pull just locals into its hedonistic depths. Revelers from all over the Bay Area head to the King of Clubs for some unhinged dancing and drinking fun. Three days a week (Sunday, Monday and Thursday) are anything but reserved for the wildest karaoke party around, while on Wednesdays and Fridays DJs spin a mix of '80s, electronica and house for the dancing throngs. On Saturdays, the King of Clubs hosts Mountain Views hottest gay dance party with "Salsa Fever."
Molly Magee's Irish Pub
241 Castro St, Mountain View; 650.961.0108
Irish beer flows from the taps at Molly Magee's in Mountain View as freely as the good times at this local bar favorite. There's a pool table and TVs to provide distractions during the week, but those are completely kicked aside on the weekends when Molly Magee's gets to be a downright raucous party scene.
Monte Carlo
241 Castro St, Mountain View; 650.998.1500
The Monte Carlo restaurant and nightclub in Mountain View is targeting an upscale, older crowd to dine, drink and dance the night away in its simply gorgeous confines. The Monte Carlo's cuisine reflects the chef's culinary training and heritage in Europe with steaks and pastas done with flair. On the weekends, the Monte Carlo transforms into Mountain View's posh dance club with live music and DJs playing Latin Jazz, house and all the hits from the '70s to today.
Office Bar
820 El Camino Real, Mountain View; 650.969.2098
Definitely on our dive bar crawl list, the Office Bar in Mountain View has those quirky touches that you just can't find at your cookie-cutter bars that are popping up everywhere, like the supreme lack of windows so prying eyes can't see in, or the full suit of armor standing guard over the liquor. Four nights a week, the Office Bar plays host to the local lung monkeys for some belt-it-out-loud karaoke. And if you're not into this wholly embarrassing but totally fun phenomenon, this local Mountain View bar also has pool, darts and pinball—blessed pinball.
St. Stephen's Green Irish Pub and Restaurant
223 Castro St, Mountain View; 650.964.9151
There must be some reasons (other than the obvious one of being alcoholics) why we always end up downing Guinness and whiskey in Irish pubs, and St. Stephen's Green in Mountain View embodies all of the best ones. This local bar has the friendliest bartenders always quick with a joke or another shot to make you feel right at home, the grub is down-home Irish with all of your heart-stopping favorites, and there are even Irish dancing lessons offered. Also, St. Stephen's Green gets packed with the partying Mountain View bar masses bumpin' away on the dance floor to some decidedly un-Irish music—oh wait, House of Pain's Irish, isn't it?
Shoreline Billiards
1400 N. Shoreline Blvd #C-1, Mountain View; 650.964.0780
With 24 pool tables, two snooker tables, two free—yeah, free—dart lanes and video games, if you can't find anything to do at Shoreline Billiards in Mountain View you just can't be pleased. But, heck, for the rest of us out there, Shoreline Billiards is a bar where we can indulge in sports that you actually get better at after a few beers, and this billiards bar maintains its equipment so you know your missed shot on the eight ball isn't the fault of a crooked cue stick—it's just you.
Sports Page
1431 Plymouth St, Mountain View; 650.961.1992
There are two things that the Sports Page in Mountain View does extremely well: the obvious one is being the local sports bar for any fan, and the other one is beer. Well, we guess that could be obvious too. With 24 domestic and imported beers on tap featuring $10 pitchers, the Sports Page gets our vote for beer selection, and this local bar also hosts live music on the weekends for your dancing pleasure. There are a couple of pool tables for the stick lovers, a few video games and, be warned, on Tuesdays there are a slew of Mountain View lung monkeys invading the Sports Page for karaoke.
Tied House Cafe and Brewery
954 Villa St, Mountain View; 650.965.2739
The Tied House Cafe and Brewery in Mountain View takes full advantage of the microbrew craze and packages it with good food in a killer setting to keep the local bar crawlers and diners coming back. Usually they offer at least eight house beers on tap and one of 12 specialty brews that are dependent on the season—you have to swill some of the Spring Maibock which is the stuff of Mountain View bar legend—all of which you can enjoy inside or on the beer garden patio.
Ugly's
1313 El Camino Real, Mountain View; 650.965.8255
Our favorite dive bar in Mountain View—and really that should be enough to write, but our boss pays us by the word and living in the valley ain't cheap—Ugly's, started by a couple of local girls, has all the amenities of your classic dive bar: Pabst on tap, cheap, strong drinks and plenty of attitude. The walls and bar are adorned with any and every kitschy thing you'd find at a garage sale, and Ugly's carries its 'tude over into weekly and holiday specials like the anti–Valentine's Day party that penalizes you smug couple types. There's also the 6/9 party on June 9, which should be self-explanatory. So, if you're thinking about hitting a local bar in Mountain View, hit Ugly's.
Zucca Ristorante
186 Castro St, Mountain View; 650.864.9940
Like a culinary trip around the Mediterranean, Zucca Ristorante in Mountain View takes its customers through the different flavors of the region—no small feat for such an incredibly busy restaurant and lounge. Speaking of lounge, the bar sports a cocktail list filled with eclectic cocktails and a heavy focus on variations of the martini that have hefty five ounce pours. The wine list boasts some treasures from around the Mediterranean, most coming in at under $40 a bottle. Zucca Ristorante is a favorite of the after theater crowd and anyone searching for something different in a dining experience.
Send a letter to the editor about this story.