June 20-26, 2007
home | metro silicon valley index | features | silicon valley | feature story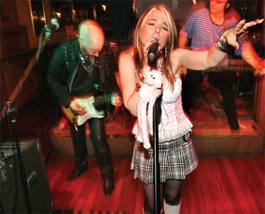 Fibbar none: Cocktail Monkeys perform at Fibbar MaGee's in Sunnyvale.
Silicon Valley Bars & Clubs 2007
Sunnyvale
Silicon Valley Bars & Clubs 2007:
Intro | The Barman's revenge | San Jose | Campbell | Cupertino | Los Altos | Los Gatos | Mountain View | Palo Alto | Santa Clara | Saratoga | Sunnyvale
Barcelona
767 N. Mathilda Ave, Sunnyvale; 408.245.8777
Barcelona takes care of Sunnyvale's Latin dance party needs by catering to the younger dance crowds with DJs spinning the latest in reggaeton, Spanish rock, salsa, merengue and hip-hop on the weekends. Also, Barcelona showcases live music by up and coming Latin acts in an effort to bolster the live music scene.
Blue Bonnet Bar
203 S. Fair Oaks Ave, Sunnyvale; 408.245.6651
The Blue Bonnet in Sunnyvale relies heavily on its regulars during the week, but on the weekends, a younger set moves in to get their drink and party on. The drinks at this local Sunnyvale bar are potent and there are free bar snacks, so you know the owners aren't stingy, and those in the know frequent the Blue Bonnet Bar on Sundays when the owners' generosity is once again showcased with a free barbecue.
Blue Max
828 W. El Camino Real, Sunnyvale; 408.746.9500
Regulars of all shapes, sizes and legal ages frequent the Blue Max, a Sunnyvale sports bar that is always a good time whether there's a game being broadcast or not. Also, for pre, post or no game diversions Blue max sports a pool table, two dart lanes and various video games to try your drunken hand at. Local karaoke revelers can belt out their boozy renditions every Thursday through Saturday, and Blue Max also hosts the occasional live music act.
Faultline Brewery
1235 Oakmead Parkway, Sunnyvale; 408.736.2739
Faultline Brewery in Sunnyvale sports nine varieties of house made microbrews on tap, out of the 22 that it regularly brews throughout the year, making it a great beer lovers bar, especially for the after-work crowds to drink and dine in because of its close proximity to all of the commuter freeways. Other amenities at Faultline Brewery are an outdoor patio, TVs over the bar and enough room for even the largest departmental function. Unfortunately, however, Faultline Brewery is not open on the weekends except for private parties.
Fibbar Magee's
156 S. Murphy Ave, Sunnyvale; 408.749.8373
You can get your fill of traditional, heart-stopping Irish fare and good, strong beer in Sunnyvale at Fibbar Magee's, a local bar that provides all of your favorite Irish pastimes: darts and drinking. On the weekends Fibbar Magee's gets an altogether different kind of party going by hosting local Sunnyvale and Bay Area live music acts.
Lion and Compass Restaurant
1023 N. Fair Oaks Ave, Sunnyvale; 408.745.1260
The Sunnyvale biz pro set calls the Lion and Compass Restaurant their local bar of choice for its prim, elegant confines where they can relax after a day's work. The restaurant itself serves up contemporary American cuisine that is complemented by the Lion and Compass' cocktail and wine lists. You can totally tell this is a businessman's bar because there is a genuine stock ticker spewing forth its inexorable verdicts above the bar.
Murphy's Law
135 S. Murphy Ave, Sunnyvale; 408.736.3822
Located on Sunnyvale's bar strip, Murphy's Law exudes that local bar feel by combining a comfortable drinking establishment where anyone is welcome with a well-packed and raucous nightly party scene. Five televisions and a huge eight-foot projection screen broadcast all of your favorite sporting events except on Sundays when Murphy's Law shows movies of the bartenders' preference to its host of regulars. Also, this bar has a Monday blues jam session, karaoke on Thursdays and local live music on the weekends.
Off the Hookah Lounge
196 S. Murphy Ave, Sunnyvale; 408.530.0325
Now, after the whole hookah craze has spawned countless smokey chill out lounges with nothing more potent than tea or coffee to imbibe, along comes Off the Hookah in Sunnyvale that finally does it right by including a full bar within its stylish confines. Also, Off the Hookah has some slick DJs spinning the tunes, and serves an eclectic blend of Middle-Eastern food to take the edge off those hunger pangs.
Paul and Harvey's
130 S. Murphy Ave, Sunnyvale; 408.736.5770
Paul and Harvey's is Sunnyvale's neighborhood bar where the blue-collar and Budweiser set comes to drink. The beer selection at this local bar is extensive where bottles are concerned, but they only sport four of the suckers on tap, and that shouldn't matter because at Paul and Harvey's both the beer and booze is pretty cheap. Also, Paul and Harvey's has three pool tables, two dart lanes and a slew of video games to keep your mind occupied. On Thursdays, local musicians come to jam at this Sunnyvale bar that also hosts occasional live music on Saturdays.
Pebble Roppongi Karaoke Lounge
160 S. Frances St, Sunnyvale; 408.738.0392
Pebble Roppongi Karaoke Lounge in Sunnyvale is just getting started when they open up at 8pm for a night of traditional karaoke sung by their mostly Asian clientele. But don't let the late start time fool you because Pebble Roppongi serves up some exquisite small plate Japanese fare and some French desserts to go along with their staggering selection of sake.
Quarter Note Bar and Grill
1214 Apollo Way, Sunnyvale; 408.732.2110
The Quarter Note is one of the last places left in Sunnyvale, and most of the South Bay for that matter, that strive to bring their patrons live music on a nightly basis—sadly a thing that most other local bars have shied away from. An unlikely combination of Moroccan and American food is served by the Quarter Note's kitchen, and the bar area sports TVs, shuffleboard, pool tables and pinball. The only night that this Sunnyvale live music club takes a break from bringing you great bands is on Mondays when they bring you the great live musical entertainment of karaoke—yay.
Rooster T. Feathers Comedy Club
157 W. El Camino Real, Sunnyvale; 408.736.0921
Sunnyvale's home for world-class stand up comedy is Rooster T. Feathers Comedy Club, whose roll call of past performers includes the likes of Jerry Seinfeld, Robin Williams and Ellen DeGeneres. Instead of standing at a bar and laughing at your buddy's lame attempts to pick up that hottie they've been ogling all night, check out Rooster T. Feathers Comedy Club in Sunnyvale and laugh at someone that actually gets paid for it. Also, tickets to shows are usually only $12 with a two drink minimum, which definitely comes in under our nightly bar tab.
Scruffy Murphy's Irish Pub
187 S. Murphy Ave, Sunnyvale; 408.735.7394
Irish expats and anyone who enjoys a good old Irish party pack into Scruffy Murphy's in Sunnyvale for a heaping dose of the Emerald Isle. Scruffy Murphy's sports 13 beers on tap and serves up all of the heart-stopping cuisine that you'd expect from a local Irish bar. Be sure to check them out on Wednesdays, which is the designated Irish night complete with live music sometimes, but the real party here is on the weekends when a DJ pumps up the crowd on the dance floor.
Shooters Bar and Grill
769 N. Mathilda Ave, Sunnyvale; 408.738.2787
Shooters is everything that you'd expect from a little Sunnyvale neighborhood sports bar with 11 beers on tap and plenty of other distractions like pool, darts and video games to occupy your brain when the game isn't on their big screen TV. Also, this no frills bar plays host to karaoke on Thursdays so you can kick start your weekend by drunkenly belting out "I Will Survive" to all your adoring fans.
St. John's Bar & Grill
510 Lawrence Expwy #110, Sunnyvale 408.738.8515
Is there anything better than catching a ballgame and chowing a burger at St. John's Bar & Grill? For our money, that's a rousing no. For 25 years this Sunnyvale favorite has kept it real with a menu that reads like a the do not eat list at cholesterol camp, plus a full bar, homey atmosphere and more TVs than you'd find in an AV nerd's wet dream. St. John's is the perfect place to kick it with friends or family on those lazy weekend afternoons.
Tarragon Restaurant and Bar
140 S. Murphy Ave, Sunnyvale; 408.737.8003
We could go on and on about the extensive wine and drink lists at Tarragon, like a 50 selection-strong martini list alone, but that would do a huge disservice to Sunnyvale's chic restaurant and lounge, because the food here is nothing short of inspired. The head chef has developed an interesting infusion that combines Pacific Rim influences with Mediterranean cuisine to form one of the most eclectic menus around. You can drink and dine in Tarragon's striking interior or enjoy the awesome Sunnyvale weather on their stellar back patio.
Send a letter to the editor about this story.