August 2-8, 2006
home | metro silicon valley index | the arts | visual arts | zeroone
ZeroOne San Jose + ISEA2006:
Welcome | Let's Go ZeroOne San Jose | Performances | Cinema | Events | Get Your Learn On! | Participate! | People's Choice Award | Map | Featured Exhibits | Exhibits | Staff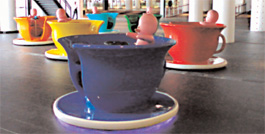 Shu Lea Cheang: 'Baby Love,' 2005. See it at the City Hall Rotunda.
Let's Go ZeroOne San Jose
A Roughly Day by Day Guide to ZeroOne San Jose and ISEA2006
There are over 250 artists presenting more than 200 installations, and dozens of performances during ZeroOne San Jose and ISEA2006. All are listed in this guide and all need to be seen to be believed. But we know it might feel a tad overwhelming at first glance, so herewith is the unofficial rough guide to ZeroOne San Jose. Check the exhibits page for the location of specific artworks.
Mon-Sun
Follow the Popsicles
Imagine an ice cream truck transformed into a mobile karaoke unit named Lucci driven by a squirrel cub named Remedios with a penchant for cheap magic deployed to spark spontaneous interaction between festivalgoers, locals, and tourists. Wherever and whenever popsicles meet pop culture, you know you're at the place to be.
Mon
Sine Wave Surfing
Electronic musician Ryoji Ikeda is internationally acclaimed for his pure sine wave tones. ZeroOne San Jose co-commissioned the North American premiere on Monday night of his newest work, datamatics, which should be a mind-altering experience in the baroque setting of the California Theater. And if you really get into it, on Saturday The Sine Wave Orchestra from Tokyo invites the public to join their performance with any homemade instrument that can produce a sine wave.
Tue
The Scenic Gallery Crawl
Tuesday night is opening night with a downtown gallery crawl from quitting time to midnight. One possible itinerary: 6:00 pm. Guillermo Galindo and Gustavo Vazquez play a set of Glance, their video garden of San Jose community voices at South Hall. 6:30 pm watch the replay of 99 Red Balloons, a game with surveillance cameras on weather balloons in Cesar Chavez Park. On your way to Circle of Palms, detour through the sonic landscape of Ping Genius Loci in the Passeo San Antonio. At 8:00 local carrier pigeons equipped with a custom chipset consisting of a pollution sensor, GPS tracker, and cell phones in a special backpack are released outside SJMA to blog the current pollution levels on the way home. 9:30 pm. After the opening ceremonies in the City Hall Plaza, see Richard Meier's Rotunda transformed into a "Digital Kakejiku" by Akira Hasegawa's 15-projector illumination. And if you get there early enough, take a romantic twirl in Shu Lea Cheang's Baby Love teacups inside the Rotunda. Finish up the evening perusing the digital offerings in the SOFA galleries and a night of "Live Cinema" at Glo. Every evening of the Festival, there will be events to attend as part of Night Culture.
Tue-Sun
Container Culture
Ever wonder what is in all those shipping containers you drive by on 880? Container Culture is an exhibition-in-an-exhibition of artists from port cities Auckland, Beijing, Hong Kong, Mumbai, Seoul, Singapore, Tokyo, and Vancouver, who use the shipping container as their white cube/black box exhibition space for the week.
Wed-Fri
Exploding Cinema
So many ways to make a movie. Strap yourself in to Pia Tikka's Obsession and let your emotions run the show. Visit C4F3, the interactive café for the city at the San Jose Museum of Art and watch a live feed of the ISEA2006 Symposium or CNNplusplus ­ more than the news. While you're at SJMA check out SimVeillance on the 2nd floor and see if you can recognize yourself in the Sims version of Fairmont Plaza. Wednesday evening, Michael Lew performs his Junkyard Dreams and at dusk, Martin Luther King Jr. Library becomes a multiplex walk-up cinema for SPECFLIC about the future of reading, featuring Allison Janney from West Wing ­ and you. Thursday tell your own version of Morten Schjodt's interactive Switching at Camera 12 and Friday acclaimed director Mike Figgis does Time Code--The Live Mix.
Thu
Check It Out
South Hall is an 80,000 square foot exhibition space with over 50 installations. When you leave ­ if you leave ­ pick up your "Get Your Learn On" tattoo from the Global Youth Lounge; check out Jessica Thomson's Soundbike for a hilarious ride around the city; borrow an URBANtells divining rod to locate community stories; use the Tactical Sound Garden Toolkit to tend to the music garden in Chavez Plaza; see the hertzian spectrum around you with Free Network Visible Network. Then go see Super Vision by Builders Association and dbox about our virtual data identities. Beforehand prepare with Acclair, a company providing a highly authoritative, highly invasive brain test in return for financial, tangible rewards and an upgraded social status.
Fri
It's Showtime
Rest up Friday. Hang out at the C4F3, a working café of augmented everyday objects--an art gallery, a restaurant, a chill space, and much more. Practice your best rock star moves; SVEN is patrolling the streets looking for the next Mick Jagger. See a work-in-progress version of Lynn Hershman Leeson's Strange Culture about the government persecution of Critical Art Ensemble, also starring Tilda Swinton. At 10:00 Bay Area superstars Survival Research Labs do their thing.
Sat
Block Party!
From 6-midnight on Saturday, there will be 3 stages on 1st St for the closing Festival party. Heart-induced sound from Pimp My Heart. Community karaoke opera with a libretto by the San Jose Mercury News for Cellphonia. Projected Wildlife. What does San Jose think? Read the Social Memory Columns. Or listen to San Jose Voices. Or sign it with P2P: Power to the People. Party in the Parking Spaces. Find out if the Pioneers Hitchhiking in the Valley of Heart's Delight made it home. Vote for the American Idol Survivor in the C5 Quest for Success as well as the People's Choice Award.
Sun
Crescendo
You might show up a bit late but before heading out to the Bleeding Edge music festival at Montalvo, check out the UNESCO Scenes & Sounds of My City program with youth participants from more than 20 countries on 4 continents. On your way home from the Festival, don't forget to get your DataNature souvenir boarding pass of San Jose, available at the airport.
2008
ZeroOne San Jose is a new biennial global festival of art on the edge. See you in 2008!
Send a letter to the editor about this story.