August 16-22, 2006
home | the papers | metro silicon valley
Best of Silicon Valley 2006 Reader's Survey
Vote online for the best food, drink, retail, arts and entertainment in the South Bay.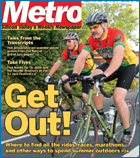 Sports Guide: Confessions of a Bike Nerd
Our staff cycling expert has pedaled all over the world. Here's why he thinks he's finally found biking paradise.
Sports Guide: Camping
How to protect yourself from the very outdoors you came to enjoy.
Sports Guide: Events
Feel the burn for months with our handy calendar of races, rides and other sporting outdoor events.
Sports Guide: Clubs
How to find sports clubs of all types around Silicon Valley.
Sports Guide: Youth Hockey
Your kids can chill in local hockey youth leagues.
Sports Guide: San Jose's Teams
A look ahead to the upcoming seasons for the Sharks and the Giants.

News: Anti-immigration Legislation
San Jose professor's research brings brutal truth to immigration debate.
The Fly: 08.16.06
Fly has been busy poring through the more than 2,000 pages of grand jury transcripts released last week in the Gonzales indictment case. It's some of the most entertaining bedtime reading you'll ever encounter.

Silicon Alleys: ZeroOne
The ISEA/ZeroOne festival had something for everybody, even the local bums.
Technology News: AOL Search Data Spill
AO Hell does another stupid thing.

Movie Review: 'Snakes on a Plane'
Homo sapiens has now achieved its purpose. And now, human history can come to a close.
Feature: 'Snakes on a Plane' Checklist
Because New Line Cinema is run by stingy bastards who won't let the press screen 'Snakes on a Plane' before the rest of America does, the Metroactive writers have come up with their own ideas for what might happen during the Samuel L. Jackson movie (besides snakes biting people, Jackson yelling from the top of his lungs...).
Movie Review: 'Trust the Man'
Where the women are willing, the sun always shines, and you have enough disposable income to pay for Viagra.
Movie Review: 'Boynton Beach Club'
Much ado about less than nothing.
Feature: ZeroOne
One film critic's ramble through ZeroOne night on the town.
Movie Review: 'House of Sand'
The dullest film of the year.
Movie Review: 'The Illusionist'
Gets by on skilled performances.
Cult Leader: 'The Brak Show'
Adult Swim's cultiest show gets its due.
Movie Review: This Week's Revivals
Hangin' with Mr. Cooper: 'High Noon,' 'Love in the Afternoon' and more.

MORE MOVIE REVIEWS

MOVIE TIMES

Festival Preview: San Jose Jazz Festival 2006
Admission and outreach mark changes for the festival.
Music Preview: Shakira and Wyclef Jean
A look behind the Colombian-Haitian connection in one of this summer's hottest songs.
Festival Review: Cabrillo Festival of Contemporary Music
The festival featured seven original compositions in a row for its closing weekend.

MORE MUSIC AND NIGHTLIFE

MUSIC AND CLUBS LISTINGS

MUSIC AND NIGHTLIFE CALENDAR PICKS

Restaurant Review: Junnoon
And not just for your job, as the Palo Alto restaurant captures the eclectic flavors of modern Indian cuisine.
5 Things to Love: Kid-Friendly Restaurants
Five restaurants where kids can be loud and messy and you still eat a decent meal.

BOOK A RESTAURANT RESERVATION

FIND A RESTAURANT REVIEW

Stage Review: 'Pygmalion'
Henry and Eliza put each other through changes in Shakespeare Santa Cruz's production of the Shaw classic.

Letters to the Editor
August 16-22, 2006.