October 25-31, 2006
home | metro silicon valley index | silicon valley restaurants | essay
Fall 2006 On the Menu section:
Vietnamese restaurants | Indian cuisine | Meal-prep kitchens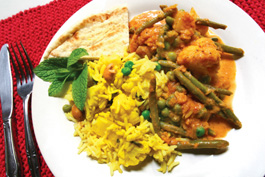 Photograph by Felipe Buitrago
Naan of the above: Biryani rice and chicken tikka masala are perfectly complemented by a triangular wedge of naan.
Naan for the Road
One chef's mission to crack the mysteries of cooking Indian—and the South Bay secrets that showed her the way
By Audrey Gardiner
AS A CULINARY school student, a willful prep cook and, now, a line cook at a busy restaurant, I spend most nights in a hot kitchen next to a bunch of sweaty men showing off my mastery of Western culinary technique. On a nightly basis, I steam mussels, sauté greens and coax risotto into creamy perfection. All that cooking at work means I rarely cook at home, but I still enjoy it when I have the time. I can cook just about anything I set my mind to. Anything, it seems, but Indian food.
In spite of my professional training, mastering the complex sauces and techniques has always eluded me. But in a fit of culinary pride, I was determined to wrestle Indian food into submission.
My first stop was an Indian grocery store. A tour of the South Bay's finest led me to Dana Bazaar in Fremont. But standing there in the store amid fresh produce, an array of spices, a wide variety of lentils and rice, an extensive frozen food section and a helpful staff, I was lost. I had originally thought that I could shop the way I shop at other grocery stores: Go in, see what looks good and work from there. This is not the case with Indian markets.
I learned my first lesson: Be prepared. It's tough to wing it, so I returned armed with recipes and found just about everything I needed, except something called jeera. What the hell is jeera?
I dug through piles of spice bags, jars and boxes at multiple stores but came up empty handed and stuffy headed. I Googled the word at home and learned that jeera is cumin—something I keep in my cupboard at home. Lesson No. 2: Look up foreign words first. It will save time and sneezes in the spice section.
During my foray into Indian cooking, I made the serendipitous acquaintance of an Indian woman who loves to cook and talk about cooking. Determined to pick her brain, I told her of my Indian cooking quest and my misadventures with naan, the soft bread that's a staple of Indian food. Naan, she told me, is difficult to make at home, but using the right amount of yeast and yogurt is key. Or so she said. My efforts failed. Clearly, I was not ready to master the great secrets of naan.
We chatted about food and she described how she makes perfect Indian rice. I'd like to pass the technique on to you, but she lost me in the first two minutes. The only thing I got was that onions should be cooked with the patience many Americans lack and to use lots of butter. In fact, the most valuable and surprising thing I learned from this confident woman is everything needs butter or ghee, and lots of it. I guess I shouldn't be surprised, as butter is the "secret" ingredient that makes nearly all restaurant food delicious.
Slowly, I was beginning to see that like so many things, good Indian cooking is the result of trial and error, and I would have to wander the path on my own.
Two Ways to Cook
There are two ways to go about making Indian food at home: starting from scratch or taking a short cut and using prepackaged mixes to which you add meat, rice and/or vegetables. I wanted to try both, so I set out to make a meal that included some of my favorites: biryani rice, mili juli sabzi (a vegetable dish), chicken tikka masala, naan and tandoori lamb. I tried biryani rice two ways: one with a spice packet and one without. Both ways are easy and delicious provided you know how to make rice.
You'd think a professional cook like me could make rice with my eyes closed. Making it in the microwave should have posed no problem. But it did. I'm a bit of a purist and always cook rice on the stove, but hoping to save a little time, I grabbed a microwavable container and followed the directions on the basmati rice package. When the timer beeped, I peeked to see how my easy, no-fuss rice had turned out.
The lid of my so-called microwave container had melted like lava over the burnt rice. The charred rice had fused the bottom of the container to the rotating glass plate. Then there was the acrid smell that accompanied the sight of the formerly white interior of the microwave. I closed the door and made rice on the stove. Once I'd finally made a batch of edible rice, I added frozen peas, French green beans, potatoes and cauliflower, and then finished it with cashews. Turmeric, garam masala, bay leaves and a little ghee helped produce fluffy, mild, yellow rice.
Some of my efforts yielded food that wasn't quite right. The flavor was off or the sauce had an unusual texture. The chicken tikka masala proved to be one of these difficulties. The marinade turned the chicken into pale, brownish gray chunks, which were difficult to avoid overcooking in the simmering liquid. The mili juli sabzi took me a couple tries to get right. The vegetables, I learned, have to be blanched and then simmered in the sauce. I like my vegetables somewhere in between California crunchy and Midwest mush, so the challenge lay in cooking them so that they weren't too mushy or too al dente. Eventual success came from blanching raw vegetables to just underdone and defrosting frozen vegetables with a one-minute dunk in the water. This allowed them to soak up flavor in the sauce later without turning them into a squishy, unidentifiable mess.
I don't have an oven that reaches the blast furnace temperatures needed to make naan and tandoori meats, but I was determined to give it a try. The recipe for lamb that I finally came up with works best for chops on the grill. It's crusty, spicy and downright delicious. My adventures with unattainable homemade naan drove me to near insanity. I thought it would be like making bread, a time-consuming but ultimately easy process. At home in my regular old gas oven I produced cooked rounds of dough that looked like badly made pita. The restaurant I work in has a brick oven that hovers around 600 degrees, so hot that holding your arm in it for 10 seconds yields a burn that looks like a sunburn and feels like a bruise. I don't recommend it.
Under the watchful eye of my chef, I attempted to make naan in the brick oven. If you have ever tried to make tortillas at home you can imagine the thick, round, flour-flavored disks produced by this failed experiment. This experience led me to a third and final lesson: you can buy naan. It's available fresh at the farmers market, frozen at the store or piping hot from your local restaurant. Skip the microwave, throw it in the oven and let the smell fill your home—as though you had made it yourself. That's what I will be doing.
Tandoori Lamb Chops
Adapted from 'The Best American Recipes 2005-2006' by Mario Batali, Fran McCullough and Molly Stevens

2 pounds lamb rib chops, 1-1 1/2 inches thick
8 medium garlic cloves, minced into a paste
1/3 inch piece of ginger, minced into a paste
1 tablespoon paprika
1 tablespoon garam masala
1 tablespoon toasted cumin seeds, coarsely ground
1 teaspoon salt
½ teaspoon cayenne
¼ teaspoon mace
¼ teaspoon nutmeg
¾ cup plain yogurt, drained in a cheesecloth or coffee filter (save time by substituting 1/2 cup Greek yogurt)
¼ cup malt vinegar
2 tablespoons canola oil
3 tablespoons melted butter
Juice of 1 lemon
Cut three to four slashes in each of the chops.
Mix all the remaining ingredients except oil and butter in a bowl large enough to hold the chops. Add the chops and toss to coat with marinade. Put the chops in a large resealable bag and refrigerate overnight.
Light the grill. Add the oil to the bag with the chops and reseal. Massage the bag between your hands to oil the chops.
To grill the chops, remove from marinade and grill five minutes on each side. Let rest five minutes off the grill. Brush with butter and grill five minutes more on each side for medium rare.
Mili Juli Sabzi
1 cup French beans, fresh or frozen
1 cup carrots, diced
1 cup cauliflower, chopped
1 cup peas
2 medium onions, peeled and quartered
3 tablespoons vegetable oil
1 tablespoon ginger/garlic paste
2 tablespoons ketchup
3 tomatoes, puréed, or 3 tablespoons tomato paste
to taste:
turmeric
red chile flakes
ground coriander
salt
a few kasuri methi (dried fenugreek) leaves
a few pinches garam masala
2 tablespoons cream
Boil vegetables in salted water until tender, but firm. Drain, but save 1 to 2 cups of blanching water. Grind onions to a paste in a food processor.
In a heavy bottomed pan, heat vegetable oil. Add onions and sauté until translucent. Stir in garlic/ginger paste, sauté 30 seconds more. Mix in ketchup, tomato purČe, a teaspoon or so of each spice, salt and about 1/2 cup blanching water. Mix well, adjust spices and salt to taste. Fold in vegetables, kasuri methi leaves and garam masala. Cover and cook five minutes, stirring occasionally and adding water as needed. Whisk in cream, adjust seasoning and serve.
Indian markets
Dana Bazaar 5113 Mowry Ave., Fremont. 510.742.0555.
Nilgris Market (three locations) 2772 Aborn Road (Evergreen Valley Center), San Jose. 408.528.0608. 1187 W. El Camino Real, Sunnyvale. 408.746.0808. 47872 Warm Springs Blvd. (in Galleria Shopping Center), Fremont. 510.979.9996.
Send a letter to the editor about this story.