October 25-31, 2006
home | metro silicon valley index | silicon valley restaurants | feature
Fall 2006 On the Menu section:
Vietnamese restaurants | Indian cuisine | Meal-prep kitchens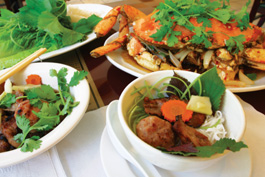 Photographs by Felipe Buitrago
Northern lights: San Jose's Nha Toi offers a wide selection of dishes from Vietnam's northern region.
Viet Yum
Diving the depths of San Jose's Vietnamese restaurants
By Stett Holbrook
THE QUANTITY and quality of the Silicon Valley's Vietnamese restaurants are a local treasure. San Jose in particular, a city with a Vietnamese population larger than any other in the United States, is arguably the best place in the world outside of Vietnam to delve into this diverse and delicious cuisine. In a city without much of a culinary history, Vietnamese food has become San Jose's most distinctive, even defining, cuisine.
And yet in spite of this abundance, few non-Vietnamese diners plumb the depths of the cuisine. Like standing before a warm ocean but not knowing how to swim, many Silicon Valley diners only get their toes wet.
Sure, dishes like pho, banh mi, spring rolls and "shaking beef" have become as popular as burritos and pad thai, but few diners get far beyond those well-known classics. Language is a barrier. Deciphering the menu or asking for recommendations can be difficult at many restaurants where English is definitely a second language. And a lack of understanding about the regional differences within Vietnamese food makes educated ordering tough, too.
I should know. For years I was stuck in a Vietnamese-food rut. I stayed with what I knew—pho, spring rolls and maybe the occasional clay pot catfish or green papaya salad. But as I looked longingly at the unfamiliar food of those around me, I knew I was only scratching the surface of this great cuisine. What I needed was a guide, someone who could take me deeper into Vietnamese food and explain the intricacies of the food and steer me toward the best restaurants and best dishes.
I started asking local Vietnamese restaurateurs and other members of Silicon Valley's Vietnamese community where and what to eat. As I expected, there's a sea of great food out there. You just need to learn how to swim.
From Saigon to Santa Clara
Before the 1980s, there was little Vietnamese food in the South Bay. Mexican and Chinese food was about as exotic as it got. But with the fall of Saigon in 1975 and the resulting exodus of Vietnamese refugees, the demographics of Santa Clara County underwent a profound change. The Vietnamese diaspora sent refugees all over the United States, but many gravitated to what became known as Silicon Valley. Like many of Silicon Valley's residents, emigrants from Vietnam were attracted to the area because of the region's burgeoning economy.
"There were good jobs here and weather didn't hurt either," says De Tran, publisher of VTimes, a San Jose-based newspaper that serves the area's Vietnamese community.
San Jose's Vietnamese population underwent phenomenal growth, forever transforming the face of the South Bay. According to the U.S. Census Bureau, the city's Vietnamese population was just 8,000 in 1980. By 1990 it had grown to 40,000, and in 2000 it had doubled to nearly 80,000. Today, nearly 10 percent of city's population is Vietnamese.
Early on, VTimes publisher Tran says Vietnamese emigrants had to travel San Francisco's Chinatown for noodles and fish sauce and other specialty items. But in time, markets and restaurants that catered to the new Vietnamese population started opening in the South Bay.
In addition to jobs in construction, factories, house cleaning, and agriculture, restaurants were a natural vocation for the city's new emigrants. While it took time to build the capital to open a restaurant, Vietnamese eateries started to proliferate in the late 1980s. In addition to providing income, these restaurants offered a taste of the familiar and cultural connections in a foreign land.
"Food is the extension of the culture," says Tran. "It was very important."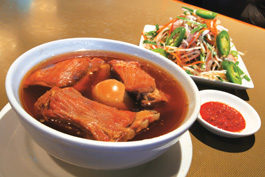 Deep dish: Vung Tau in San Jose has opened restaurants in Milpitas and Newark to spread the word about southern Vietnamese cuisine.
Dining by Regions
Today, it is hard to drive past a shopping center in San Jose that doesn't have at least one Vietnamese restaurant. Drive along Story or Tully roads, and it's hard to find restaurants that don't serve Vietnamese food.
I think the best way to make sense of the sheer quantity of Vietnamese food out there is to break it down regionally. As a country that stretches from its northern border with China to the humid lowlands of southern Vietnam on the South China Sea, the country's cuisine is quite diverse.
"We speak the same language, but we have many different dialects, so the food is different, too," says John Le, a chef and owner of Three Seasons, Vietnamese restaurants in Palo Alto and San Francisco.
Le just opened iTapas in Palo Alto, a restaurant that serves small-plate dishes from around the world, including Vietnam. His brother Todd Le runs Saigon 75, a contemporary Vietnamese restaurant in San Jose.
Vietnam is roughly S-shaped with a narrow middle and larger upper and lower portions. Vietnamese have described the country as a bamboo pole with a bucket of rice at each end. Those "buckets" are dominated by the Red River delta to the north and the Mekong River delta to the south.
Vietnamese food has been influenced by several cultures and China is arguably the biggest. It was China that introduced chopsticks, bean curd, soy sauce and stir-frying. The Mongols, the colonial French and the curry-loving nations of Thailand and Cambodia also influenced the country.
The South Bay is home to several Vietnamese fusion restaurants like Citronelle and Anise Cafe. While they may seem newfangled, fusion is at the heart of Vietnamese cuisine.
"The authentic Vietnamese food is already a fusion," says Tran, noting the country's diverse influences.
The North
Northern Vietnam has traditionally been the poorest part of the country, and the food from this region has a spare elegance compared to the more colorful and lavish cuisines farther south. It's cooler and drier here and therefore doesn't have the abundance of produce of the rest of country.
The food is generally saltier and often makes use of pickled instead of fresh vegetables. Black pepper and soy sauce often stand in for chile pepper and fish sauce. Stews, stir-fried dishes and the use of poor man's ingredients like pork skin, eel, frogs, rice patty crabs and yes, dog, are typical of the north.
Because the north's poverty, northern cooks make a special effort to present food in artistic manner in order to disguise its humble origins and ingredients, says Susie Bui, co-owner of San Jose Nha Toi restaurant, an exemplar of north Vietnamese cooking.
North Vietnam gave the world pho, the beloved beef noodle soup. It's since become a national dish. You can tell you're at a northern style when the pho arrives with just minimal garnish, maybe just a lime. At southern-style restaurants, pho is served with a salad bar's worth of vegetables and herbs like bean sprouts, basil, saw leaf herb and sliced chile peppers.
Other classic northern dishes are bun cha, marinated and grilled pork served atop a mound of rice noodles, and cha ca, a wonderfully aromatic dish of catfish marinated in turmeric, galangal root and fresh dill served on a sizzling hot plate.
Virtually all Vietnamese food is served with nuoc cham, fish sauce mixed with lime juice, chile peppers, garlic, sugar and vinegar. Nuoc mam is made from salted and fermented anchovies and is to Vietnamese food as olive oil is Italian food.
Because it's used by everyone at the table, fish sauce symbolizes unity and shared trust, says Hannah Pham, owner of 19 Market, a contemporary Vietnamese restaurant in San Jose that won Metro's "Best Vietnamese restaurant" this year.
At Nha Toi, in addition to the bun cha, be sure to try ca thu kho rieng, a tuna fish steak simmered with tea leaves and galangal. It's another classic northern dish. In addition to Nha Toi, Minh's in San Jose and Milpitas is another restaurant known for its northern-style Vietnamese food.
The Center
Central Vietnam is home to what is perhaps the country's most elegant and complex cuisine. The food from the central city of Hue, once the royal capital of the country, and nearby hills is spicy, ornate and often labor-intensive.
Andrew X. Pham, former Metro restaurant critic and author of the award-winning memoir Catfish and Mandala, described central Vietnamese food this way in one of his reviews:
It is an ancient cuisine, spawned long before the northern and southern styles found their footing. It drew elements from many mountain tribes and from the fishing culture that blossomed along the prosperous coast. The food bears neither the Chinese influence that suffused the northern cuisine nor the salty and spicy inclinations of the southern school. Distinct yet full of nuances, this regional cuisine makes for a worthy subject of study.
I conducted a study of my own at Quang Da, one of San Jose's few central Vietnamese restaurants. Walk from the parking lot toward the front door of this East Santa Clara Street restaurant and you know you're in for the real thing. Along the west side of the restaurant is an herb garden of mint, basil, chile peppers and several Southeast Asian herbs not found in stores, growing out of white buckets, gray tubs and makeshift planter boxes.
Central Vietnamese food looks a lot like dim sum, small, snack-size plates of beautifully prepared food. Dining at the simply furnished Quang Da with 19 Market owner Pham, she pointed me toward several great dishes.
Banh beo is a steamed rice flour cake that arrives in a tiny cup. Its consistency is like a thicker custard that's topped with dried shrimp and onions. Add a couple spoonfuls of nuoc cham and you've got a great starter.
My favorite dish by far was the banh cuon nhan thit "Tien Hung." Tien Hung refers to a town in central Vietnam. The dish consists of several square steamed rice cakes stuffed with wood ear mushrooms and saut»ed onions and topped with airy dried pork that soaks up the nuoc cham. Glistening and plump like freshly boiled ravioli, the white rice cakes slid down my throat like an oyster.
Banh bot loc, half-moon-shaped yucca flour dumplings filled with shrimp and pork, is another classic small dish from central Vietnam.
Central Vietnamese restaurants are rare in San Jose, but one dish that's served at just about every Vietnamese restaurant is bun bo hue. Named after the city of Hue, this spicy beef noodle soup is similar to pho but has a deeper, more robust broth that's enlivened with the aromatic, citrus flavor of lemon grass.
An Nam on Story Road specializes in this hearty soup. At lunch there's a crowd of people waiting to get in. While the restaurant also serves pho, it's bun bo hue that's on everyone's table. In addition to thin slices of beef, the soup comes with fat, spaghettilike noodles, beef tendon (it's better than it sounds), pork sausage and blood cake. The latter is an acquired taste and easily removed if it's not your thing. If you like, the kitchen will add a few slices of ox penis at no extra charge. But don't let the exotic ingredients scare you. It's a great bowl of soup.
The South
Because of its proximity to Thailand, Laos and Cambodia, southern Vietnam uses ingredients like kaffir lime leaves, coconut milk, tamarind, shrimp paste and sugar cane. It's a spicy, sweet and exotic cuisine that bursts with an array of fresh vegetables and fruit.
"It's my favorite cuisine," says Tammy Huynh, chef at Tamarine in Palo Alto and the newly opened Bong Su in San Francisco. "It's more colorful and has more dishes [than other regions in Vietnam]."
Bong Su was just named one of the country's top 20 new restaurants by Esquire magazine. Huynh's family also runs Vung Tau in San Jose, one of the city's oldest and most popular southern-style Vietnamese restaurants.
Many restaurants have good stories to tell. San Jose's Vung Tau has one of the better ones. In 1976, single mother Chac Do left the coastal Vietnamese city of Vung Tau with her seven children in hopes of finding a better life. They spent a lean year living in an Indonesian refugee camp before immigrating to the United States with the help of a Catholic charity.
The family settled in Lodi in 1977, and all but the youngest children went to work in the local cannery. Life was hard in America but Do's family meals evoked pleasant memories of scenery and flavors of Vietnam they left behind.
When one of Do's daughters left for college, the family relocated to Santa Clara in 1982. Three years later, Do's daughter Nhan and her husband, Anthony, opened Vung Tau on San Carlos Street in San Jose, using recipes and techniques Nhan learned from her mother. The restaurant was a hit with San Jose's burgeoning Vietnamese population, and two years later the 32-seat restaurant moved to a 120-seat space on East Santa Clara Street where it still is today.
Now in its 20th year, Vung Tau remains an exemplar of southern-style Vietnamese cooking. The restaurant has locations in Milpitas and Newark.
Classic southern-style dishes include banh xeo (a coconut and turmeric-flavored crepe stuffed with bean sprouts), chao tom (grilled shrimp paste on sugar cane), a sweet and sour soup called canh chua ca and various grilled meats.
Because southern Vietnam is the most populous part of the country and most emigrants came to United States from the south, there's a great number of southern-style Vietnamese restaurants in the South Bay. Some of the best are Vung Tau, Tay Ho, Nha Trang and Cao Nguyen.
Although she's biased toward Vung Tau, Huynh says the South Bay's Vietnamese restaurants as a whole are the best in the country.
"It's really good here," she says, noting the talented chefs and great produce available to them. "I've been a lot of places, San Francisco, New York, Los Angeles. I think we are better."
So what are you waiting for? Jump into ocean of great Vietnamese food we have in our backyard. The water's fine.
Exploring Vietnamese Food
The following is a list of recommended Vietnamese restaurants in San Jose that showcase regional cuisine.
Northern-style
Minh's Restaurant (two locations) 2060 Tully Road, San Jose, 408.270.7100. 1422 Dempsey Road, Milpitas, 408.956.1000.
Nha Toi 460 E. William St., San Jose, 408.294.2733.
Central-style
An Nam 740 Story Road, Unit 3, San Jose, 408.993.1755.
Quang Da 348 E. Santa Clara St., San Jose, 408.297.3402.
Southern-style
Cao Nguyen 2549 S. King Road, Unit 16, San Jose, 408.270.9610.
Nha Trang Seafood Restaurant 1715 Lundy Ave., San Jose, 408.437.9338.
Tay Ho 1111 Story Road, San Jose, 408.998.5799.
Vung Tau 535 E. Santa Clara St., San Jose, 408.288.9055.
Send a letter to the editor about this story.