October 25-31, 2006
home | metro silicon valley index | silicon valley restaurants | essay
Fall 2006 On the Menu section:
Vietnamese restaurants | Indian cuisine | Meal-prep kitchens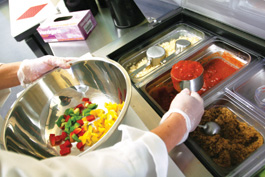 Photograph by Felipe Buitrago
Cut and Run: At meal-prep kitchens, home chefs with hectic schedules can get a jump on their week's menus.
The New Prep Craze
Why meal-prep centers are sweeping the valley
By Cheryl Sternman Rule
CALL ME a snob, but when peeled baby carrots first hit the market over 15 years ago, I didn't get it. Who is so lazy, and so busy, that they don't have time to peel carrots and cut them into 2-inch lengths? And who in their right mind would pay more than twice as much for this convenience anyway? It took a few months for me to succumb, but, of course, I did. Call me a hypocrite, but I'm not going to flagellate myself for paying a bit more for speed and convenience.
Recently, a slew of new businesses have emerged that marry our thirst for convenience with our desire to eat homemade food. These businesses, called meal-prep centers or cook-and-carry companies, provide cleaned and chopped raw ingredients so customers can assemble dinner entrees on-site, take them home, freeze them and then cook them later in the week or month. According to the Easy Meal Prep Association, over 900 such outlets operate nationwide in an industry born only four years ago. Silicon Valley itself boasts at least seven, most of which have opened within the past year. A quick online search located three within shouting distance of my San Jose home.
When I first heard about this concept, I found it ridiculous. It symbolized our ever-increasing penchant for outsourcing our basic responsibilities to save ourselves a little time. So we're busier than we've ever been. So what? Making dinner is part of life, so we should all just suck it up and deal with it. Then again, planning five to seven dinners every week, shopping for ingredients, prepping and cooking the meals, and cleaning up the mess after a long day working or chasing around children (or, for many families, both) is no longer realistic for everyone. Greasy fast food and overpriced takeout are facts of life for many families, and a healthier, more relaxing alternative just might make sense. I decided to check it out.
On a recent Saturday afternoon, I attended a walk-in session at Super Suppers (www.supersuppers.com) in San Jose. The walk-in option is appealing for those unwilling to commit to the six-entrees-for-six-people minimum (36 servings). From a wide-ranging menu of 12 entrees, I chose "Ooh La La" apricot chicken (in spite of its name) and grilled pork chops with cranberry sauce.
Though the center was relatively busy, co-owner Carrie Moreau walked me through the process. I donned an apron and washed my hands at a centrally located sink, then planted myself at one of several salad-bar-type stations filled with all the ingredients for my chosen entrees. Small under-counter freezers hold rock-hard portions of meat and fish, making it difficult to assess freshness and quality. Idiot-proof recipes, with no more than a handful of steps, told me to scoop ingredients into freezer bags or aluminum trays, and labels provide easy cooking instructions for home. The whole process was pretty mindless and took about 20 minutes, tops.
Super Suppers is relatively inexpensive. Each three-serving entree costs $14, a six-serving portion is $22, partly because the ingredients are so basic: Campbell's soup, barbecue sauce, apricot jelly, frozen meat and fish. This is not haute cuisine.
The overall experience was rote, but not unpleasant. I did what I came to do—assemble a few dinners in somebody else's kitchen with almost no effort. The staff was friendly, the process streamlined and the atmosphere relaxed and comfortable. Sample entrees and cold drinks are laid out on a central table for customers to enjoy. When I cooked the food later in the week, however, the results were somewhat mixed. The apricot chicken and rice had one flavor note—sweet—and the texture was dry. I wouldn't eat it again. The pork chops were better: moist, tender and topped with a sauce nicely balanced between smoky and sweet. Most important, with no shopping or prep, and nothing to clean but a single pan, my family and I had two relaxing evening meals during an especially busy week. Unlike takeout, I had actually prepared these meals myself.
My next experience, at Just Dinners in Los Gatos (www.justdinners.com), reinforced the second reason why these centers are so popular: "cooking," when done with a few friends in somebody else's kitchen, can be a rollicking good time. I attended a Thursday evening session with five friends.
Just Dinners, which is independently owned by Cassandra Contreras and Christine Jessup, uses San Jose's Race Street Foods as its main purveyor.
"It was important for us to find a high-quality, local vendor to supply our meats, fish and poultry," Contreras says.
Produce is procured from Galli, another local supplier. One look at the chicken breasts and red snapper made me feel like I was at Whole Foods—both were beautiful and impeccably fresh. (Just Dinners entrees cost slightly more, on average, than several of the local franchises.)
Our group had brought a few bottles of wine, which Contreras and her assistant happily uncorked. A few minutes into the evening they brought out two warm dishes (spicy garlic baked prawns and Swedish meatballs) for us to snack on. Pumpkin chocolate chip cookies followed about an hour later. (All three dishes will be on the December menu.) My friends and I spent the evening relaxing, catching up, sampling some good food, enjoying a glass of wine and, at the same time, preparing several meals to take home to stock our freezers.
Later in the week, I cooked the Moroccan roast chicken and almond-encrusted red snapper I had assembled during my session. The chicken was succulent and delicately spiced. The moist snapper, with its crisp almond coating and flaky texture, needed only a squeeze of lemon and a sprinkling of sea salt to make it restaurant quality. Speckled with parsley, this dish was pretty enough to serve to guests. Best of all, the ingredients were all top-notch, the kind I would have bought myself.
People who take great pleasure in the sensory experience of cooking are unlikely to find meal prep centers satisfying, but even they might appreciate the concept's practical benefits on occasion. It's those who view cooking as a chore who will find themselves most seduced by how little thought and effort they can expend in preparing a freezer full of meals.
Campbell resident Tamara Corini, who likes to cook, has been to three prep centers in the past year, once for a baby shower, once with a mothers' group and once on her own.
"It's really valuable to have all this food in the freezer," she says.
Between working full-time, raising a child, coaching soccer and leading a Girl Scout troop, she simply doesn't have the luxury of making meals from scratch every night.
Los Gatos resident Stacy Dobner describes the experience this way: "It's like cooking in somebody else's home, and they make you feel completely comfortable."
That, and they do all the dishes.
Cheryl Sternman Rule is a freelance food writer based in San Jose.
A Prep on Prep
Check out these meal-prep centers in Silicon Valley
Chef Danes www.chefdanes.com. 2727 Walsh Ave., Suite 200, Santa Clara. 408.980.9991.
Deeelish www.deeelish.com. 700 El Camino Real, Suite 170, Menlo Park. 650.325.6325.
Dream Dinners www.dreamdinners.com. 14107-T Winchester Blvd., Los Gatos. 408.871.6858.
Dream Dinners www.dreamdinners.com. 5685 Cottle Road, San Jose. 408.363.3968.
Just Dinners www.justdinners.com. 540 N. Santa Cruz Ave., Suite F, Los Gatos. 408.399.5400.
Super Suppers 4980 Cherry Ave., San Jose. 408.979.9321.
Send a letter to the editor about this story.