December 14-20, 2005
home | the papers | metro silicon valley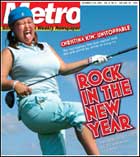 Christina Kim: Unstoppable
The outrageous San Jose native took the golf world by storm in 2005.

Saving California
A maverick economist floats a plan to salvage the state's economic fortunes.
Rock in the New Year
Our New Year's Eve guide will show you how!
Silicon Valley News
Palo Altans fight to save the Spangenberg Theater.

Silicon Alleys
Fast Times in Spartan Bookstore.
Technology News
Maui Drowning?
Car Culture
Although Bill is invariably disappointed with my boring decision to give him socks and underwear, something from the boys at J.C. Whitney gets him excited.

Two Rode Together
'Brokeback Mountain': Jake Gyllenhaal and Heath Ledger in a romance that'll frighten a few horses.
Big Fella
'King Kong': Beauty kills the beast, but beauty makes him alive, too.
Tea Garden
Rob Marshall's adaptation of 'Memoirs of a Geisha' offers more snooze than sizzle.

MORE MOVIE REVIEWS

MOVIE TIMES

Brand Awareness
You can't spell 'mania' without M.I.A.
God Complex
Chutzpah, thy name is Kanye (but in a good way).
Mr. Mozart
Symphony Silicon Valley, with George Cleve at the podium, explores the multitudes of Mozart.
Club Life
Sunday Jazz Series 2006 at The Improv.

MORE NIGHTLIFE

NIGHTLIFE CALENDAR

Local Ovens We're Lovin'
A holiday tour of the South Bay's best bakeries.
Live Feed
Feeling Crabby About Crab.
5 Things to Love
Out of Town Restaurants.

BOOK A RESTAURANT RESERVATION

FIND A RESTAURANT REVIEW

Iraq and a Hard Place
George Packer's brilliant new book, 'The Assassins' Gate,' dissects the illusions that got us stuck in Iraqi.