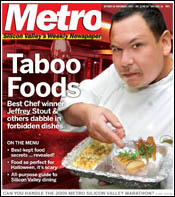 For the Week of
October 26-November 1, 2005
Cover: On the Menu
Lowly Chow Goes Highbrow: There's a peasant-food rebellion going on in the food world as ingredients once considered low-class are now making a big splash in fine-dining restaurants, including right here in Silicon Valley.
Urban Food Secrets...Revealed!: If cheap food is going to become tomorrow's fine dining, it's got to start somewhere. Here's a rundown of some of San Jose's best-kept secrets.
Monster Mush: Want to serve up something truly scary? Colored Cheez-Whiz has nothing on jellied tongue on Halloween.
News: Student Bodies:
A Silicon Valley school district has become the front line in a battle over No Child Left Behind.
The Fly: Putting the Race in DA Race.



Silicon Alleys: 1,000 Points of Live.
Techsploits: Patents Kill.
Rev: Horse Trading: I saw multiple people drop by and gaze at my lovely truck before leaving in disgust. I was so relieved that I didn't have to interact with them.
Showdown: There just isn't enough space to list the records broken by the San Jose Earthquakes this year.



See Monsters: Noah Baumbach's 'The Squid and the Whale' plumbs the depths of divorce with a razor wit.
Zorro for Conduct: Armed with a mask and a sombrero, Antonio Banderas carves a new 'Legend of Zorro.'
No Rain, No Gain: Cage, Caine provide silver lining in 'Weather Man.'
L.A. Women: Rodrigo García connects the dots in multipart 'Nine Lives' about women on the emotional edge.



It's a B-Side Thing: The Fighting Jacks aren't breaking up, but lead vocalist Casey Linstrum is breaking out.
Rack of L.A.M.B.: The Gwen Stefani show would have rocked if she wore sensible shoes.



The Last Thing She Wanted: Joan Didion analyzes her own tragedy in 'The Year of Magical Thinking.'
Book Box: 'The Simpsons: One Step Beyond Forever,' 'Slam Dunks and No-Brainers' and 'Cities of the World: A History in Maps.'



Live Feed: Savoring the Fall.
5 Things to Love: Food Gift Ideas.
Club Life: Sino Restaurant And Lounge in San Jose.



Tricky Talk: Solo talker Martin Moran dredges up some painful memories in his one-man play 'The Tricky Part.'
Smoke Gets in Your Eyes: 'Smoke on the Mountain' plays gospel with undertones at Tabard Theatre.
Critical Mass: The San Francisco Opera splits the atom in John Adams' new creation, 'Doctor Atomic.'



Please don't forget to write! Metro welcomes letters. Like any great work of art, they should be originals — not copies of letters sent elsewhere. Include address and daytime phone (for verification purposes only). Letters may be edited for length and clarity or to correct factual inaccuracies known to us. Postal: Metro Letters, 550 S. First. St., San Jose, CA 95111. Fax: 408/298-0602. Email: letters@metronews.com. Emailers, please include name, city of residence and phone number. Letters printed will list email address unless otherwise specified. Letters to the editor are not currently published in the online version of this paper.