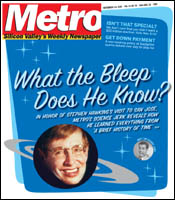 For the Week of
November 2-8, 2005
Cover Story: What the Bleep Does He Know?:
In honor of Stephen Hawking's visit to San Jose, Metro's Science Jerk reveals how he learned everything from 'A Brief History of Time.'
News: Bobble the Vote:
Having trouble figuring out how to vote in next Tuesdayıs election? Talk to the head.
The Fly: Halloween is over, but anyone following the Merc's coverage of the murder of Pamela Vitale has plenty of reason to be frightened.



Silicon Alleys: San Jose Gets Global Stage.
Techsploits: Why Mice Sing.
Rev: Terra Pass then takes the money you submit and invests it in projects that will reduce global warming.



A Better World: 'The World on Sunday' showcases the graphic triumphs of Joseph Pulitzerıs Sunday 'World' of the early 1900s—now all we get is 'Parade.'



Burning Men: Jake Gyllenhaal stars as neither an officer nor a gentleman in 'Jarhead,' a story about the Gulf War.
Counter Intelligence: A rich guy and a poor guy contend for a lovely 'Shopgirl,' as they have since movies were invented.
Festival Fare: The San Jose Jewish Film Festival continues with biweekly screenings.
Ski Porn: Warren Miller is the Larry Flynt of ski flicks.



Pay to Play: A new booking policy at Gaslighter signals a new economic reality for musicians.
Order From Chaos: The Moistboyz are America's premier dirt rockers, a self-identified genre infused with profanity, distortion and more than a healthy dash of paranoia.
All That Jazz: Symphony Silicon Valley grafted classical and jazz motifs in weekend concert.
Club Life: 358 Culture Lounge.



Book Box: 'The Life of David' and 'Edge of Empire: Lives, Culture and Conquest in the East, 1750­1850.'



Setting The Bar: La Pastaia offers big-city style and the embodiment of rustic Italian fare.
Silicon Veggie: Surviving the Holidays.
5 Things to Love: Golf Course Grills.



Go West, Young Idol: 'American Idol' Diana DeGarmo sings songs of innocence but not inexperience for American Musical Theatre of San Jose's 'West Side Story.'



Please don't forget to write! Metro welcomes letters. Like any great work of art, they should be originals — not copies of letters sent elsewhere. Include address and daytime phone (for verification purposes only). Letters may be edited for length and clarity or to correct factual inaccuracies known to us. Postal: Metro Letters, 550 S. First. St., San Jose, CA 95111. Fax: 408/298-0602. Email: letters@metronews.com. Emailers, please include name, city of residence and phone number. Letters printed will list email address unless otherwise specified. Letters to the editor are not currently published in the online version of this paper.