Movies
Hitchcock
A new film about the master of suspense reminds modern moviegoers
how much Hitchcock is missed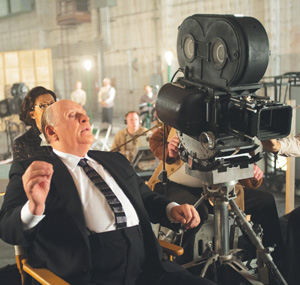 We are nostalgic not just for the old films but also for the menace of the old directors. First Orson Welles got his biopics (Me and Orson Welles, etc.). Now the sinful old British uncle walks again: black clad in his Mariani suit, carrying an undertaker's gravity within that vast bulk.
"Can you ever really duplicate characters from history?" Andy Warhol asked, interviewing Hitchcock. Not really, except in small roles, Hitchcock answered. And yet, just recently, Julian Jerrold's The Girl features Toby Jones' Hitchcock giving Sienna Miller's Tippi Hedren the Svengali treatment. The Girl duels with the slightly more benign popular view presented in the holiday blockbuster Hitchcock, directed by Sacha Gervasi.
Hitchcock's main pleasure lies in watching Anthony Hopkins inhabit the famous silhouette as the strains of Borodin's familiar theme play on the soundtrack. The actor is entombed in a fat suit, and only Hopkins' eyes have much range; he must express stirring fear, vanity and jealousy inside the outward tranquility.
It's 1960. The renowned director is 60 and fresh off his biggest hit, North by Northwest. But his interest is piqued by the rise of younger talents and the question of what his next film will be.
As this fiction posits, Hitchcock has another problem: he fears losing his wife, Alma (Helen Mirren), to a young upstart. The Hitchcocks are in a maternal, sexless relationship. The film's big moment of physical intimacy comes when the director touches Alma's nose and then drops his hand as if he had brushed a hot stove.
The film credits the power of the bond between the Hitchcocks in a time of crisis over Psycho, which studio heads and censors alike are claiming can't be made. Hitchcock explains how Psycho was finally done, without blowing too many of that film's surprises. (Some of the details come from the film's nominal source, Stephen Rebello's nonfiction book on the making of the film.)
The closer Hitchcock sticks to the matter at hand, the better. The engineering of the infamous shower scene includes a black-faced double to make sure the camera doesn't pick up any facial features. (The shoe polish is just what Mrs. Bates needed to be more terrifying.)
We also get a joke on Hitchcock's thrifty weakness for rear projection. Quicker viewers can pick up a nod to the French thrillers (specifically Diabolique) that spurred Psycho. But Hitchcock imparts too little information on the link between the lucrative TV work the director was doing and the bare-bones way he produced Psycho.
There should have been more on composer Bernard Herrmann and less on the idea of Hitchcock boiling with jealous rage as Alma meets for secret script consultations with a perfumed parlor snake of a screenwriter. In the role, Danny Huston recalls S.J. Perelman's comment about the silent-movie villain who needed regular fumigation to keep the mushrooms from sprouting on him.
Hitchcock's true feelings about women will ignite feverish discussion as long as there are universities. The movie, however, is essentially gallant: Scarlett Johansson is an appealing, level-headed Janet Leigh. Hopkins' Hitchcock more or less eats out of Janet's hand when she feeds him candy corn during a drive together (the reference is to the candy Norman Bates is devouring when he's interviewed by Martin Balsam's detective).
All of Helen Mirren's acerbic, middle-aged desirability is in play as Alma Reville. Hitchcock inserts a disparaging remark about Doris Day films, but is the possibility of adultery here more believable than the threat to Day's chastity in the old days?
Ultimately, Hitchcock is pleasurable even if you know better—if you can bear the tang of anachronism in the lines and the moments of sad binge-eating. As fatso director Kevin Smith put it, "No one wants to see a fat man cry."
Hopkins' own ham quotient syncs up with Hitchcock's taste for the pose. It's the pose that provides the film's uplift—the sense of the relevance of the old man, the sense of how much we miss him in a cinema that has trouble surpassing the intensity of his vision, decades after his death.
PG-13; 98 min.
Richard von Busack's
Top 5 Hitchcock Films
Vertigo A wounded San Francisco detective (James Stewart, at his best) is lured into the fringes of necrophilia by a young woman (Kim Novak). This dense and stunning dream movie kicked Citizen Kane off the top of the Sight & Sound list of greatest films. The combination of the Bay Area locations and Bernard Herrmann's operatic soundtrack is mesmerizing. Vertigo is a disturbing, gloriously appointed tragedy. New viewers discover it and marvel over it, even as older viewers learn new things about it and themselves with every viewing.
Notorious One of the three or four films (including the one below) most responsible for the James Bond series. Cary Grant is at his most reprehensible as a U.S. agent who must pimp out a party girl (a downright edible Ingrid Bergman) to bust a ring of Nazis in Rio. Hitchcock was justly proud of the fact that he created an atomic spy movie even before the Trinity test.
North by Northwest A pre-Columbian statue with a bellyful of microfilm: that's what's at stake, but Mad Man Roger O. Thornhill ("ROT—it's my trademark") doesn't know all that when he's mistaken for an American agent. He has to run for his life—for 1,717 miles. A 007 adventure before its time, with a magnificent Bernard Herrmann soundtrack and Cary Grant at his autumnal finest.
Rear Window "Oh, dear, we've become a race of Peeping Toms."—Thelma Ritter. This elaborate thriller about scopophilia stars Jimmy Stewart as a disabled photographer, worried about an impending marriage (with Grace Kelly, "a snowcapped volcano," as Hitchcock described her). And well Stewart might worry, seeing as how all different kinds of marriage play themselves out from his window, including a possible murder of a wife, carried out by a heavy and strange traveling salesman (Raymond Burr).
Strangers on a Train No one can call themselves a Bill Murray fan unless they love Robert Walker as the Murray-like Bruno, the louche murderer from this diabolical mystery. Hitchcock has a hell of a time with optical tricks (a girl's eyes literally lighting up, for instance) and the fantastic merry-go-round-broke-down finale. Plus, it co-stars San Jose's Farley Granger and features one of the best jokes about amateur art ever seen in a movie.
RUNNER UP
The Birds The blueprint for all zombie movies, Hitchcock explained that what the birds here attack is "Complacency": the heavy familial angst here has been boring the bloodthirsty for decades. Stick with it as the birds get their revenge. Fun fact: Hitchcock was a poulterer's son, and he hated the sight of eggs.
Read more on the films
of Alfred Hitchcock
Hitchcock's 'Notorious' still a stylish shocker
Be careful what you watch for in Alfred Hitchcock's 'Rear Window'
In Alfred Hitchcock's 'Vertigo,' falling in love--with a woman, with a movie--is a plunge into an abyss of obsession
Alfred Hitchcock's masterpiece, 'Vertigo,' retains its vital mystery after 50 years
David Thomson's new book explains how 'Psycho' changed the movies
A new book on the master of suspense's soundtracks