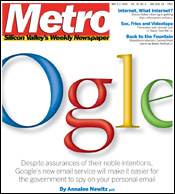 For the Week of
May 5-11, 2004
Cover Story: Datapocalypse:
Google's Gmail service is just the beginning of a new information surveillance regime.
News: Cybersloths
When it comes to technology, Silicon Valley governments are still in the primitive stages.
The Fly: This week's political bites.



Biter: Pat Tillman's real heroism.
Techsploits: Security is a hot industry right now.



Hacking Free: Alex Galloway and Cory Arcangel mount an assault on the protocols that control digital information.



Lard of The Fries: Morgan Spurlock--slightly annoying, but a public benefactor--submits himself to McDonald's in 'Super Size Me.'
Dad Reckoning: A boy from Athens copes with loss in 'Hard Goodbyes: My Father.'
In the Dark: There's plenty to be afraid of in the ground in Italian thriller 'I'm Not Scared.'
Trampled Under Foot: 'Godzilla' raids again, in the reissue of the 1954 'Gojira.'



Hot Stuff: There's plenty of fire left in psychedelic blues-rock band Canned Heat at the Metro Fountain Blues Festival.
Aural Fixation: Jolie Holland casts spells on her eerie new Appalachian gothic album, 'Escondida.'



Coming Through! Hot Soup!: Jim Hwang promises you'll have a good time at Tofu House.
Club Life: Club Monaco in Sunnyvale.



Life Loves: Joie de vivre connects Tabard's 'Sabrina Fair' and Pear's 'Approaching Zanzibar.'



Please don't forget to write! Metro welcomes letters. Like any great work of art, they should be originals -- not copies of letters sent elsewhere. Include address and daytime phone (for verification purposes only). Letters may be edited for length and clarity or to correct factual inaccuracies known to us. Postal: Metro Letters, 550 S. First. St., San Jose, CA 95111. Fax: 408/298-0602. . Emailers, please include name, city of residence and phone number. Letters printed will list email address unless otherwise specified. Letters to the editor are not currently published in the online version of this paper.