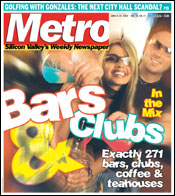 For the Week of
June 16-22, 2004
Cover Story: Bars & Clubs 2004:
Exactly 271 bars, clubs, coffee and teahouses.
News: The Greening of Mayor Golfzales
Mayor gets hooked on fancy golf courses, where he de-stresses thanks to his lobbyist friends.
Skeletons in the Coroner's Office: A botched 9-year-old murder case continues to haunt the much-maligned Santa Clara medical examiner's office.



Biter: Reasons to celebrate Bloomsday.
Techsploits: We're so used to the idea that our telephones and computers can be tapped at any time that we forget things haven't always been this way.
Rev: Brits call them self-drive holidays or multicentre holidays. We simply call them road trips.



Makeover: 'The Stepford Wives' gives the dead horse of the 1950s a resounding kick.
Freaks and Geeks: 'Napoleon Dynamite' ignites nerd-dom.
Sports Fever: 'Dodgeball' pokes fun at the mania for sports, any sports.
Not Necessarily 'Nanook': Nonfiction, nature and narrative are combined with a poetic sensibility in 'The Story of the Weeping Camel.'



Word Freak: MC Lars raps literary, keeps it surreal.
Aural Fixation: Jewel scales back on her commitments and focuses on her music.
Vinyl World: Writer Brett Milano delves into the troubled minds of obsessive record album hoarders.
Club Life: Stanford Jazz Festival.



Fine China: P.F. Chang's brings its brand of perfected Asian gourmet to downtown.



Please don't forget to write! Metro welcomes letters. Like any great work of art, they should be originals — not copies of letters sent elsewhere. Include address and daytime phone (for verification purposes only). Letters may be edited for length and clarity or to correct factual inaccuracies known to us. Postal: Metro Letters, 550 S. First. St., San Jose, CA 95111. Fax: 408/298-0602. . Emailers, please include name, city of residence and phone number. Letters printed will list email address unless otherwise specified. Letters to the editor are not currently published in the online version of this paper.