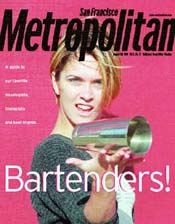 August 30, 1999
Cover: Top Shelf
We pass out our numbers, overtip and occasionally spill our drinks on them: the city's top bartenders.
House of Cards: House of Cards offers advice to the musicmakers.
Tara's Advice: Tara defends the chill pill.
Frisco Utopia: Chasing the call of the wild.



A Spa's Odyssey: Bavarian baths to soothe urban decay.
Concrete Runway: Dana Peter Powras at the Civic Center.
Cookoo for Lulu: How to turn a hausfrau into a home chef in 30 seconds.
Visual Arts Picks: Reviews of 'Machines of Metal and Light,' 'The Bay Area Awards Show' and 'Looking Glass.'



Siamese Sins: 'Twin Falls Idaho' recounts an odd and inconvenient love story.
Women on the Verge: Ariella Ben-Dov of MadCat on starting your own film festival.
Film Picks: Reviews of 'The Flame' and 'City That Never Sleeps,' 'The Adventures of Sebastian Cole' and 'Pizzicata.'



Java Jive: Kofy Brown's blend of funk, rock and soul reinvigorates the East Bay.
Music Picks: Reviews of the latest CDs by Bis, Bobby Matos and the Afro Latin Jazz Ensemble and Méshell Ndegéocello.
Club Guide: Disco divas, hip-hop connoisseurs and salsa suaves to flannel-clad pinball players, jazz luminaries and more.



In the Raw: A quick taste of the uncooked and living-food movement .



Novel Technologies: The virtual world of online technology provides fertile literary ground.
Surveying Silicon Valley: Valley-boy Po Bronson's odd tales from the South Bay.
Book Picks: Reviews of 'The Rolling Stone Book of the Beats' and 'All the Wrong Men and One Perfect Boy.'



Please don't forget to write! The Metropolitan welcomes letters. Like any great work of art, they should be originals--not copies of letters sent elsewhere. Include address and daytime phone (for verification purposes only). Letters may be edited for length and clarity or to correct factual inaccuracies known to us. Postal: Metropolitan Letters, 1776-A 18th St., San Francisco, CA 94107. Fax: 415/487-9094. Email: [email protected]. Emailers, please include name, city of residence and phone number. Letters printed will list email address unless otherwise specified. Letters to the editor are not currently published in the online version of this paper.