May 10-16, 2006
home | the papers | north bay bohemian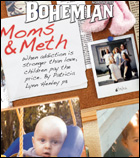 Moms & Meth: Addiction in Sonoma, Marin and Napa counties
When Moms use, families lose. The second in our yearlong look at meth. By Patricia Lynn Henley.

News: Is California ready to vote in the June primary?
Touch-screen machines, snarled voter rolls and even Secretary of State Bruce McPherson himself may stand in the way of a smooth primary.
News Briefs: Grand Jury finds Marin County lacking public defenders
Poor defendants don't receive free representation until after arraignment in Marin and the Grand Jury isn't pleased. Also, viral outbreaks plague Sonoma County nursing homes.

Column: Peter Byrne. Does Sonoma-Marin assembly candidate Joe Nation belong to the wrong party?
Registered Democrat Nation walks, talks, works and appears to vote...like a Republican.
Car Culture: Living la vida locavore in the San Francisco Bay Area
Eating foods grown within a 100-mile radius of home means that many foods are forbidden to Marin, Sonoma and Napa locavores.

Movie Review: 'Art School Confidential'
More gauche than gouache, a young man struggles to hold his own in a cynic's world.

MORE MOVIE REVIEWS

SONOMA COUNTY / NAPA COUNTY / MARIN COUNTY MOVIE TIMES

Music Review: Bruce Springsteen's 'Seeger Sessions' and Neil Young's 'Living with War'
Our writers converge on Bruce, Neil, war and the tribute album concept.

MORE NIGHTLIFE

NIGHTLIFE LISTINGS

NIGHTLIFE CALENDAR PICKS

Restaurant Review: Napa's Boonfly Cafe
Out of the way and out of this world, the Boonfly is worth the drive.
Wine Profile: Thomas Pinney's 'History of Wine'
Thomas Pinney's two volume history of American wines is the best literature on the subject because it's the only literature on the subject.
Recipe: Breakfast Pizza is the way to go for Mother's Day
Simple instructions for constructing this edible jazz poem, one sure to make Mom puzzle and smile.
Food Essay: Vegetarian Entertaining
One-on-one dinners are easy for the meatless, but what about those big family events?

BOOK A RESTAURANT RESERVATION

FIND A RESTAURANT REVIEW

Author Profile: Frank Portman and 'King Dork'
Punk rocker turned young adult author speaks to the angst-ridden teen in everyone.
Stage Review: 'Betrayal' at Sonoma County Repertory Theatre
Pinter's cerebral story is given a literate treatment in Sebastopol.
Stage Preview: Patrick Ball's 'Flame of Love: Tristan and Iseult'
Famed storyteller and Celtic harpist takes on star-crossed lovers at Spreckels Performing Arts Center in Rohnert Park.