July 12-18, 2006
home | the papers | north bay bohemian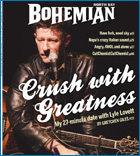 My Imaginary Love Affair with Lyle Lovett
An exercise in nauseating, old-fashioned celebrity worship involving the unsuspecting Lyle Lovett.

Santa Rosa news: Eminent domain
Will Santa Rosa enact its right of eminent domain for the proposed Gateways Redevelopment Project?
News: True cost of poverty
Facts and figures on the cost of being a poor American in 2006.
North Bay news briefs: Greenbelt Alliance Smarth Growth Scorecard
How Petaluma, San Rafael, Napa and other North Bay cities score. Also, talking tickets.

Car Culture: Sugar beets and ethanol
A short primer on why using sugar beets instead of GMO corn for fuel just ain't gonna happen.

Movie Review: 'The War Tapes'
Documentary shot by soldiers shows how the Iraq invasion makes the Middle East safe for . . . cheese.

MORE MOVIE REVIEWS

SONOMA COUNTY / NAPA COUNTY / MARIN COUNTY MOVIE TIMES

Music Review: Cut Chemist's 'The Audience's Listening'
Bay Area DJ is a turntable king.
Music review: Tupac, Dion, Charlie Rich and Kid Rock
Alternative holiday music for alternative holidays.

MORE NIGHTLIFE

NIGHTLIFE LISTINGS

NIGHTLIFE CALENDAR PICKS

Restaurant review: Wine Spectrum Shop & Bar in Santa Rosa
New tapas restaurant offers exquisite food at rareified prices.
Restaurant review: Outdoor dining in Sonoma, Marin and Napa counties
Ravenous, Cantinetta, the Mountain Home Inn and other al fresco options.
Winery Profile: Castle Vineyards and Winery in Sonoma
Your cup runneth over at Castle.
Food Event: Sonoma County Showcase of Wine and Food
Luncheons, cook-offs, dinners and winetasting abound at annual event.

BOOK A RESTAURANT RESERVATION

FIND A RESTAURANT REVIEW

Event Preview: Festival del Sole in Napa
How the festival came to annoint Napa with greatness.
Book Review: 'Londonstani'
Gautam Malkani's rude boys lay low in the Hounslow.
Author Profile: Peter Laufer and 'Mission Rejected'
Journalist discusses his new non-fiction work about soldiers who refuse to fight.
Stage Review: 'The Prime of Miss Jean Brodie' at SRT
Repertory offering a portrait of the past.

Letters to the Editor
July 12-18, 2006.