Features & Columns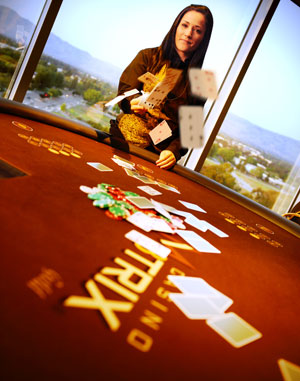 Revenue Streaming
Gaming in San Jose has frequently pitted city officials against card room operators. In the '80s, former Mayor Tom McEnery and Redevelopment Agency chief Frank Taylor sought to cleanse downtown of its red-light district; they realized that revitalizing the city would require keeping card rooms on the outskirts of the city's core.
There was talk of eliminating the card rooms but Garden City's prospects—and those of a new casino on the north side of town, Bay 101—brightened under McEnery's successor, Mayor Susan Hammer.
Lou Cobarruvias, the new police chief, could have revoked the card room's license—as his predecessor Joe McNamara wanted to—but Cobarruvias instead took a measured approach to managing the casino. The decision was practical. San Jose, in a lingering real estate crash reminiscent of recent years, faced an $11 million deficit. Garden City generated more than $400,000 a month in needed tax revenue.
Cobarruvias forced Garden City's owners to sell their interests and fined them $5 million. For the first time in the existence of the card room, which was opened in 1946, Garden City Casino no longer had a Dalis running the show.
Labor-aligned city officials have frequently taken a more friendly approach to regulating the card clubs, which injected new revenues into the city's treasury when Hammer and the council instituted Title 16 at the beginning of her administration. Labor political strategist Bob Brownstein, the city's budget director at the time, was among gaming's champions.
Garden City's gaming license was sold to developer Eli Reinhard, who encountered problems making rent payments to Ernest Pestana after Bay 101's spacious new casino opened up not far from San Jose's airport. He dropped the corporation into Chapter 11 bankruptcy and argued that moving the card room was the only way to stay afloat. In 1999, Reinhard attempted to regain business lost to Bay 101 by moving Garden City to land just west of San Jose's airport.
Mayor Hammer's successor, Ron Gonzales, however, enjoyed more prosperous economic times and took a less-friendly stance toward the card clubs. With the help of former Councilmember David Pandori, Gonzales changed Title 16 and put the squeeze on legal gambling.
Pestena opposed Reinhard's relocation plans and said he was owed more than $6 million in back rent. Bay 101's ownership, which declined to comment for this article, also fought the move, albeit for different reasons.
Reinhard, frustrated and losing money, forfeited control of the casino to Pestana and a bankruptcy trustee, who kept it operational until 2008, when a pair of unknowns—Swallow and the Lunardis—bought the operation. More than $22 million in debt to creditors at the time, the casino's ownership group shocked card room watchers by reversing its fortunes and paying off its debts within three months. City staff never had a problem with the turnaround, but it did raise some eyebrows.
Since then, the city has seen greater tax revenue from tweaks to Title 16—notably raising the table limit to 49 per card room in 2010—and the relationship with gaming has become cordial if not absolutely essential to keep the city budget from further bleeding.
"I have a different approach, because times have changed in California,' says Mayor Chuck Reed. "It's just a different issue than it used to be. They're legal in San Jose; they're legal in California; they should be treated as a business.'
But as much as Reed wants more casino revenue, he's careful to hold the line. He says the process of checking every receipt and stock statement for Casino M8trix's owners is essential before it can move down the street.
"You have to be able to follow the money back to the people," Reed says, "and they have a complicated financial structure to be able to follow the money. They have multiple corporations involved in this. It's not just the Lunardis and Swallow. It's a complicated financial structure."