Features & Columns
Casino M8trix vs. San Jose
A beautiful, new highrise casino is ready to deal. Is San Jose?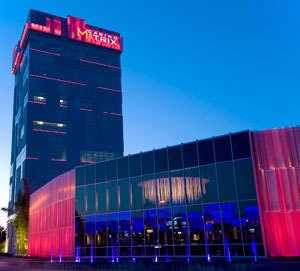 Eric Swallow emerges from an emergency exit not far from the main entrance to north San Jose's tallest building. As he makes his way over, he looks every bit the part of a casino owner.
Swallow's silver hair is cropped short, and his tan looks moderately cultivated. His dark, pin-striped suit is crisp. His shoes are pointed and his tie is dotted with Swarovski crystals. Or are they diamonds?
The boldness of Swallow's outfit matches the ambition of his latest venture, Casino M8trix, the $50-million, 16-story Tetris block alongside the freeway near San Jose's airport, Swallow currently owns the city's oldest card room, Garden City Casino, with partners Peter and Jeanine Lunardi, and they want nothing more than to shut down the aging facility and replace it with a 21st-century gambling establishment.
Swallow and his Danville neighbors, the Lunardis, split a $1 million down payment and obtained more than $30 million in bank financing to erect the opulent building. It features computer-controlled fountains and Italian glass tile murals by the same artisans who crafted the floor murals at Las Vegas' Wynn resort, according to Swallow. Limited liability companies were set up in California as well as in the business-friendly states of Nevada and Delaware to hold the assets. The big-stakes game has confounded city officials, who don't usually work with high rollers who play fast and take large risks.
If everything goes as planned—and little has gone that way up to this point—Casino M8trix will be the next big thing in the South Bay. It features a sports bar, meeting rooms, a noodle restaurant, video games, a karaoke club and an expansive first floor dotted with card tables, all in an effort to attract the young and the restless, the gamers and gamblers, those with deep pockets and those who don't know any better.
Casino M8trix's eighth and top floor breaks into four small, semipublic card rooms that overlook the west, east and north sides of San Jose. These rooms were designed as much for their exceptional views as the cachet of playing cards seven floors above the other saps.
M8trix is modeled after Los Angeles' Commerce Casino, the world's largest card room. Commerce also offers a 200-room hotel, something that M8trix plans to build in several years.
"I was trying to create something beyond playing cards,' Swallow explains. "If you're a business executive, you would want to come meet here or hang out at the sports bar. The reason I built the eighth floor is to keep the revenue here. My goal was to keep people from going to Vegas, so I need to give them an experience that feels similar.'
Meanwhile, inside the spacious linen-chandeliered first floor, neither a card turns nor a chip is exchanged. The reason? The casino's owners are in a standoff with San Jose Police Chief Chris Moore and some members of city staff.