Features & Columns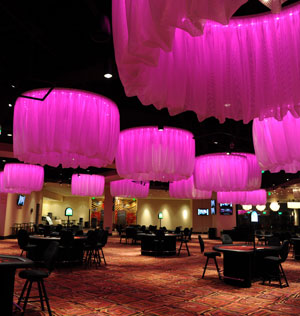 Foundation Room
Last summer, Rich de la Rosa and Sean Kali-rai drove to 201 W. Mission St., headquarters of the San Jose Police Department. Lobbyist Kali-rai was a former aide to Mayor Gonzales who had been prosecuted by gambling foe Pandori, now a district attorney, for violating the city's revolving-door ordinance. The charges that Kali-rai concealed lobbying fees in a sham real estate transaction were subsequently dropped.
The trip's stated reason was a meeting to brief Chief Moore on the activities of the San Jose Police Foundation, a nonprofit created by his predecessor that raises money to donate Segways, spy cameras and bulletproof vests for canines to the department. The annual de la Rosa-organized Bowling 4 Badges fundraiser at 300 San Jose bowling lanes raises about $50,000 for SJPD each year.
During the meeting, de la Rosa, an insurance agency operator for almost four decades and the foundation's president at the time, went through routine items. De la Rosa remembers the meeting as typical and congenial. Then he told the chief he had one other thing they needed to discuss.
Here is how Moore recalls it: "Halfway through the meeting Rich says, 'Look, I need to change hats here.' He indicated that he had left his old job and started a consulting venture with his partner, Sean. I asked what kind of consulting, and he said lobbying. I said, 'Who are your clients?' You know, it was a little strange for me to be in the middle of a meeting coming in for one purpose and then all of a sudden moving into another area. And he then indicated his only client was Garden City.'
According to de la Rosa, the news didn't sit well with the chief: "He wanted to crawl out of his skin.'
With many of San Jose's top officials already assigned to getting Garden City Casino transferred over to its new location by the airport, Moore says he came to the conclusion that there was a conflict of interest, or at least the appearance of one. On one day, the chief could be asking de la Rosa and the foundation for financial help and the next day de la Rosa could be asking the chief for assistance in getting Garden City's move expedited.
Moore thought it over for several months before telling foundation board members that de la Rosa and Kali-rai, a real estate broker from Fremont, should step down. The board told the chief to pound sand. The lines were drawn.
The chief wrote the police foundation board in December to advise it that the SJPD would no longer accept financial assistance due to the conflict. Board members were stunned by the decision; de la Rosa and Kali-rai resigned from the board within two months. As if nothing had happened, the chief rekindled the romance.
"I was kind of surprised, because I would think Chris knows what kind of person I am, and all I did was raise him money,' de la Rosa says. "I have no animosity toward the chief. None. I like Chris. I just don't understand his position in this. Honestly, he's just not being reasonable.'
Pete Constant, a San Jose councilmember and former San Jose cop whose district is home to the present Garden City, says the chief overstepped his bounds in asking the board to change its leadership.
"I think that's a conflict for the chief to be telling any nonprofit board what to do,' says Constant. "The conflict is with the chief, because he may think it will cloud his judgment to accept money.'
One thing de la Rosa and Kali-rai failed to mention to Moore is how much money the pair was paid by Garden City while serving as foundation directors. The City Clerk's office has misplaced records, but de la Rosa admits he and Kali-rai are being paid between $100,000 and $200,000 for the work they do for Casino M8trix.
"Trust me, we've had very little influence on them,' de la Rosa says with a laugh. "If we had influence on them, we'd be open.'
Like any poker game, the opponent has a chance to call, and casino operators are quick to point out problems on the city's side. Two recent audits of the police department's gambling unit were anything but glowing. The reports, one by the city auditor and another by an independent gaming group called White Sands, depicted a poorly structured group that is in over its head when it comes to regulating card rooms and enforcing Title 16.
"Largely unable to draw on the appropriate skill sets to conduct meaningful operational oversight from other than its two senior staffers who are already overcommitted on the licensing side, DGC fails to achieve the balanced approach to regulation envisioned by Title 16,' the White Sands report concludes.
Richard Teng, who heads up the DGC and declined comment for this article, wasn't directly criticized in the audits, but that hasn't stopped some councilmembers and Casino M8trix's owners from identifying him as a problem.
"What's very frustrating is the city attorney just backs Richard Teng up, and they know he's an idiot,' Swallow says.
SJPD contracted out much of the work for a forensic audit to Conroy & Associates, which, considering the length of time the investigation has taken, raises other questions. Before Michael Conroy and his wife started their own investigative agency, Michael spent much of his career with the SJPD.
"If you have a relationship with somebody,' Constant notes, "the investigation will lead wherever you want it to lead.'
Fed up with the millions he claims he's losing every week that Casino M8trix remains closed, Swallow says he's prepared to call the city's bluff. Even if a court hearing May 7 allows the card room to open its doors before June 30, it might not be long before the parties will be back in court.
"We'll file [a lawsuit], and it will be in the tens of millions,' Swallow promises.
Cards 101
A new phone poll in San Jose wants to know exactly how you feel about card rooms. More specifically, the poll wants to know how receptive you are to the city's two casinos increasing card tables to 98 apiece and potentially incorporating Indian casinos' modern-day 40 acres and a mule: slot machines.
With city, county and state ballot initiatives making elected officials in California more irrelevant by the day, voters can expect to tackle the question of legalizing gambling in California in coming years. The question then becomes: At what cost?
From a law enforcement perspective, there's no question that the chief and his troops consider casinos crime magnets.
"You talk about loan sharking, you talk about problem gamblers, you talk about prostitution, you talk about home invasions—we've had these. Not that they happen very often, but sometimes people get followed home from the club,' Moore says.
For this reason, he adds, the city can't afford to let Casino M8trix open without every question about management and money being answered.
"Were trying to make sure we follow the rules,' he says. "I tell you what, whatever we do here, we have another competitor that's watching whatever we do or don't do. And they're going to be looking to use—I don't want to use the term exploit—but follow on the footsteps of what we allow.'
The competitor Moore mentions off-hand is Bay 101, which is located just a few blocks over from Casino M8trix. According to the City Hall's point man on the project, Ed Shikada, Bay 101 isn't just sitting on the sidelines throughout all of this.
Regulation Football
Swallow and partners applied for a license in May 2011 to rebrand as Casino M8trix. Because of the way it was done, the owners, in essence, surrendered their gaming license due to the wording of Title 16. City staff had months to notice this technicality, but no one spotted it until Bay 101 tipped off city officials to mistakes M8trix made in the process, Shikada says.
With 320 workers waiting to begin work at M8trix Casino—about 400 can fully staff Garden City—and the city foregoing on extra tax revenue, no one gains from the card room's stumbles other than the only other card room in town. To Bay 101's credit and the city's lack of transparency, the casino has garnered expertise and connections by hiring former SJPD gaming-division compliance officers.
While M8trix relied on de la Rosa to do its unsuccessful bidding with Moore, sources confirm that Bay 101 hired Dennis Faz almost immediately after he retired from the SJPD. His role with the police department involved gaming oversight of his current employer.
Adding to the murkiness of how much everyone scratches each other's backs, officers in the DGC aren't currently required to report outside income to the department. And they aren't subject to the city's anticorruption revolving-door ordinance, which prevents officials from immediately going to work for the companies they affected by their policies.
The chief disputes the suggestions that any personality issues or conflicts of interest have held up Casino M8trix's opening.
"Look, I would like to see them open very quickly,' he says, gently pounding a fist on his desk. "There would be tax revenues for the city. But we promised the voters we'd have clean gaming in San Jose. And in order to do that, we have to go through this process.'
When Swallow and his architects outfitted the top floor with sectioned rooms, which he promises will be open to anyone, the owners believed that the requirement of public gaming would be satisfied. It's a potentially sticky issue that the chief expresses concerns about; M8trix's owners call it a nonissue.
"We're bringing in an outside surveillance expert,' Swallow says. "And by the way, they're San Jose PD. Since when are they surveillance experts? I hired the best. I hired a company from Vegas called JB Engineers. They do surveillance for Wynn, Encore, Bellagio.'
That cockiness, one could wager, is part of what rubs Moore and the police department's gaming division the wrong way about Swallow and Casino M8trix, though they'd never say so publicly. And unless the courts or city council say otherwise, the chief holds most of the chips.
As a result, what happens in Vegas, stays in Vegas. For now.