Fall Arts 2017
Aesthetic Appeal
Murals, brooding bronze and acid trips inspire local art houses
Intro | Music | Classical | Art | Theatre | Film | Hammer Theatre Center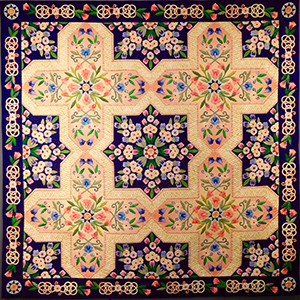 Anno Domini
366 S First St, San Jose
galleryad.com | 408.271.5155

ASARO Collective
Sep 1-23
The Asamblea de Artistas Revolucionarios de Oaxaca (ASARO) is a collective of creative revolutionaries whose art champions humanistic values against capitalist and authoritarian ideals through intricate etchings of farmers, children and rallying masses.
Cantor Arts Center
328 Lomita Dr, Stanford
museum.stanford.edu
650.723.4177
Nina Katchadourian: Curiouser
Sep 15-Jan 7
Brooklyn- and Berlin-based artist Katchadourian captures the creative potential of everyday moments. The playful yet thought provoking exhibit features video, photography, sculpture and sound installations that encourage viewers to take a second look at the world around them.
Rodin: The Shock of the Modern Body
Sep 15
Spanning three galleries, this installation features about 100 sculptures by Auguste Rodin, whose works redefined the figurative capacities of the human form during the 19th century.
Empire Seven Studios
525 N Seventh St, San Jose
empiresevenstudios.com | 408.638.7846
San Jose Art and Zine Fair
Sep 16
On Sep 16, artists from throughout the Bay Area are coming together to showcase their zines and other works at Empire 7 Studios. Since it opened in 2008, the gallery has been an eclectic home to the South Bay's underground art culture, and this fair marks another move in promoting local talent.
Here and There: Works by Sam Rodriguez
Thru Aug 31
Merging his self-taught graffiti skills with a fine arts degree, Rodriguez depicts the cultural landscape of San Jose through the faces and languages of its residents. On display are a series of portraits that mix of topographical lines, geometric shapes and the brightly animated expressions of real people.
MACLA
510 S First St, San Jose
maclaarte.org | 408.998.2783
Temperature Check: Body of Evidence
Sep 1-Nov 12
Five Latino artists elevate the dialogue on climate change through installation, drawing, video and photography. Deforestation, flash floods, droughts and the politics of global warming are explored through a uniquely Latino lens, creating a platform for education within the community.
Montalvo Arts Center
15400 Montalvo Rd, Saratoga
montalvoarts.com | 408.961.5800
Now Hear This!
Thru Oct 22
This exercise in listening features five site-specific works of sound-based art throughout Montalvo's spacious grounds. Created by distinguished national and local artists, the interactive soundscapes invite guests to listen more attentively to the world and one another.
NUMU Los Gatos
106 E Main St, Los Gatos numulosgatos.org | 408.354.2646
Chateau Liberté: House of Freedom
Thru Feb 4
In the '60s, Summer of Love hippies and some of the biggest names in rock music headed to Chateau Liberté—a 72-acre property in the Los Gatos mountains. Historic records, photographs and anecdotes from the legends who frequented this "House of Freedom" tell the history of a property from its stagecoach stop beginnings to the present day.
Pace Gallery
229 Hamilton Ave, Palo Alto
Pacegallery.com | 650.561.4076
Loie Hollowell
Sep 19-Nov 2
New York-based painter Holloway evokes the human body in a landscape of bold colors and sacred geometric shapes. Through abstract imagery, her paintings explore themes of sexuality with an emphasis on the female form.
San Jose Museum of Art
110 S Market St, San Jose
sjmusart.org | 408.271.6840
Diana Al-Hadid: Liquid City
Thru Sep 24
Named after Giambattista Nolli's 1748 map of Rome, Al-Hadid's monumental sculpture evokes a grand fountain of disfigured nudes and dripping water. The centerpiece of her exhibition, Nolli's Orders is an artist's exploration of architectural legends and spacial relations.
The Darkened Mirror: Global Perspectives on Water
Thru Oct 29
A new wave of recent work by international artists reflects the ecological implications of climate change from a troubled 21st century perspective. By addressing issues of water access and pollution, The Darkened Mirror opens a space for dialogue and action.
San Jose Museum of Quilts and Textiles
520 S First St, San Jose
sjquiltmuseum.org | 408.971.0323
13th Quilt Nihon
Thru Oct 15
SJMQT is the first museum in the U.S. to showcase more than 30 quilts from the Japan Handicraft Instructors' Association. For 45 years, the organization has boasted some of the most talented and respected textile artists from Japan and the Pacific Rim.
Linear Intervention
Thru Oct 15
Sabine Reckewell creates three-dimensional drawings in space by arranging multicolored yarn and polyester ribbons into webs of interactive lines. Pinned down to the surrounding architecture, the crisscrossing strings give the illusion of floating geometric forms.
Bold Statements
Thru Oct 15
Typically, people have to book a private tour to view SJMQT's permanent collection of modern and historic quilts from around the world. This fall, the textile treasures are open to the public, along with never-before-seen pieces from a recent donation.