Fall Arts 2017
All The Bay's A Stage
From birds that annoy to mermaids that warm our cold hearts
Intro | Music | Classical | Art | Theatre | Film | Hammer Theatre Center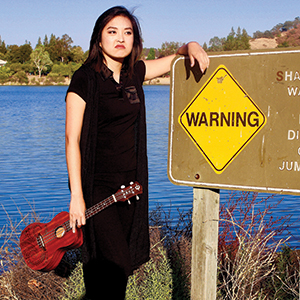 Broadway San Jose
255 S Almaden Blvd, San Jose
broadwaysanjose.com
699.242.8555
The Little Mermaid
Sep 26-Oct 1
In a magical kingdom beneath the sea, the beautiful young mermaid Ariel longs to leave her ocean home to live in the world above.
Beautiful
Nov 14-19
The Inspiring true story of how Carole King became the soundtrack of a generation.
City Lights Theater
529 S 2nd St, San Jose
cltc.org | 408.295.4200
Stupid Fucking Bird
Sep 14-Oct 15
A riff on Chekhov's notoriously slept-on The Seagull, Stupid Fucking Bird keeps things unconventional. The play will feature fourth-wall breaking, snark and a group of human beings grappling with a universal search for truth.
Hammer Theatre Center
101 Paseo De San Antonio, San Jose
sjsu.edu/hammertheatre | 408.924.8501
Rosencrantz & Guildenstern Are Dead
Sep 28
Broadcast live, Daniel Radcliffe makes his way to the London stage in the 50-year anniversary of the Tom Stoppard production. Two characters from Shakespeare's Hamlet make their way from background to foreground, telling their comedic version of the story.
Who's Afraid of Virginia Woolf
Oct 19
A few drinks spiral into shocking truths in this live broadcast of Edward Albee's production of Who's Afraid of Virginia Woolf. Starring an all-star cast of Imelda Staunton, known for the Harry Potter films; Conleth Hill from Game of Thrones; and Luke Treadaway from The Curious Incident of the Dog in the Night-Time, and more.
Picasso at the Lapin Agile
Nov 3-4 and 8-11
Two of the world's geniuses sit in a café and chat. What would Albert Einstein say to Pablo Picasso before they made their discoveries that changed the world? The Off-Broadway comedy explores food for thought in a 1904 Parisian cafe.
Salomé
Nov 16
Oscar Wilde's theatrical adaptation returns to the stage, but this time with a revolutionary twist that puts Salomé center stage. Yael Farber recreates the biblical princess as a woman of intelligence and the power to change the course of the desert nation.
Los Altos Stage Company
97 Hillview Ave, Los Altos
losaltosstage.org | 650.941.0551
The Crucible
Sep 7-Oct 1
Hysteria falls upon a group of young women in 17th century Massachusetts. As the Salem witch trials begin, the bonds between families and friends are tested. This 1953 Tony Award-winning drama by Arthur Miller will find parallels in political scare-tactics used today.
Palo Alto Players
1305 Middlefield Rd, Palo Alto paplayers.org | 650.329.0891
Million Dollar Quartet
Sep 15- Oct 1, 8pm
Today's rockabilly fan will never get to see the majority of the men behind the famed "Million Dollar Quartet" recording—which featured Elvis, Johnny Cash, Carl Perkins and Jerry Lee Lewis (the only one still kicking). Experience the legendary session with the help of this Tony Award-winning musical.
Peter Pan
Nov 3-19
Occupying the slot for this year's bring-the-kids show at Palo Alto Players is the broadway classic Peter Pan. Get a chance to meet the lost boys, save Tinker Bell and fly with Peter himself.
Pear Theatre
1110 La Avenida, Mountain View
thepear.org | 650.254.1148
In the Next Room or the Vibrator Play
Sep 8-Oct 1
When ailments reach no avail, a doctor administers an electromechanical vibrator treatment. Through a comical story of 19th-century patriarchal society, the abilities of modern electricity are explored. Two women take the stage and unravel their frustrations.
An Enemy of People
Oct 19-Nov 12
Dr. Stockmann's discovery could save the lives and health of the community, but the pressure to hide the truth consumes him. As a whistleblower, Dr. Stockmann must make a choice between truth, or keeping the town's good name. Playwright Henrik Ibsen tells a relevant and timely story of science overlooked by greed.
San Jose Stage Company
490 S 1st St, San Jose
thestage.org | 408.283.7142
Rocky Horror Show
Oct 26-Nov 17 Roshi Entertainment will perform "Rocky Horror Picture Show." The racy sing-along features cross-dressing Dr. Frank-N-Furter as he torments a prudish engaged couple who've been stranded. Producer Matt Gregg continues to push the boundaries of live musical theater through "virtual scenery."
Tabard Theater Company
29 N San Pedro St, San Jose
tabardtheatre.org | 408.679.2330
Peter and the Starcatcher
Sep 15-Oct 18
How Peter Pan became the boy who never grows up is revealed in this Tony Award-winning musical. Peter's history, along with Hook and Tinker Bell, are unraveled, save for an ambitious young girl who inspires a nameless orphan.
Mom's Gift
Oct 27-Nov 19
Mom has been dead for 11 months, yet her ghost appears at Dad's birthday. Follow mom on her quest to earn her wings, but brace for ugly secrets to be revealed.
TheatreWorks
1305 Middlefield Rd, Palo Alto
Theatreworks.org | 650.463.1960
Constellations
Aug 23-Sep 17
A beekeeper and a Cambridge cosmologist fall in love in this contemporary romantic drama. Constellations, an Evening Standard Award Best Play, makes its has its regional premiere Mountain View.
The Prince of Egypt
Oct 6-Nov 5
A DreamWorks Animation classic, The Prince of Egypt is brought to stage featuring Oscar-winning song "When You Believe." The musical presents a multi-ethnic cast in the retold story of Moses and Ramses, his pharaoh brother.
MACLA
510 S First St, San Jose
maclaarte.org | 408.998.2783
Ask A Mexican
Sep 22
An exclusive staged reading of a new play inspired by journalist Gustavo Arellano's political column, Ask A Mexican. This timely piece confronts brown-white relations in the Trump era through playful humor and biting socio-historical critique.
Songs of Strength, Songs of Regret
Nov 18
A theatrical melting pot of Greek mythology and real stories from the Bay Area, this 75-minute performance features opera star Carla Dirlikov Canalas—one of the most in-demand mezzo-sopranos today, as well as award-winning composer Molly Joyce and acclaimed visual artist Rosemary Felt Convey.