Fall Arts 2017
The Flicks Fix
Intro | Music | Classical | Art | Theatre | Film | Hammer Theatre Center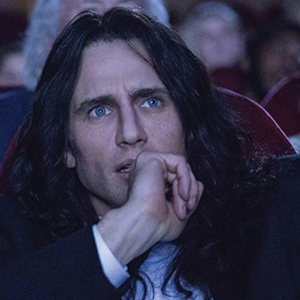 The darkened sun during the eclipse gave us all a taste of that unhappy winter light to come. Fortunately, there are theaters to hide in and get away from the season of Thanksgiving and Christmas.
John Ridley, scriptwriter of Ten Years A Slave, describes the 10 years before the Los Angeles riots in his new documentary Let it Fall: Los Angeles 1982-1992 (Sept. 1). In The Disaster Artist (Dec. 8) James Franco becomes Tommy Wiseau, scheming up The Room, the film that tore us all apart. Killing of a Sacred Deer (Nov. 3) is Yorgos Lanthimos (The Lobster) reteaming with Colin Farrell; he's a peaceful surgeon deceived by a feral kid whom he decides to shelter. Reg Hudlin's Marshall (Oct. 13) has Chadwick Boseman playing Supreme Court giant Thurgood Marshall as the then-lawyer for the NAACP in the early 1940s, defending a black chauffeur accused of raping his boss. Greta Gerwig directs a story of a girl growing up in Sacramento in 2002: Saoirse Ronan is the Lady Bird of Gerwig's title. Rumble (Sept.) is a well-received documentary about American Indians at Standing Rock, from Buffy Sainte-Marie to Link Wray.
The new Woody Allen film, Wonder Wheel, is slated for December release, but far more promising is Last Flag Flying (Nov 10). During the peak of the Reagan years, it seemed that every film had "American" in the title—the word got to be a serious warning sign. This fall we have both Doug Liman's American Assassin (Sept. 13), an adaptation of one of Vince Flynn's pulpy, page-turning Mitch Rapp novels with Michael Keaton teaching a traumatized Dylan O'Brien the way of the gun; American Made (Sept. 29) is Tom Cruise getting mega-rich as a CIA pilot lured into ever-larger felonies. But Last Flag Flying shouldn't be a flag-waver; it's based on novelist Daryl Ponsican's sequel to his The Last Detail. In Last Flag, Richard Linklater directs Bryan Cranston as the older, sadder but maybe not wiser version of Jack Nicholson's Profanosaurus Rex of a Navy lifer; the characters are renamed for legal reasons or something.
A would-be megahit is in major limbo as Joss Whedon tries to reshape Zack Snyder's unfinished Justice League (Nov. 17). While there's a built-in audience to see more of Gal Gadot, the nervousness in the preview for Justice League is palpable. Contrast that with the cool pleasure director Taika Waititi (We Who Live in the Shadows) displays in the trailers for Thor: Ragnarok (Nov. 3). The studly Asgardian (Chris Hemsworth) is enslaved and made to battle his pal from work, The Hulk, for the entertainment of decadent interstellar game masters. Is it feasible that we've never heard from an advanced civilization of aliens because they were all forced to fight to the death in an arena?