Feature
Bound Volumes
Willow Glen bookseller Hicklebee's has survived dangerous times before
Intro | Umbrella Salon | Zareen's | Paper Moon | Hicklebee's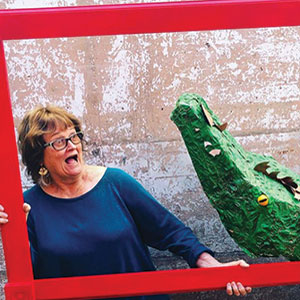 Hicklebee's bookstore was born when four friends, all moms looking to balance work with family life, decided to rent a storefront on Lincoln Avenue in 1979. Today, Hickelbee's is famous throughout San Jose for their creative window displays, the cozy atmosphere of a shop that is lovingly cluttered with books and toys, and the collection of art and autographs visiting authors have contributed to the interior walls in permanent marker.
Store manager Erica Waligore has memories of shopping in Hicklebee's as a child herself, and praised her fellow staff, and especially founder Valerie Lewis, for creating a store where everyone feels welcome.
"We really strive to be warm and welcoming. It's not a place where you get in, you buy your stuff and get out," said Waligore. "We hope like you feel you're at home when you're here."
Hicklebee's, a fixture of San Jose's Willow Glen neighborhood and one of the valley's last remaining independent bookstores, survived the Loma Prieta earthquake in 1989, the advent of gargantuan bookstore chains like Borders and Barnes and Noble, and the rise of Amazon and internet booksellers. Now, though they are able to keep business going by accommodating online orders, Hicklebee's has also seen fit to start a fundraiser through gofundme.
With the loss of business through school book fairs and partnerships with school libraries, COVID-19 has presented Hicklebee's with perhaps more difficulty than the '89 quake or titanic internet booksellers. Though they miss the business, Hicklebee's staff also miss the experience of providing children and families with the right books and toys in person.
"Honestly I really miss that element of the work, getting to recommend things for people all the time and interact with with families and kids," said Waligore. "You know, to watch that moment when you made a recommendation that just lights up someone's eyes."
As some businesses begin to open back up and offer the retail experience to a few customers at a time, Hicklebee's, has decided to remain closed for in-person shopping, and released a statement saying "Ours is a nicely crammed space that needs some un-cramming before it will be a good spot for shoppers trying to maintain physical distance. We're at work on plans, and we'll let you know as things develop."
Hicklebee's still remains open for online orders that can be shipped or picked up at the store, and continues to fundraise.