Feature
Moon Walk
Intro | Umbrella Salon | Zareen's | Paper Moon | Hicklebee's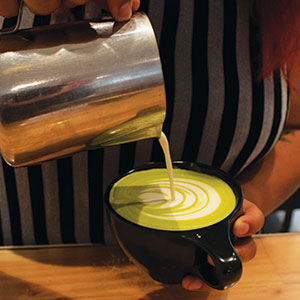 Walking down Second Street in downtown San Jose, the new Paper Moon Café is easy to miss. Its lone window is boarded up, its narrow front door half-covered in protective plastic. Beneath the veneer, a small table and fake plant sit beside a sign announcing that though it may not look that way, Paper Moon is slowly opening up for business.
After serving in the Marines and working in tech, owner Jerry Wang began assisting retail and restaurant owners as a freelance website consultant. One of them was Wendy Warren, owner of the original Paper Moon Cafe in Santa Clara. He and a partner later opened Celsius Ice Cream, an ice cream and boba tea shop in Milpitas, a little over a year ago.
Wang's experience with tea and working closely with Warren at Paper Moon inspired him to open a second location downtown that would operate under the Paper Moon brand and offer a selection of signature coffees and boba tea. Just as Wang's vision materialized, Covid-19 struck.
"Soon as I got the keys to the location, the very next day the shelter-in-place order in Santa Clara county went into effect," Wang said.
Unable to immediately open and offer guests the coffee/tea house experience he had envisioned, Wang decided to push the date of Paper Moon's downtown opening and tentatively scheduled a soft opening for the first day of June.
During April and May, Paper Moon Cafe donated nearly $5,000 worth of coffee and tea drinks to local hospital workers and began to sign up for delivery services such as DoorDash and UberEats, allowing a trickle of customers to order online or pick up their orders from the small table that sits in the store's doorway. Wang is also excited to experiment with KiwiBot, a new service that delivers small orders of food and drink by robot within a one mile radius of the cafe.
The tentative June 1 soft-opening date brought more unforeseen obstacles, as thousands took to the streets of downtown San Jose to protest the murder of George Floyd in Minneapolis.
As a precaution, Wang and Warren made the decision to board their window, newly painted by San Jose-artist J. Duh with the phrase "Tough times, tougher people."
Though they boarded their window, Paper Moon Cafe remained quietly open, even serving free water and iced tea to protesters and to volunteers involved in the #BeautifySanJose initiative, who removed graffiti from public buildings after the protests.
Wang says that as part of their strategy, he wants to focus on "the convenience factor," keeping Paper Moon Cafe open for mobile orders for pickup and delivery.
As they search for ways to build what Warren called "their little niche" in the cafe scene and the culture of downtown, Wang credits Warren with establishing a positive business model of cafe as community center.
"The Santa Clara location has been there for a long time, they're definitely benefiting a lot of people in a lot of ways," said Wang. "We need to figure out how to find ways to make it so that the impact is still there given the fact that we have to deal with COVID-19."