Feature
Naan Starter
When times are tough, help others
Intro | Umbrella Salon | Zareen's | Paper Moon | Hicklebee's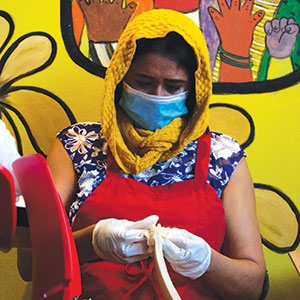 By the last Sunday in May, downtown Palo Alto was already abuzz with farmer's-market traffic as shoppers, wearing masks and weaving around one another, snapped up groceries and prepared foods from vendors.
Off the semi-crowded sidewalk on California Avenue, Zareen Khan strolls into her restaurant and quickly gets to work. Palo Alto is the second location for Zareen's Pakistani and Indian Food restaurant, a Michelin-guide-rated Bay Area experience that grew from Khan's Bombay heritage and Karachi upbringing, and became her slice of the American dream.
"I was in tech before," Khan says. "I was in product management, and at some point I realized it was not the right choice for me, it was not creative enough. So I decided to do something different with my constraints, you know—having kids and a husband who worked long hours."
While searching for something creative that she could bank on, Khan realized her talent for cooking and began teaching friends recipes developed from her mother's Bombay home cooking, the many flavors of the Burns Road foodie Mecca in Karachi and her brother-in-law's Punjabi cuisine.
As the line of patrons, heeding the floor signs admonishing them to keep six feet of distance, begins to trail out the door, Khan adjusts her mask and checks on her line cooks. She quickly switches to managing orders as a second line forms and people begin to line the sidewalk, waiting to retrieve online orders. Behind her, another mural in the electric-jewel colors often seen on painted Pakistani trucks becomes obscured as orders, neatly packaged and bagged, are stacked on a steel rack for delivery drivers.
Though business still booms at Zareen's, much has changed. Staff hours have been cut shorter. Costs are higher, Khan says, but so are tips.
"That is kind of making up for some of the hours we have lost because of the way the community is giving," Khan says. "Like even on takeout orders I would see 20-percent tips."
Khan says she especially noticed tips increase after the community became aware that Zareen's supplies meals to frontline healthcare workers at Covid-19 test centers, Valley Medical Center, Kaiser Santa Clara and Stanford Health.
"We've donated about 500 to 600 meals so far," Khan says.
While Zareen's qualified to receive funds from the federal Paycheck Protection Program, Khan still worries about how an extended lockdown will affect business.
"I see some cities and some businesses not following the rules and not putting on masks," Khan says. "I'm really worried about how, if this keeps on happening, at one point we will have another lockdown. Because one more major lockdown will, I think, make it very hard for more businesses to come back."