Features & Columns
Stage
Intro | Visual Arts | Film | Stage | Dance | Comedy | Literature | Music | SJZ Winter Fest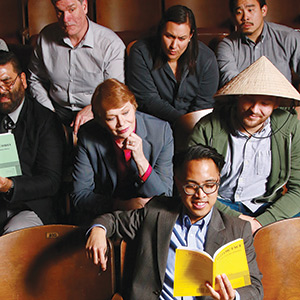 City National Civic
San Jose
Brain Candy Live with Adam Savage and Michael Stevens
Apr 8
Using their recipe of fun, surprise, excitement and a pinch of danger, Adam Savage of MythBusters has teamed up with YouTube star Michael Stevens to cook-up and serve a giant batch of magical brain candy to rescue your mind from boredom.
Center for the Performing Arts
San Jose
Spring Festival Silicon Valley Gala
Feb 25
Celebrate the Year of the Rooster with colorful dance and world music.
City Lights Theater Company
San Jose
Frankenstein
Mar 23 - Apr 23
Think you've seen Frankenstein? Think again! This world-premiere is an adaptation to Mary Shelley's classic cautionary tale of a science student who creates a grotesque but sagacious creature in an unorthodox experiment. This cutting-edge production is bound to be an electrifying thriller.
CMT
San Jose
Willy Wonka
Feb 23 - Feb 26
Mysterious candy manufacturer Willy Wonka gives five lucky golden-ticket winners a tour of his factory, a lifetime supply of candy and, unbeknownst to them, the chance to take over his business. With greedy Augustus, bratty Violet, rude Mike, spoiled Veruca and honest Charlie, the musical is full of adventure and mischief.
Hammer Theatre
San Jose
The Deep Blue Sea
Jan 26
A funny, savage and vulgar fairy tale about a frightening but incredibly fascinating relationship of two loners afraid of love. Perhaps these two damaged and low-spirited people can escape the harsh realities that's defined their past. A part of the National Theatre Live simulcasting series.
Amadeus
Feb 23
Lucian Msamati (Luther, Game of Thrones) plays Salieri in Peter Shaffer's iconic play, broadcast live from the National Theatre, and screened at The Hammer Theatre.
Historic Hoover Theatre
San Jose
Gee's Bend
Feb 18
A story about faith, determination and the resilience of the human spirit, Gee's Bend depicts the turbulent history of African-Americans during the 20th century. Winner of the 2008 American Association Award, the soulful story takes place in the now-famous community of Gee's Bend, Alabama.
Los Altos Stage Company
Los Altos
Yellow Face
Thru Feb 19
When an author accidentally casts a white actor in the Asian lead role, the author finds himself in the ironic position of stripping down political correctness. Discussing cultural identity and family politics, this wildly hilarious satire examines casting in the theater industry.
One Flew Over the Cuckoo's Nest
Apr 13 - May 7
Set in a mental hospital, this riveting and devastating story based on the 1960s novel by Ken Kesey follows the life of the inhabitants within. Narrated by a half-Indian patient diagnosed with schizophrenia, this play explores sanity and conformity for survival.
Northside Theatre Company
San Jose
Oleanna
Feb 9 - Mar 5
A two-character play about the struggle between a college professor who is on the verge of being granted tenure and a female student who accuses him of sexual exploitation. Broken up into three acts, the final meeting turns violent, leaving each of them physically and emotionally distraught.
Opera San Jose
San Jose
Silent Night
Feb 11 - 26
Amid the trenches on the Western Front, Silent Night recounts the story of a spontaneous cease-fire between Scottish, French and German troops during World War I. When a German soldier begins to sing a carol, floating softly over no-man's land, a temporary truce is brokered as long white flags wave.
Palo Alto Players
Palo Alto
Monty Python's Spamalot
Apr 29 - May 14
Based on the film classic Monty Python and the Holy Grail, this hilarious musical comedy tells the tale of King Arthur and his Knights of the Round Table as they journey through England to embark on their quest for the Holy Grail. Spamalot brings a night full of beautiful showgirls, handsome knights and satirical comedy.
The Pear Theatre
Mountain View
'A View from the Bridge'
Mar 10 - Apr 2
In this classic tale, Eddie and Beatrice Carbone give refuge to two illegal immigrants in postwar Italy. As a relationship grows between Eddie's niece and one of the Italians, Eddie becomes uneasy and jealous. Accusations of inappropriate love surface, ending in tragedy for the immigrant community.
SJ Stage
San Jose
Disgraced
Feb 1 - 26
Can anyone ever truly escape their past? Disgraced elegantly harps on the perception of Muslim identity in the West through the life of Amir Kapoor. This riveting play will rile up audience members with fixed ideological beliefs and enjoins us to deeply reflect on an escalating global debate.
The Memory Stick
Apr 5 - 30
Mystical Native American and Irish history blends magic, politics and realism in this suspenseful world premiere of The Memory Stick, an examination of the 1916 Easter Rising. Cultures collide when Bridget, a young Chicagoan, meets a Lakota Sioux and a fellow American from Jersey on an Army base in Afghanistan.
Tabard Theater
San Jose
The Cemetery Club
Feb 17 - Mar 12
Put all cadavers away and don't let the title fool you. The Cemetery Club is a romantic comedy filled with lightness and charm. The stage play features three widowed best friends who share the struggles and joys of their new single lives, proving that there is a life after death.
The Musical of Musicals, The Musical!
Apr 7 - Apr 30
With entirely original music and lyrics, this five-part cabaret-style musical parodies and pays homage to famous Broadway musicals and their creators. This witty production is performed with four all singing, all dancing musical theater "characters" accompanied by piano, with minimal sets, props and costumes.
TheatreWorks
Mountain View
Calligraphy
Mar 8 - Apr 2
Set in Los Angeles and Tokyo, past and present, this comedic drama follows two continents, two cultures, two estranged sisters, and the two cousins devoted to merging the gap despite all odds. Calligraphy examines the relatable yet complex idea of merging generational cultures.
Rags
Apr 5- 30
This inspirational musical follows the voyage of Jewish immigrant Rebecca and her son leaving Europe and struggling to make a life in the New World. Told with passion and humor, Rags shows the struggle of staying true to one's ethnic culture despite going against the grain.
West Bay Opera
Palo Alto
Il Trittico
Feb 17 - Feb 26
Love, religion and greed take center stage in the three one-act operas that make up Il Trittico. Il Tabarro focuses on a sailor's wife's passionate love affair, Suor Angelica centers on religious redemption and greedy relatives are the focal point in Gianni Schicchi. Composed by Giacomo Puccini.
Winchester Orchestra
San Jose
Tchaikovsky's Swan Lake Suite
Feb 3
The Winchester Orchestra kicks off its winter concert season with one of the Russian master's best-known compositions.