May 23-29, 2007
home | the papers | metro silicon valley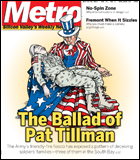 The ballad of Pat Tillman
The Army's friendly-fire fiasco has exposed a pattern of deceiving soldiers' families--three of them in the South Bay.

Cutting off the air
New rules for Internet radio royalties could kill the most dynamic innovation in the music industry.
The Fly: 05.23.07
Marco! Polo!

Silicon Alleys
Anti-man about town redux.
Technology news
Can the 09 F9 number set DVD watchers free?
Sports news
The North American Cycle Courier Championships.

Movie review: 'Paris je t'aime'
Eighteen directors look at Paris from many different angles.
Movie review: 'Shrek the Third'
Jaw jaw, not war war.
Movie review: 'Pirates of the Caribbean: At World's End'
The latest 'Pirates' is the work of scriptwriters at wit's end.
Cult Leader: '28 Weeks Later'
No one ever says they prefer fast zombies.
This week's revivals
The Stanford's Katharine Hepburn festival continues.

MORE MOVIE REVIEWS

MOVIE TIMES

Good Riddance
The band calls it quits.
Music Picks
The Phenomenauts, Santa Cruz Blues Festival, Kristy Krüger and Harry Connick Jr.

MORE MUSIC AND NIGHTLIFE

MUSIC AND CLUBS LISTINGS

MUSIC AND NIGHTLIFE CALENDAR PICKS

Restaurant review: Kebab shops
We've found three worth making a pilgrimage for.
Live Feed
I'd like to buy the world a Dogh.
5 Things to Love
Good pizza joints.

BOOK A RESTAURANT RESERVATION

FIND A RESTAURANT REVIEW

Midnight's minions
Haruki Murakami's new novel, 'After Dark,' tracks Tokyo's night crawlers.
Getting your goat
City Lights looks at a different kind of love in Edward Albee's 'The Goat.'
Hole of grief
SJ Rep's 'Rabbit Hole' looks at a mother's anguish.
Up in the sky
'Thunderbabe' brings a new dimension to the superheroine genre.
Book review: 'The Wizard of Menlo Park: How Thomas Alva Edison Invented the Modern World'
Book authored by Randall Stross.
Book review: 'Sit Down and Shut Up'
Book authored by Brad Warner.
Kids events
'James and the Giant Peach.'

Letters to the Editor
May 23-29, 2007.