May 31-June 6, 2006
home | the papers | metro silicon valley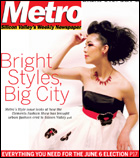 Fashion Feature: Elements Fashion Show
Metro's Style issue looks at how Elements has brought urban-fashion cred to Silicon Valley.

News: June 6 Election Guide
An election-eve guide to what these people on the ballot are actually supposed to do if they win.
Metro Endorsements: June 6 Election
Michael Mulcahy for San Jose Mayor; Steve Westly for Governor.
The Fly: 05.31.06
Ron Gonzales could become the first mayor in modern San Jose history to resign in disgrace rather than face criminal charges.

Silicon Alleys: Tour the Underbelly
Local musician Lisa Dewey explores the bowels of San Jose.
Technology News: 'Crisis on Infinite Earths'
The older Annalee Newitz gets, the more she's obsessed with comic books.
Car Culture: Car Movies 2006
This summer's obligatory lineup of lousy car flicks—'The Fast and the Furious: Tokyo Drift,' 'Cars' and Will Ferrell's 'Talladega Nights'—won't disappoint.
Sports Preview: Zumiez Coach Tour
Zumiez will be launching their sixth annual 12-city Couch Tour in San Jose on July 4.

Movie Review: 'An Inconvenient Truth'
Al Gore takes to the lecture circuit to point out 'An Inconvenient Truth' about energy, politics and Mother Earth.
Movie Interview: Al Gore and Davis Guggenheim of 'An Inconvenient Truth'
The ex-Veep makes amends for 2000 by reminding the world that the clock is ticking on climate change—and he's a big 'Simpsons' fan. What's not to like?
Movie Review: 'District B13'
A French film even die-hard anti-intellectuals will fall for.
Movie Review: 'X-Men: The Last Stand'
This sequel was directed by Brett Ratner, who inflicted 'Rush Hour' on us. Uh-oh. Chris Tucker better not show up as Banshee.
Cult Leader: 'Plan 9 from Outer Space'
Worst Film Ever?: Revisiting Ed Wood's legacy as 'Plan 9' comes to the Camera's midnight series.
Movie Review: This Week's Revivals
'Pee-wee's Big Adventure' and more.

MORE MOVIE REVIEWS

MOVIE TIMES

Music Interview/Preview: Sista Monica
The Santa Cruz performer rediscovers her soul.
Music Interview/Preview: Denizen Kane
The Oakland rapper and 'Def Poetry' guest poet is a work in progress.
Club Life: Illusions Fayrouz Dining & Entertainment
The red mahogany bar tops, sleek interior, balcony seating and cool blue lighting ooze 'mature members only.'

MORE MUSIC AND NIGHTLIFE

MUSIC AND CLUBS LISTINGS

MUSIC AND NIGHTLIFE CALENDAR PICKS

Restaurant Review: Vittoria Ristorante Italiano
Stylish with a sharp, light menu, Vittoria is a perfect fit for Los Gatos location.
Live Feed: Soft Shell Crab
If you've got a hankering for soft shell crab, you'd better make your move before they're gone.
5 Things to Love: Great Barbecue Joints
Restaurants where you can get your summer barbecue fix.

BOOK A RESTAURANT RESERVATION

FIND A RESTAURANT REVIEW

Book Interview: Frank Portman and 'King Dork'
A former punk rocker's pithy pillar of apathy shines in the young adult novel 'King Dork.'

Letters to the Editor: May 31-June 6, 2006
This week's letter 1; this week's letter 2; this week's letter 3; this week's letter 4; this week's letter 5; this week's letter 6.