July 4-10, 2007
home | the papers | metro silicon valley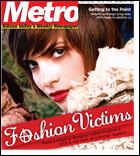 The flowers of romance
Punk style's grand dame leaves her mark on the Bay Area and summer fashion.

Hitting the funding vein
With a new state initiative, needle-exchange programs finally get what they really need from government: money.
The Fly: 07.04.07
'Monday Night Live' recap.

Silicon Alleys
Drive, he said.
Technology news
Steam-punk computers revive old-school designs.
Sports news
The San Jose Civic Auditorium will host 'The Riot,' an evening of old-school professional boxing on July 14.

Movie review: 'Transformers'
Robot hell.
Movie review: 'Black Sheep'
Baa to the bone.
Movie review: 'Eagle vs. Shark'
Animal crackers.

MORE MOVIE REVIEWS

MOVIE TIMES

Nameless ones
San Jose's No Use for a Name marks 20 years with 'All the Best Songs.'
Music Picks
Summer in the City, Jazz on the Plazz, Stanford Lively Arts and Chris Isaak.

MORE MUSIC AND NIGHTLIFE

MUSIC AND CLUBS LISTINGS

MUSIC AND NIGHTLIFE CALENDAR PICKS

Persian excursion
A quick road trip around the valley reveals the presence of Persian restaurants in our midst.
Silicon Veggie
Omnivores, vegans and their dilemmas.
5 Things to Love
Classic bum wines.

BOOK A RESTAURANT RESERVATION

FIND A RESTAURANT REVIEW

Shapely
SFMOMA's Matisse show revels in flesh, fantasy and the great curve.
Weighty
Pear Avenue's 'Space Is Blue' spins metaphors about families and physics.
Parisian logic
'The Madwoman of Chaillot' uses her madness as her superpower in CTC production.
Jazz notes
San Jose Rep brings Ella Fitzgerald to life in musical revue.
Book review: 'The Train of Tomorrow'
Book authored by Ric Morgan.
Book review: 'The Arts and Crafts Movement'
Book authored by Rosalind P. Blakesley.
Kids events
'Gypsy' and 'Kid's Play.'

Letters to the Editor
July 4-10, 2007.