July 19-25, 2006
home | the papers | metro silicon valley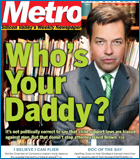 Feature: Paternity Issues
It's not politically correct to say that child support laws are biased against men. But cases of questionable fatherhood and bizarre prosecutions of disproved dads show that, sometimes, it's true.

News: San Jose Chamber of Commerce
As the SJ Chamber of Commerce takes San Jose to federal court over their controversial fliers, the question becomes: How did we get here, anyway?
The Fly: 07.19.06
Staff and visitors at San Jose's downtown City Hall will soon be bringing steaming lattes to City Council meetings.

Silicon Alleys: San Francisco vs. San Jose
San Jose will always be thought of as the James Franciscus to San Francisco's Charlton Heston.
Technology News: Harry Potter Wars
How Ms. Scribe brought havoc to the world of fanfic.
Car News: Skoda
Czechoslovakian car manufacturer merges with Volkswagon and gets some major cred.
Sports News: Ricardo 'El Guerrero' Cortes
Fight Night at the Tank takes off once again, with Ricardo 'El Guerrero' Cortes headlining the main event in the Super Middleweight bout on Thursday, July 20, at the HP Pavilion.

Movie Review: 'Lady in the Water'
M. Night Shyamalan's latest is 'The Killer Shrews' for the 21st century.
Essay: Newspaper film critics
Are critics really necessary? Richard von Busack reads the blogosphere's tea leaves for answers to an age-old question: If the reviews are bad why is the box office so good?
Movie Review: 'Leonard Cohen: I'm Your Man'
Songs of love, hate and a few of self-promotion fill the new doc about the Canadian singer/songwriter.
Cult Leader: Gary Busey
Gingerdead End: You can catch Busey in 'The Gingerdead Man,' but what the hell are you going to do when you've got him?
Movie Review: This Week's Revivals
'Blues' in the Night: 'The Blues Brothers' at San Pedro Square, 'Vertigo' and more.

MORE MOVIE REVIEWS

MOVIE TIMES

Music Preview: The Mumlers
Winning the Bleeding Edge Festival contest may affect the Mumlers' status as San Jose's best-kept secret.
Music Review: Thom Yorke's 'The Eraser'
The Radiohead singer just can't erase his electronic fetish.
Music Preview: Music@Menlo and Cabrillo Festival
Menlo and Cabrillo kick off second fortnight of summer classical festivals.

MORE MUSIC AND NIGHTLIFE

MUSIC AND CLUBS LISTINGS

MUSIC AND NIGHTLIFE CALENDAR PICKS

Restaurant Review: Restaurant James Randall
Sister and nephew remember James Randall with Los Gatos restaurant that would have made him proud.
Live Feed: Tourist Towns
It's hard to find good food when you're traveling through the States.
5 Things to Love: Fruits You Should Get to Know Better
Apples, strawberries and oranges are great and all but how about trying something a little different?

BOOK A RESTAURANT RESERVATION

FIND A RESTAURANT REVIEW

Book Review: Books about Ed Ricketts
A catch of new books illuminates the life of the marine biologist who inspired for 'Doc' in John Steinbeck's 'Cannery Row.'
Stage Review: 'The PornoZombies'
Renegade Theatre Experiment delivers hot cadaver action.
Stage Review: 'Jesus Christ Superstar'
City Lights mounts a complex, conflicted 'JCS.'

Letters to the Editor
July 19-25, 2006.