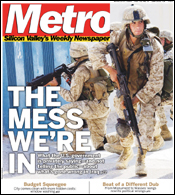 For the Week of
April 21-27, 2004
Cover Story: The Mess We're In:
What the U.S. government is privately saying--and not telling the public--about what's gone wrong in Iraq.
News: You're Fired!
A new survey shows the county workforce is top-heavy, leading to a new round of bickering over who should be laid off.
The Fly: This week's political bites.
Back on the Trail: Coyote Creek scares many outdoor enthusiasts, but improvements are supposedly on the way.



Biter: In the basement again, at the Scott Peterson trial.
Techsploits: The HomestarRunner.com webtoons prove that Flash animation doesn't have to be on the lame side.



Wife in the Water: Locally made drama 'Skin Deep' charts a course of murder along the racial divide.
Pax Tampa: Marvel Comics' least interesting character debuts in 'The Punisher.'



Manifesto Destiny: From Monument to Masses makes music for the people.
Aural Fixation: A Burning Water released debut album 'We Can See the Sky From Here' last Friday.



In the Pink: Casa Vicky's homey feel sets an appropriate mood for its home-cooked food.
Club Life: The Heritage Theatre in Campbell.



Bat Soars at Opera: Opera San José bids farewell to Montgomery Theater with superlative Strauss.
'Millie' Not Vanilla: American Musical Theatre delivers a tasty revamping of 'Thoroughly Modern Millie.'
Gags Reflex: Northside Theatre Co. welcomes 'The Nerd' who wouldn't leave.
Greed Breed: The lure of gold turns men into murderers in SJ Stage Co.'s 'Treasure of the Sierra Madre.'



Please don't forget to write! Metro welcomes letters. Like any great work of art, they should be originals -- not copies of letters sent elsewhere. Include address and daytime phone (for verification purposes only). Letters may be edited for length and clarity or to correct factual inaccuracies known to us. Postal: Metro Letters, 550 S. First. St., San Jose, CA 95111. Fax: 408/298-0602. . Emailers, please include name, city of residence and phone number. Letters printed will list email address unless otherwise specified. Letters to the editor are not currently published in the online version of this paper.