June 6-12, 2007
home | north bay bohemian index | music & nightlife | preview
All Music Guide:
Where are They Now: Old Sonoma County rockers | Stiff Dead Cat | Zepparella | Grant-Lee Phillips | Wedding Music | Buddy Guy at Russian River Blues Fest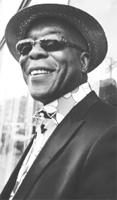 Bring 'em in: Buddy Guy anticipates riffing on others' music after half a century of them riffing on him.
Real Blues Guy
At age 70, Buddy Guy is ready to be himself
By Mike Connor
Fifty years ago, Buddy Guy left his hometown of Baton Rouge, La., to go play the guitar in Chicago. Now, at 70 years old, Guy is without a doubt a blues legend--he was a protégé of Muddy Waters, and later a god to such heroes as Jimi Hendrix and Eric Clapton. In 2005, he was inducted into the Rock and Roll Hall of Fame, and he's got his own blues club in Chicago, logically enough called Buddy Guy's Legends. He appears June 17 at the Russian River Blues Festival.
Speaking by phone from his Baton Rouge home, Guy calls blues musicians "an endangered species" and points to factors like the lack of variety on the radio to the blues' impending demise, but mostly just seems disappointed that the blues got the shaft.
"I don't know what we did to be treated like this so far as the blues music goes," Guy says, "because blues music plays a part in all music we hear and play today, including hip-hop."
Far from being a curmudgeon or blues purist, though, Guy listens to and plays all kinds of music. Asked how he relates to hip-hop, it turns out that his relationship with the genre goes deeper than one might expect.
"You know who Ludacris is, right?" he asks. Um, yes. "You know they got a girl, her name's Shawnna, been working with him, right?" Mmm-hmm. "That's my daughter."
In fact, Shawnna's CD Block Music features Buddy on it.
"Actually she made me play on it," says Guy, clearly amused. "I said, 'Girl, I don't know how to play hip-hop!'" As it turns out, she just wanted to sample his blues riffs after she found out she had to pay to sample other people's music. "She said, 'If I use yours, Dad, then I don't have to pay nobody.'"
Unlike other moments on Block Music, Shawnna keeps it relatively clean on "Can't Break Me" and "Chicago," the tracks to which her father contributed. While he has no plans to put out any hip-hop of his own, Guy is fair–minded about hip-hop's cultural dominance.
"They do so well selling that stuff, the young generation of people," Guy says. "That's what time it is right now, and I look at it as, you know, when Muddy Waters amplified the harmonica and guitar, that's what time it was then. I don't have anything against [hip-hop]. That's what people want, that's what you give 'em."
This fall, he's got some studio time to go in and produce his own album--something he didn't get a chance to do back in the '60s.
"I had to play Fats Domino, Chuck Berry, Muddy Waters," he says. "And when I come to play for you now, I'm not gonna stand and say, 'Where you at with Buddy Guy?' I'm gonna play some Muddy, some of Hendrix, some of Clapton, whatever the people want, that's what I'm gonna give ya. I'm from Louisiana, man. I like gumbo, and they put everything in it."
Chances are he'll have some of that gumbo feel on his new album, but even if he's pulling music and artists from all over the world, the ideas will all be his.
"I just wanna go into the studio and just cut loose and be Buddy Guy, whether it be good or bad," says Guy. "I never had that opportunity to be free, and a lot of the British guys who are superstars now, when they went in the studio, they said, 'I done picked up something from Buddy Guy, just let me play it.' They got away with it, but I never had a chance to do that. So I'm gonna try it."
Buddy Guy headlines the second day of the Russian River Blues Festival on Sunday, June 17. Also that day, Kenny Wayne Shepherd, Roy Rogers and Bettye Lavette. The festival opens on Saturday, June 16, with Little Richard headlining a day supported by Koko Taylor, the Lowrider Band and Elvin Bishop. Johnson's Beach, Guerneville. Gates open at 10am. $50–$185. 707.869.1595.
Send a letter to the editor about this story.