June 6-12, 2007
home | north bay bohemian index | music & nightlife | preview
All Music Guide:
Where are They Now: Old Sonoma County rockers | Stiff Dead Cat | Zepparella | Grant-Lee Phillips | Wedding Music | Buddy Guy at Russian River Blues Fest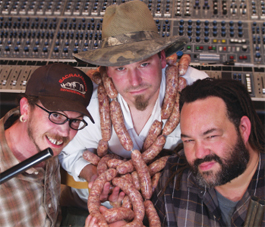 Strangemagee
Meat the makers: Wylie Woods, Jesse Rudolph and Dave Luxe love the daily grind.
Music, Mayhem and Meat
Shooting and sausage making with Stiff Dead Cat
By Amanda Yskamp
How many Stiff Dead Cats does it take to stuff a sausage? I'm about to find out. I've been asked to tag along with the porch-punk band on what promises to be a hot day of skeet shooting and sausage making, on the eve of their new CD release, Molotov Barbeque. Frontman Wylie Woods explains that the album's title explores the band's "need to blow shit up and grind meat and burn it. People can take a peek into our sinister world of music, mayhem and meat, how we spread peace and harmony to the world, while at the same time stuffing Bush in some medium hog casings to be cast into the mesquite pits of Weber hell." Sounds about right to me.
Stiff Dead Cat hone their hunting skills through skeet shooting. That's how we've come to pile into the 1977 Jeep Cherokee that doubles as tour vehicle and hunting wagon, alternately hauling banjos and buckets of pig guts. Onboard: Wylie Woods on vocals, banjo, mandolin and Browning shotgun; Dave Lux on Rezo guitar, yelps and ammo box; Jesse Rudolph, drummer and party host, at the wheel; Paul Szczepanek, back-up bass; Tim Brown, road manager; my guy, Doug Larsen; and me. Their usual bull fiddle player, George "Curly" Cremaschi, can't make it, and good thing--we would've had to strap him to the roof.
Stiff Dead Cat's shooting range, Hog Acres, stands in an isolated clearing where the late Forestville icon Mondo Dagnello raised a drove of over a hundred pigs. This will be the only time I've handled any gun since a long-ago misadventure with a Daisy airgun. Before we don protective headsets, Wylie tells me everything I need to know to avoid pulling a Cheney: keep the safety on and the muzzle down, clear each shot and be as aware as you can be three beers down before noon.
"Hold it tight against your shoulder, or you'll take the kick," he instructs. "Look straight down the muzzle. Don't hold your breath. Keep the gun moving." Helpful advice, I'm sure, but holding the gun, I'm trembling like the hunted. Something about the potential lethality of it all is thrilling but daunting. As for those clay pigeons known as skeet, they're neither clay nor avian, even in shape. Jesse hand-launches the neon discs, the tattoo on his biceps stretching, and I take aim, missing. Swing the gun, miss. I am seriously outclassed by the deadeyes around me who fire off shot after shot, shattering pigeons bang-bang-bang! Although they sweetly coax me on and call me Annie Oakley, I hit precious few, but the ones I do hit--those babies are all mine.
Stiff Dead Cat's music takes bluegrass, blues, jug-stomp and funk, and tosses them into the grinder to produce a ragged and gamy blend all their own. Their world is populated by deadly viruses, flapjack kings, a freaky Chihuahua named Tatuituitcan and a blue-lipped, snakebit wife--all of them brought forth in twangy, bluesy, old-timey music rising out of the backwoods, through the swamp and up from the grave to rock, shake and haunt you.
"It's like we're playing 1930s rave music, only the X wasn't as good then," Dave jokes. "We're connected wormhole-wise to the Prohibition era. That's why we're always thirsty."
"If they'd only outlaw booze again,"
Wylie shoots back, "we'd have some real jobs." They all do have "real" jobs, in construction, carpentry, blacksmithing and chicken ranching, which lends cred when they sing such lyrics as, "You live in a mansion, I live in a shack / Eat that fat ol' turkey and I'll take the scraps / The man's comin' down on you / Show the man a Molotov barbecue."
And so we do. After shooting those skeet deader than dead, we head back to see what else we can grind up (and it isn't scraps this time): venison and wild boar from earlier hunts; pig fat from Jesse's own hogs for juiciness; a leek and apple mixture; an apple cider reduction; rosemary; parsley; and salt and pepper. When it comes to barbecuing, these guys don't mess around. Jesse and Wylie wash like surgeons, donning white coats. The grinder itself gleams brighter than Wylie's gold tooth. True, Tim parades around in an apron with a humungous penis attached, but what's a barbecue without some off-color apron humor? And what's a Molotov barbecue without talk of George W as a "punkass weenie bitch" deserving his own waterboarding?
"It's good to know where your food comes from," Jesse says, repeating one of SDC's mottos. Dave raises chickens up on Old Cazadero Road with his wife, Eve. They all hunt and fish and abalone dive. Both Jesse and Wylie have raised their own hogs. "I've eaten everything," Wylie boasts. "Everything: possum, raccoon, coyote, squirrel, snake." It's easy to believe. In addition to these sausage-fests, they host regular pig slaughters and an annual bullfrog feast, where they round up hundreds of those croakers to grill.
As omnivorous in musical tastes, with influences as varied as Bill Monroe, Aretha Franklin, Black Sabbath, Frank Zappa, Hot Tofu and Charles Mingus, it's no surprise that their music is such an inimitable amalgamation. Their roots are as much a product of their upbringings as a result of their present environment.
Born in the far northern California town of Burney, Wylie learned to play by marking chords on the neck of his guitar with colored duct tape. Jesse hails from Belchertown, Mass., where he followed in his musical dad's footsteps. He remembers drumming into a pillow to keep the noise down. Dave grew up in Tennessee on the Farm, the largest experimental community in the United States. Music was all the entertainment to be had, and Dave went from playing on broomsticks to all manner of other instruments. George, the one urbanite, grew up in New York City studying and playing jazz, composition, improv, noise and punk.
Odd hitches and switches, burned houses and broken hearts brought them to Sonoma County, where Wylie and Dave met when playing with the Celtic band Spiral Bound. They form SDC's songwriting core, with the others collaborating on their own parts. They tried Jesse out at a gig and hired him on the spot, because, Wylie explains, "he could hold his likker." George's avant-garde aesthetic shone after the band tried out nine different bass players, the last one known simply as No. 9.
Time to wash out the pig intestines. The lengths of casing inflate like long, milky water balloons. When they're perfectly clean, we bring them outside where we attach them to the nozzle of the stuffer, retracting the skin entirely up the shaft; references to all things phallic are unavoidable. These are sausages, after all. They are of the body, for the body and reminiscent of all things bodily. There's little point in being squeamish. My kids, on hand for this phase of the afternoon's activities, are grossed out only until they get to help. Then they approach the task with the seriousness of the stiff dead connoisseurs.
For the stuffing, Jesse turns the crank while Wylie (and me, as a guest stuffer), gently palm the nozzle end, cupping the meat as it's expelled, allowing the casing to slowly unfurl. You want the diameter to be uniform, the sausages free of air pockets. It's a strangely satisfying procedure, feeling those slick lengths of sausage emerge, coiling on the table. Once tied off, there are enough sausages to feed a whole litter of stiff dead kitties.
Legend has it that Wylie and his wife, Stacy, were tooling along Highway 116 when they spotted a feline roadkill, its four itty paws sticking straight up in the air, and coined the band's name on the spot. Since then, they've taken flak from animal-rights groups that believe SDC advocates cat carnage, but nothing could be further from the truth. They may be passionately carnivorous, but Stiff Dead Cat really are just a bunch of pussycats with tender hearts and fine culinary skills. Grilled to perfection, their Molotov barbecue links taste of western Sonoma County, of animals both feral and domestic, and of the handiwork of these guys who live close to the source of things savory, sweet and sometimes sick.
Molotov Barbeque was mastered at Gregory Haldan's "In the Pocket" studio on the vintage analogue board used for The Benny Hill Show, providing yet another wormhole to a bygone era these guys won't let die. These cats cook, and you can be sure I'll be back come bullfrogging time.
Stiff Dead Cat celebrate the release of their new album, 'Molotov Barbeque,' on Saturday, June 16, at the Mystic Theatre. The Lemon Lime Lights open, thus achieving perfect synergy. 23 Petaluma Blvd. N., Petaluma. 9pm. $10. 707.765.2121.
Send a letter to the editor about this story.