June 6-12, 2007
home | north bay bohemian index | music & nightlife | preview
All Music Guide:
Where are They Now: Old Sonoma County rockers | Stiff Dead Cat | Zepparella | Grant-Lee Phillips | Wedding Music | Buddy Guy at Russian River Blues Fest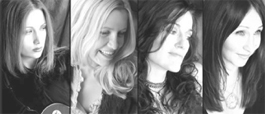 Whole lotta love: The ladies of Zep, from left, are Gretchen, Clementine, Nila and Anna.
Apt Pupils
Career musicians in Zepparella play avid students to their mentors--Led Zeppelin
By David Sason
In his seminal rock book Killing Yourself to Live, writer Chuck Klosterman not only proclaims Led Zeppelin the third greatest rock band in history (behind the Beatles and the Stones), he asserts the British quartet's unique place in the psyches of men, whose so-called Zeppelin phase reportedly occurs only in adolescence. "They are the one thing all young men share, and we shall share it forever," he proclaims. But San Francisco all-woman cover band Zepparella might beg to differ. They preach the power and majesty of Zep's music through high-energy shows transcending all temporal and sexual barriers.
"I don't think Chuck got it right," says drummer Clementine, who prefers to use just one name. "They're pretty accessible to most people--and they're the greatest rock band ever." Like the other three members--vocalist Anna Kristina, guitarist Gretchen Menn and bassist Nila Minnerock--Clementine fell in love with Zeppelin via the outmoded freeform radio format that served the band so well in the '70s. "I sat up for three days straight because they were playing them A to Z on the radio," she recalls with a giggle. "I never know what record anything's on, because I only know them alphabetically."
Zepparella morphed from another female tribute to a rock institution, the popular tribute band AC/DShe, of which Clementine and Menn are former members. "As we were driving to a gig one night, [Clem] mentioned that she always had thought that playing Zeppelin songs would be a fun, educational challenge," recounts Menn, who had the stage name Agnes Young. "We soon realized that the pressure of performing them would ensure we were giving it our all."
The jump in technical complexity was certainly not lost on Clementine, who was known as Phyllis Rudd in AC/DShe, but she thinks appearances are deceiving. "When I started, I said, 'Oh, yeah, anybody can play [early AC/DC drummer] Phil Rudd; it's basic drumbeats,'" she says. "Then I realized that it's really difficult to make people want to jump up and down when you're playing a very simple drumbeat." Still, she enjoys the endless lessons provided by mimicking John Bonham's famously eclectic bashing. "The technical aspect is so far beyond my own abilities that it's a constant challenge," she says.
Not only has Clementine spread her wings stylistically in Zepparella, her studies of Bonzo's playing led to some unexpected musical empathy. "Of course, there's the Gene Krupa/big band influence, but he's also so incredibly funky and groovy," she says, believing this aspect is chiefly overlooked. "When I first started playing the drums, one of the first things I did was learn some of the real '50s and '60s R&B/Motown stuff. It's basic drumming, yet you learn how to put a lot of feel into it."
Zepparella has always been a way for the four ladies to grow as musicians. "Playing Zeppelin inspires songwriting," says Kristina, a well-known local singer, "and the music is so respected that it feels like an honor to do it." Clementine likens their approach to that of classical musicians. "The second chair violin is not trying to imitate the way the second chair violin was playing in 1890," she says. "They try to stay true to the original in certain ways and make it their own in certain ways." Menn adds, "Just as kids learn to speak by imitating their parents, part of the process of becoming fluent in music is imitation."
Still, like other tribute bands--and like Led Zeppelin themselves--Zepparella weather accusations of being unoriginal. Clementine, though, feels that the catalogue is perfect for spotlighting their own identities. "We spend a lot of the set jamming and doing stuff that's unexpected, and I think that's what a Zeppelin audience wants," she says. "We've never been a band who plays everything note for note. [Zeppelin's] music isn't built for that."
Clementine adds that their growing fanbase is owed to onstage musical telepathy. "Hearing the same song over and over and over, no matter how much you love it, would get tiring unless there's something else," she insists. "And I think that something else is just our connection."
"Over time, as we started learning the songs and playing together, we realized we had a pretty cool band just the four of us," she recalls. "We became a band, rather than just a project." With an entire album in the can (written and recorded in only six weeks), it's still a struggle for the women to find proper time to devote to it. "It was a really great experience and we want to do more, but there's just not enough time in the day," Clementine laments.
Taking up time are day jobs and their constant immersion in other musical projects. Yet love of craft outweighs fatigue for these workaholics. "Nine to 5 hurts my head," says Minnerock. "I'd rather be loading gear at 4am again after a 14-hour drive."
The band have proven to be an alter ego of sorts for Kristina, who does justice to Robert Plant's anguished growl while giving the orgasmic moans of "Whole Lotta Love" an entirely new aesthetic. "I have my quiet nights at home with a book, and then I have my need to go blow it out," she says. "I wish I could be a homemaker and bake cookies, but I set kitchens on fire." She adds: "No, really."
Any lingering assumption of feminine restraint with the material is extinguished by Zepparella's aggressive repertoire, consisting solely of early rockers like "Immigrant Song" and "Heartbreaker." But incorporating an acoustic set and even a keyboardist are high on the band's list of future plans. "Maybe people would love it," says Clementine. "At the same time, it's really neat to see people with their hair plastered to their forehead at the end of the show, with their eyes bugging out because they're so happy they got to rock out so hard."
While seemingly ironic for four modern women to the cover songs of a group long accused of misogyny, Clementine attributes Zeppelin folklore to basic human nature rather than gender stereotypes. "Of course, you never know what anybody's life is like from things that you read," she says. "But if I were 24 years old, in the greatest rock band in the world, and there were 20 people standing backstage ready to service me in any way, would I go for it? Probably."
Thankfully, this band's gender hasn't been an issue like it was for AC/Dshe. At a show a few years back, a male fan was escorted out for autoerotic activities. The Zepparella stage has been free of mud sharks and theatrical outfits, although the origin of the band's name almost found its way into their act.
"I'd just seen Barbarella, and I love the way it looks," Clementine remembers. "So the original concept was that we'd dress similar, but that ended up being a little too kitschy for everybody." Good thing, too. Who knows what role Angus Young's signature schoolboy uniform played in the AC/DShe incident?
In learning the inner workings of Zepparella, it becomes even more apparent that the term "tribute band" doesn't fit. Clementine offers an alternative moniker: "I always thought 'Great Band' was it," she says with a laugh. "I hope that people just say, 'I saw this great band last night--and they were playing Led Zeppelin.'"
Zepparella appear on Saturday, June 16, at the 19 Broadway Niteclub. 19 Broadway, Fairfax. 9:30pm. $12. 415.459.1091.
Send a letter to the editor about this story.