June 6-12, 2007
home | north bay bohemian index | music & nightlife | essay
All Music Guide:
Where are They Now: Old Sonoma County rockers | Stiff Dead Cat | Zepparella | Grant-Lee Phillips | Wedding Music | Buddy Guy at Russian River Blues Fest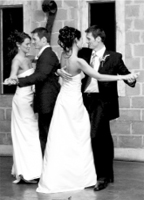 Let's get married today: As the great Rev. Al Green says: Might as well.
The Wedding Songs
What wedding music says about us
By Sara Bir
Summer is here, and with it, wedding season in all of its white-tulle-and-Jordan-almond splendor. Stately churches, secluded wineries, coastal getaways and pastoral backyards across the North Bay are alight with the exchanging of vows and the music that accompanies it.
Music plays a major role in weddings. It is worth noting that there are few other private events that the average American hires live musicians for. And even in the most simple of ceremonies, it is the music that announces, first and most resoundingly, "This is who we are." The selection of songs is not something that most couples take lightly.
Harpist Sally Fletcher, who lives in San Rafael and has been playing at weddings throughout the Bay Area for 15 years, cites Pachelbel's Canon in D as her most-requested song for ceremonies. "As well as 'Here Comes the Bride'--'The Bridal Chorus,'" she adds. "Especially for the bridal party and the bride, [couples] are more and more sticking with the traditional."
There's a reason those songs are classics; you hear them so often at weddings that their power to provoke emotions and recall memories is, for many, poignant and instantaneous. Even so, the scope of songs played during wedding ceremonies has never been so rich, diverse or playful as it is today. Couples wanting more personalized or unique ceremonies are not hesitating to strike off the beaten path, er, aisle.
Amanda Winneshiek, who got married last year at Cotati's Church of the Oaks, connected family and heritage in the music at her ceremony. "Just before we all walked down the aisle," she says, "my uncle played the guitar and sang a beautiful Filipino song in Tagalog called 'Dahil Sa Yo', 'Because of You.' I could just hear him as I was waiting with my dad behind my bridesmaids. It couldn't have been more romantic. We really felt free to be ourselves, and it really felt like our wedding."
It is also worth noting that Amanda's brother-in-law saw fit at his wedding to sing the Smiths' "Death of a Disco Dancer" to his bride. The message boards of wedding websites like the TheKnot.com and IndieBride.com teem with such examples of ballsy convention-bucking, making the entire history of music a possible wedding songbook. Unlike brides and grooms of a century ago, who grew up without the advantages of MTV and concert T-shirts, we now think of our favorite songs and performers not simply as dear to our hearts, but part of our very identity, articulating our desires and experiences and fears much more succinctly than plainspoken words ever could. This is how instrumental versions of Prince favorites, plaintive Nick Cave ballads and Godspeed You Black Emperor! dirges began making their way into the eternal unions of two souls.
Those are far-flung examples, however; other songs are undeniably timeless contemporary wedding favorites, such as Noel Paul Stookey's "The Wedding Song (There Is Love)," which the staff of Santa Rosa's Last Record Store report multiple customer requests for. (Stookey, the Paul of Peter, Paul and Mary, wrote the song as a wedding gift for bandmate Pete Yarrow.) Do such songs spread from wedding to wedding--like the recent prevalence of "Linus and Lucy," the "Peanuts" theme, as a recessional--or is there something else, a feeling that taps directly into the same sentimental squishy areas for millions of independent romantics as they listen to a Norah Jones CD or swoon to hundredth viewing of Somewhere in Time? I've never been to a wedding where John Denver's "Annie's Song," a nuptial chestnut if there ever was one, was performed, but the song itself never fails to send tingles up my spine.
One guest's heart-flutter of "Annie's Song" may translate to another guest's eye-rolling, but brides and grooms are more resilient than ever at the prospect of being judged by friends and family. "I guess everybody is more independent now, freer to be themselves and do what they want to do," Fletcher says.
Most comforting is the undeniable truth that music does not make or break a partnership. A wedding is just a few hours, but, hopefully, a marriage is every single day that follows.
Send a letter to the editor about this story.